Get ready, get set, bid! The Tripawds 2022 Dog Art Auction starts this Friday at 12:00 noon (Eastern time). Bid generously and help Tripawds with cancer!
New to the online auction thing? Fear not, we've got you covered. The Tripawds Foundation Charity Auctions website makes it easy to place your bid and help Tripawds. All proceeds fund the Kaiserin Pet Cancer Care program, which delivers fun goodies to 3-legged cats and dogs with cancer every month!
The Tripawds Painting Dogs Art Auction Fundraiser Dates:
Starts: Friday 27 May at 12 noon Eastern / 9:00 am Pacific
Ends: Sunday 5 June at 7:00 pm Eastern / 4:00 pm Pacific
What to Expect at the Auction:
What: TWENTY (up from 16 in 2021!) original paintings are being auctioned.
Who: Painting dogs (and one monkey!) from around the world, including the UK, Australia, Canada, and the U.S.
Why: Proceeds fund the Kaiserin Pet Cancer Care Package program. This monthly care package program sends helpful, fun, and free gifts to Tripawd heroes with cancer.
The Kaiserin Pet Cancer Care Package program is the creation of Angel Kaiserin, a talented trick dog and artist extraordinaire! Her mom Natasha, and you, generous donor, help keep Kaiserin's legacy alive by introducing painting dogs to the world. Each month this program brings joy to two Tripawd dogs and cats living with cancer.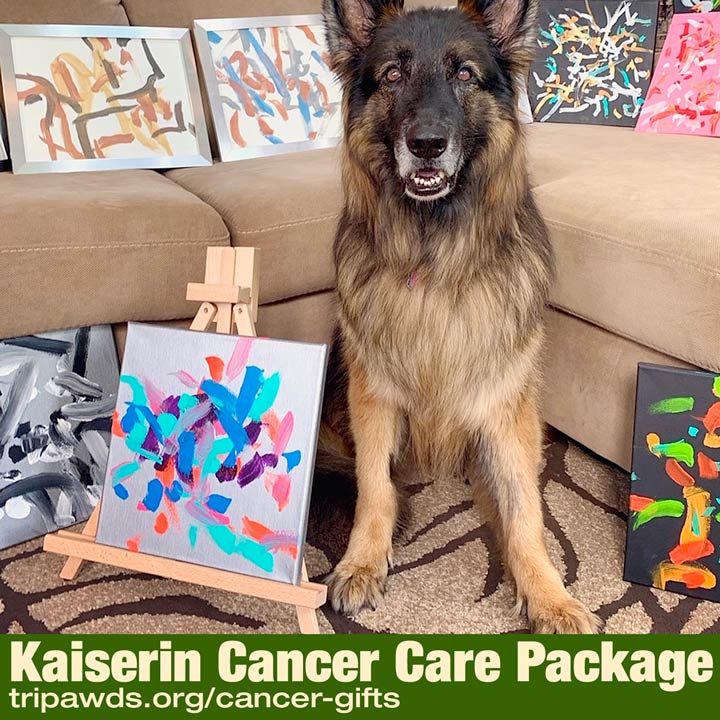 How to Bid on the Tripawds Foundation Auction
It's super easy to bid on your favorite paintings in our auction. Here's a short explanation. If you have questions about how the auction works, comment below or contact us.
Step 1. Register to bid.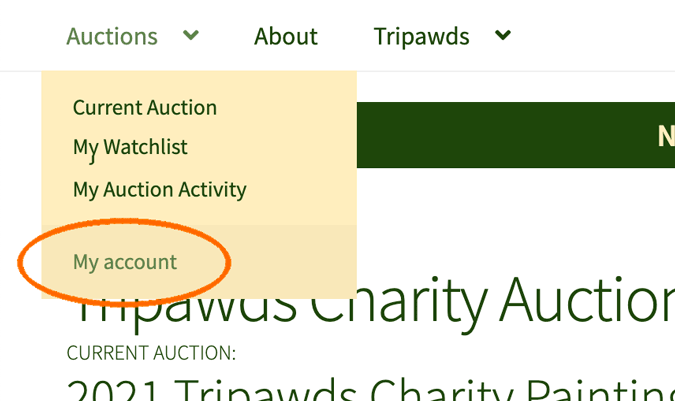 Register here now so you are ready to bid when the auction starts! If you bid last year, you can use the same password.

Creating a Tripawds Auctions account is the only way we can notify you if you have been outbid or won the auction.
NOTE: All registered Tripawds members can log into the auction site using their existing username and password. If already logged in to the discussion forums, visit your auction dashboard to confirm you are ready to bid.
Step 2. Look for the dog paintings you love.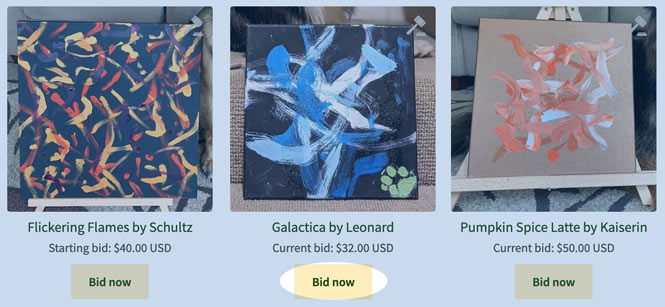 There are so many great paintings by dogs you can bid on! Pick your favorites and place your bids. Just enter the amount you want to bid. You will be notified on the site and by email if you get outbid on that item, just click the link to return and place a higher bid.
Step 3. Bid on Your Favorite Dog Art!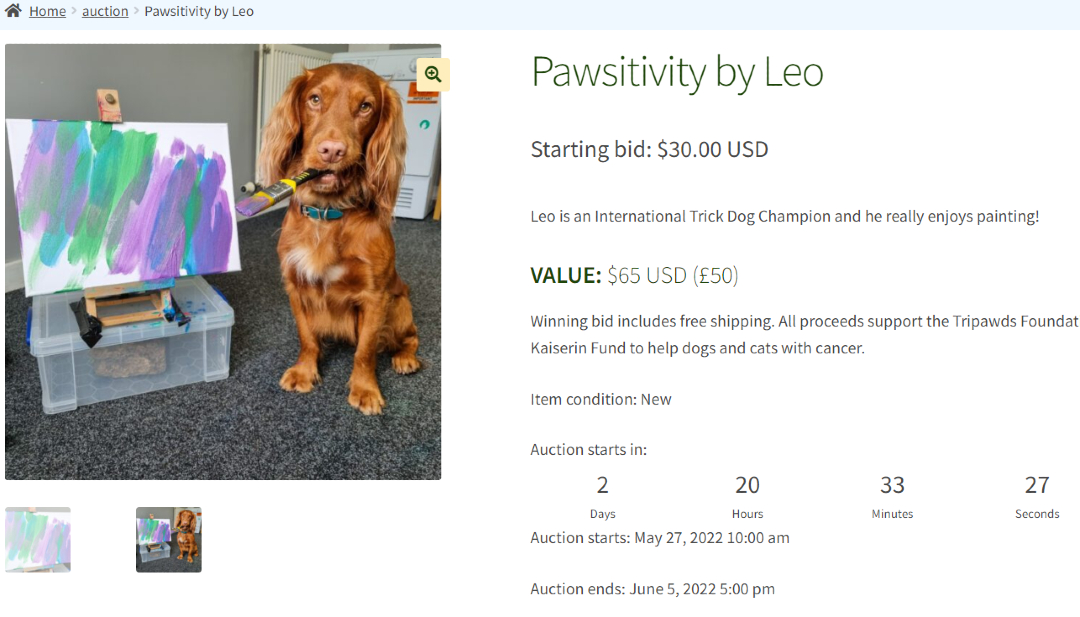 Place your bid early on the paintings you love. There's so many to choose from, you'll have a hard time deciding! Enter your desired dollar amount and hit the Bid button. Do it now. You don't want to wait too long or you'll miss out on these one-of-a-kind paintings by dogs with so much talent!
Step 4. Watch for auction updates.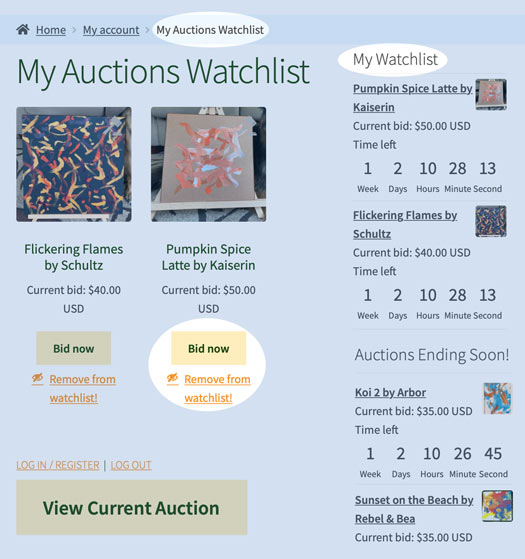 Visit your auction dashboard to check the status of your watched items and bids. Check your email for notifications or visit auctions.tripawds.com. You will see all activity on any of your auction items in your account dashboard.
When bidding action happens on your item, you will be notified within the browser and by email. Winners are notified by email and on the website.
No email received? Check your Spam folder! Gmail users: check the Promotions tab. Whitelist any email from tripawds.com to ensure you receive any updates. Or, visit your account dashboard to see all activity and notifications.
What's Next
Bidding ends at 7:00 pm. (Eastern) on Sunday 5 June. All auction winners will receive email with a link to complete their purchase.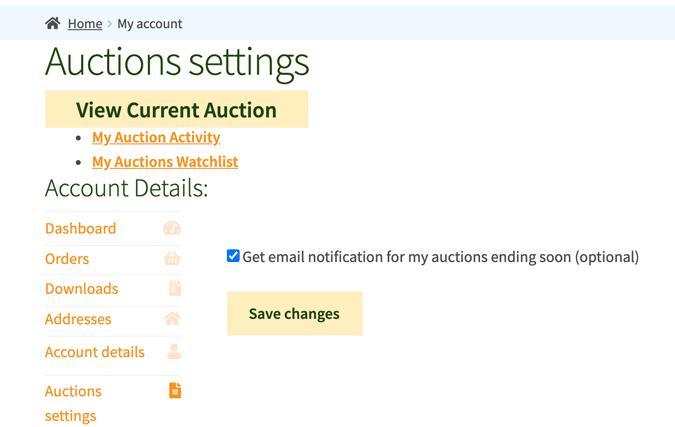 Not ready to bid? Add items to your watchlist!
The Tripawds 2022 Dog Art Art Auction is happening from Friday, 27 May, through Sunday, 5 June, 2022. Get ready to join the action for the final bidding frenzy on Sunday night!
If you aren't ready to click the Bid Now button, that's OK. Just add your favorite dog paintings to your watchlist. Check your account dashboard for activity on items in your watchlist. Once you place a bid, you will get notified when any action happens on that item.
Thank you for helping to make this our best Tripawds Dog Art Auction fundraiser ever. Good luck with your bidding!
Please share! Tag @TripawdsCommunity on Instagram and @Tripawds everywhere else.