Maggie Moo Rehab Grant #123 went to help Tripawd Samoyed crush. The free canine rehab consultation will help him stay fit and strong. The prescribed exercises help him enjoy a happy healthy life on three legs. Read his story, and learn how you can get a free veterinary rehab evaluation for your dog or cat.

Yes! Tri-kitties qualify for free feline rehab too. See all Tripawds who have received free rehab sessions thanks to your support.
Tripawd Samoyed Crush Stays Strong with Canine Rehab
Crush is a 10 year old male Tripawd Samoyed. I brought him home when he was 8 weeks old, and he has been a wonderful companion.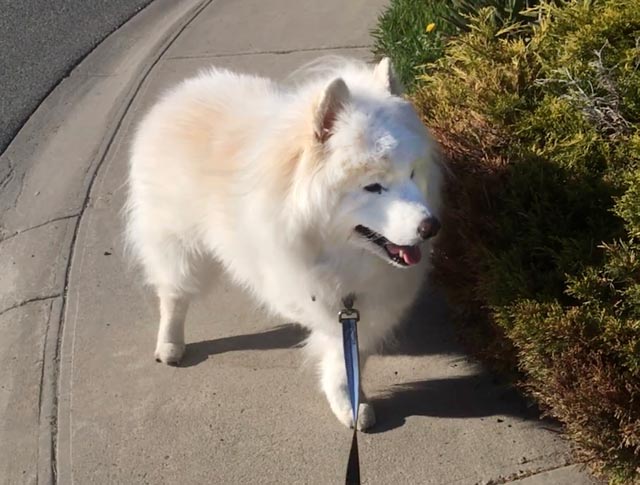 At the age of 9, Crush began to limp on his right front leg. It was a mild limp, and only appeared on certain days- usually after a particularly long walk. The vet advised to limit his activity as he likely had sustained a soft tissue injury and was getting too old for vigorous exercise. Unfortunately, over a period of 6-7 months, Crush's limp got worse and worse until he could no longer bear weight on that leg. After many vet visits and X-rays, he was finally diagnosed with osteosarcoma.
The vet informed us that he would need his leg amputated. The alternative would have been only a few more months with him, and they would have been very painful for Crush. I hadn't known many amputee dogs in my life and never a large breed like Crush. I was very worried about how he would recover, and whether he was too old for such a major surgery. Around this time, I started doing online research into osteosarcoma and canine amputation. That was when I found the Tripawds website, following a google search for canine amputation. Speaking with several experienced members about the process relieved many of my fears, and we proceeded
with the amputation.
Amputation Recovery and Rehab for Crush
Crush was very mobile, even on the day of his surgery. He hopped out of the vet clinic to meet me, I brought him home and he attempted to jump right into a snowbank. He seemed to pick up his new three three legged gait with ease.
However, after a couple of weeks I began noticing that he wasn't moving so well anymore. When he stood, he often had his right hind leg out at an angle, barely touching the ground. Sometimes he would try to hold it up off the ground, and when he walked it was clear he wasn't using it properly. I decided he needed an expert to evaluate him.
I found a vet within driving distance who was qualified in canine rehabilitation, Dr Tara Edwards at Tri Lake Animal Hospital. We booked an appointment with her and Crush was evaluated on April 7th, 2022. We received an excess of information from her that has been absolutely invaluable to Crush's recovery. Dr Edwards was able to assess his entire body and determine that his limp was due to a sore cruciate ligament on his right hind leg, and he had some muscle soreness and lingering nerve pain from his surgery as well. She was able to prescribe Tripawd Samoyed Crush the medications he needed to become comfortable again, as well as guide me through the steps needed to get him active without injuring him.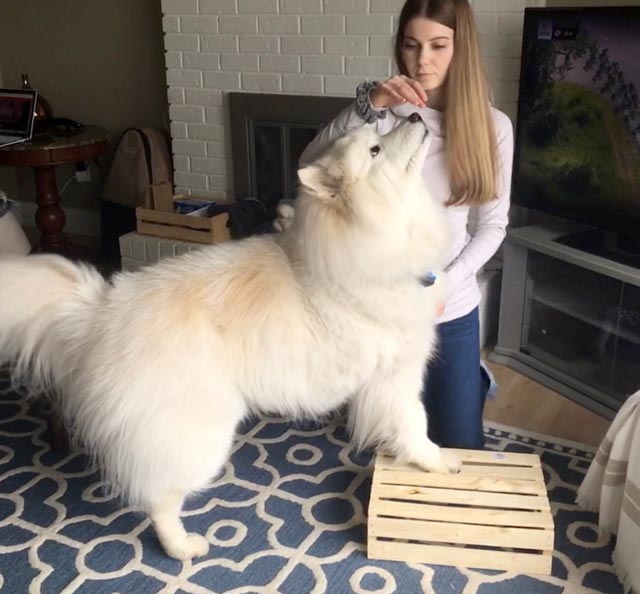 We needed to stop allowing Crush to engage in high-impact activities, like chasing a ball or jumping around. Our Tripawd Samoyed Crush also needed two sessions of physio each day, each of which take about 30 minutes. His exercises, like stretches, sit-to-stands, hip cookie stretches and elevated standing, help him to improve his balance and range of motion while strengthening his right knee without aggravating his cruciate ligament. The vet approved Crush to start going on walks again, beginning at 5 minutes a day and increasing by 2 minutes once a week. Every time Crush has a physio session or a walk, I ice his right knee for 10 minutes afterwards to keep his cruciate from getting inflamed.
Many of Dr Edwards exercises can be seen on her helpful website:
https://www.taraedwards.vet/rehab-home-work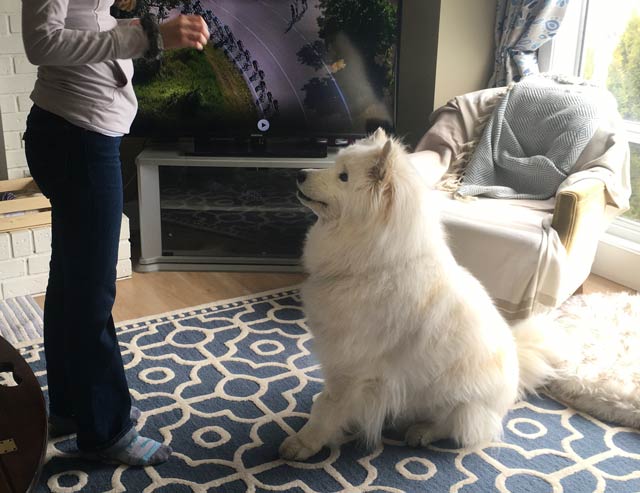 Elevated standing encourages Crush to gently put weight on his hind legs, strengthening his muscles. Sit-to-Stands help Crush build his abdominal muscles, enabling him to hop more easily. The hip cookie stretches improve balance, and range of motion. Crush had his one month follow-up with the vet on May 10th. In the past month, he has progressed from only weight bearing 17% on his right hind leg, to 40%. His muscle soreness is much less as well, and his overall energy levels are well up. His range of motion in his right knee is better, and his gait is now normal for a Tripawd dog.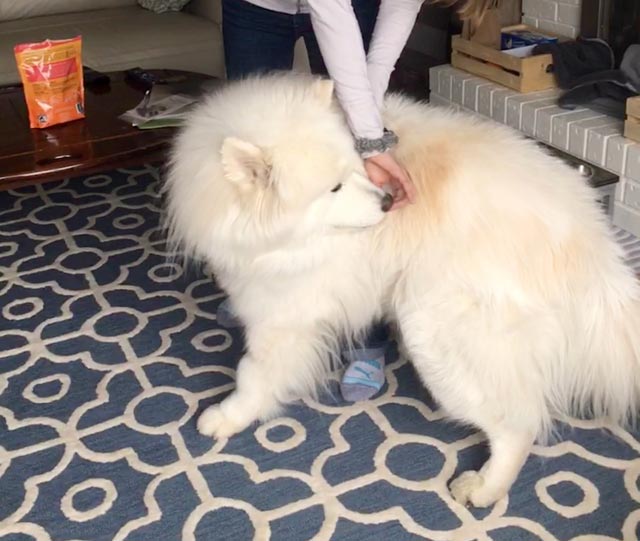 The rehabilitation consultation was something I initially didn't believe Crush would need. He was able to hop so well on his own, I couldn't imagine what he would need help with. However, if we hadn't seen the vet when we did, we could have done permanent damage to his cruciate ligament. I am so glad he is now on the right track, and I sought help from the specialist before Crush sustained a serious injury. He is doing well and enjoying life again, just like he should be.
~ Heather & Tripawd Samoyed Crush (aka: higginsh)