Have you previewed the talent at the 2022 Tripawds Dog Art Auction? We can't believe it's almost here. In just one week, Tripawds auction bidding starts. Get ready!
On Friday May 27, Tripawds Auction Bidding Opens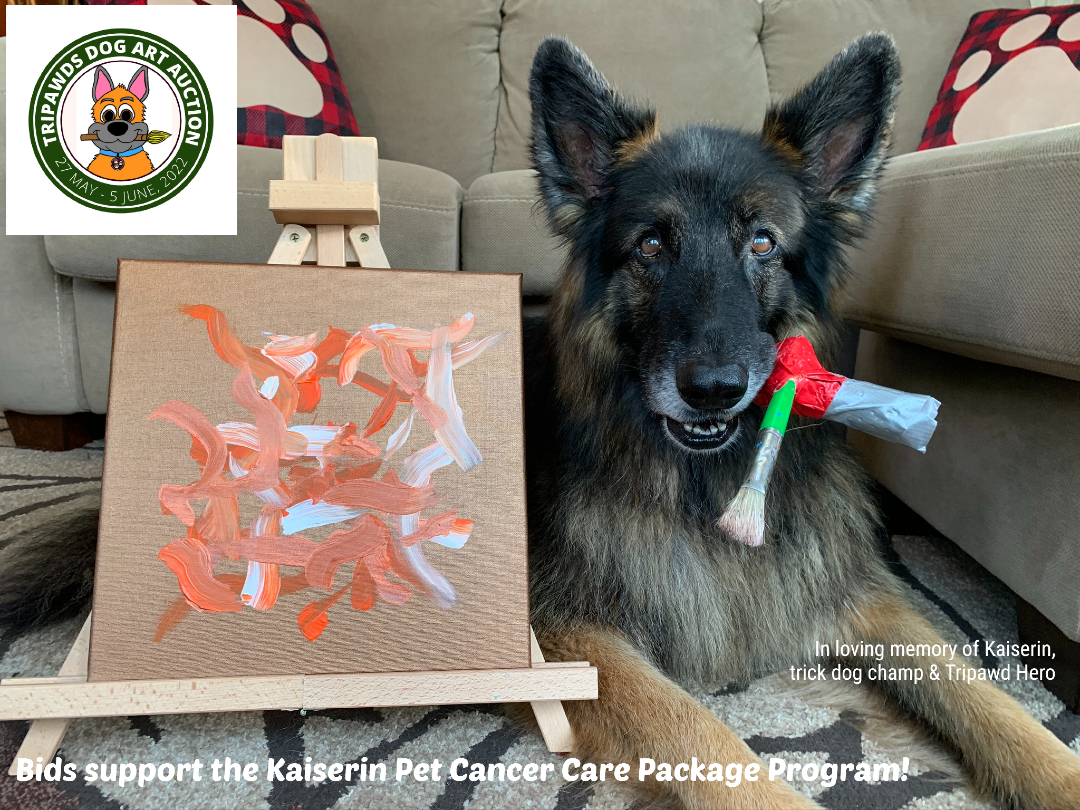 The dog art auction event of the year is about to begin. In one week, you can bid on incredible, one-of-a-kind paintings by dogs. Yes, dogs who paint by themselves!
As if you can't already tell, this is the most unusual and exciting dog art auction in the pet world. Twenty-one talented dogs (and one monkey!) who paint original artwork are donating their masterpieces to raise money for amputee dogs and cats battling cancer.
We hope to beat 2021 dog art auction bidding results when it's all over on June 5.
Funds go to the "Kaiserin Cancer Care Package" program, which delivers monthly care bundles filled with fun and useful items for three-legged pets. It was named in honor of Kaiserin, an amputee German Shepherd with cancer who also painted.
Tripawds Auction Bidding Starts Friday May 27, 2022
Visit Auction.Tripawds.com and preview now!
Meet a Few of This Year's Painting Dogs
Each dog's painting is created on either stretched canvas or canvas board, and sizes vary. Every one is an original piece of art and titled with a fun, unusual name. Some pieces this year include "Energy in Motion," "Firestorm," "In My Blind's Eye," "Pawsitivity," "Daffodills," "Sunrise" and "Once There Was A Garden But I Dug A Hole And Made It Better".
This year's talented painting dogs are from Canada, United States, Scotland, England and Australia. Some artists include:
Peekaboo is a blind (no eyes) Coton de Tulear and trick dog champion who recently learnt how to paint despite not being able to see her artwork! She is two years old and lives in British Columbia, Canada.
Wilhelmina is a one-year old long coat German Shepherd and the great niece of Kaiserin (the dog artist who the care package program is named after). Wilhelmina lives in Ontario, Canada and produced her first piece of art at only 4 months old.
Rookie is a two-year old German Shepherd from Mississippi, USA who had to have his back left leg amputated just after birth. He is working on a special piece of art to help other Tripawds just like him.
Rogan is a 6-year old Australian Shepherd who lives in Alberta, Canada. His donated piece of art was a collaborative painting done with Pockets Warhol, a painting monkey from a sanctuary in Sunderland, Ontario.
Ralphie is a 5-year old English Sheep Dog from Michigan, USA who was born deaf and was the first deaf dog to get a Do More With Your Dog grand champion trick title.
These are just a few of the talented painting dogs in the 2022 auction. Watch for more artist spotlights here and on the Tripawds Facebook page and Instagram profile.
Tripawds Auction Bidding Starts Friday May 27, 2022