Tripawds ASAP grant #54 is helping Tripawds member atorres5108 pay for Tripawd GSD Rocky's rear limb amputation surgery. Read on for his story, and learn more about the Tripawds Amputation Surgery Assistance Program. See if you or someone you know qualifies for our pet amputation financial assistance.

This Tripawds ASAP grant is made possible by the charitable contributions of Tripawds fans like you. Thank you for your support!
My Rocky boy was hit on May 18th. One of my kids while taking out the garbage left the side gate opened. 🙁 When I got the call from work from a neighbor that my pups were out. I rushed home from San Dimas. Unfortunately it was too late. Rocky had been hit.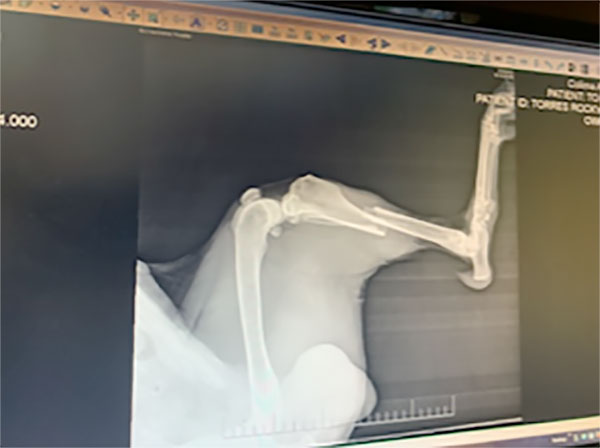 Initially I was told we could potentially save the leg. But the surgery would be a long one and a costly one. I had two options. To proceed with the surgery or put rocky down.
First Surgery to Save Rocky's Leg
I didn't have the money since I just started my job and trying to get on my feet. But I did what I had too to save him. I started a go fund me which I was able to raise 300$ and I beg and pleaded to have a family meaner loan me the money with an agreement of payments of 250$ a month. First surgery took place and rocky came home a couple days later.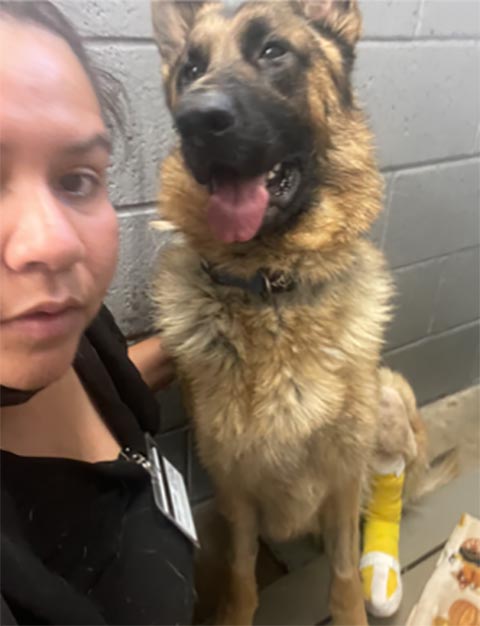 For his week follow up visit we didn't get great news. I was told his bone was displaced and they would have to redo the surgery. So we tried for a second time. With the agreement of rocky staying a few days there so monitor him.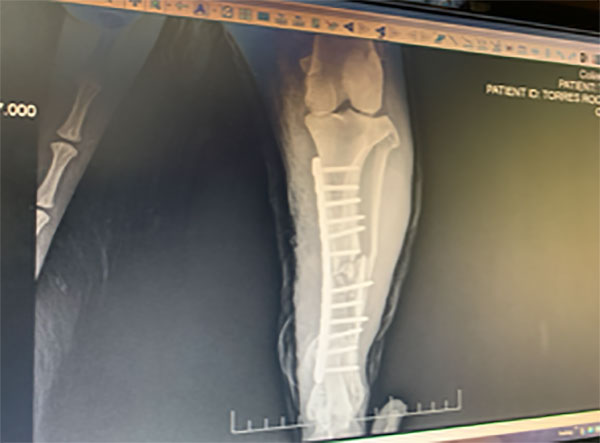 Amputation Surgery for Tripawd GSD Rocky
Next call I get was rocky leg was becoming necrosis 😭😭 and we would need to make a decision if I wanted the doctor to continue draining the leg which he had been doing hit not seeing an improvement or amputate. I went to visit rocky to get a feel for how he was doing and see the leg for myself. I know I didn't have the kidney to do this Tripawd GSD surgery but again I found away outing myself in a deeper whole.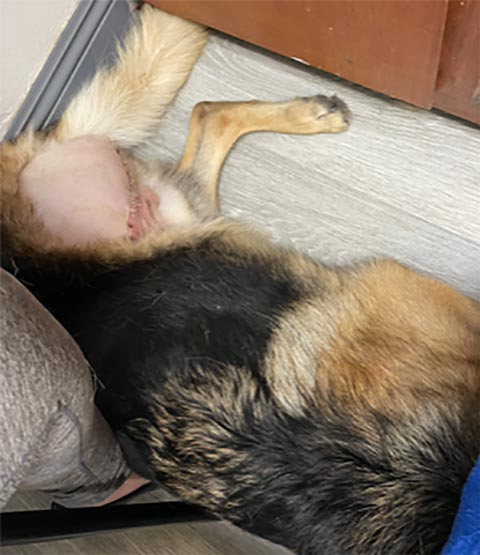 But at all cost I am doing it because I love my baby. And he's like our family. My kids adore him and this was hurting all of us. Well I told the doc I wanted to wait another week or two too see if he could keep draining but no progress was made. So we decided to go through with amputation, I've included all pics in this email.
I'm hoping to get vet financial help for my Tripawd GSD as I am a single mother. And my payments are steep. Aside from owning what feels like the world rocky yesterday started to slightly bleed fork his incision site. I am completely broke and not able to take him in for any restitching so I'm hoping this can possibly help with any visits that are needed.
Thank you so much for the Tripawds organization and consideration. 💙
~ Autumn and Rocky (aka: atorres5108)