Three legged American Eskimo Dog Ronan benefits from canine rehab thanks to Tripawds Foundation Rehab Grant #131. The free consultation and prescribed rehab exercises will help Ronan get strong and stay fit. Read his story, and learn how you can get a free veterinary rehab evaluation for your dog or cat.

Yes! Tri-kitties qualify for free feline rehab too. See all Tripawds who have received free rehab sessions thanks to your support.
Meet Ronan the Three Legged American Eskimo Dog
Ronan is a spunky three legged American Eskimo Dog who just turned 11 years old. He loves to explore the forests, mountains, and beaches of the Pacific Northwest. He came home with us when he was just 12 weeks old. His big, dark eyes, snow white fur, and floppy puppy ears made him look like an adorable seal pup. Because of that, we named him Ronan. This means "little seal" in Gaelic. Despite his anxieties around stranger danger, he is quite the people-pleaser. The ones closest to him are always warmed by his signature smile.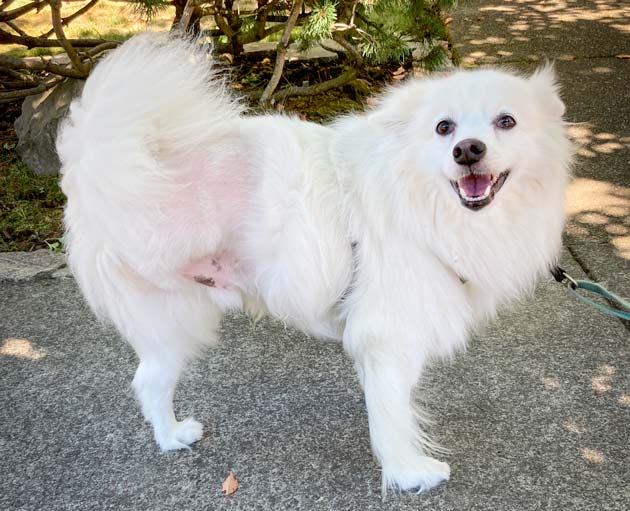 The vast majority of his life, he was markedly healthy, even as he entered his senior years. So when we found the golf ball sized mass on his right hind leg in April, we were devastated. Our fears were confirmed when our vet diagnosed him with a soft tissue sarcoma growing off of his Achilles tendon. After months of diagnostic tests and scans, he had to undergo 2 surgeries. The latter of which was a full amputation, where he began the next chapter of life as a Tripawd. Neither of us has had a Tripawd companion before, so once we learned that his life was about to change in this way, we decided to look into resources that could help him adapt to his new situation.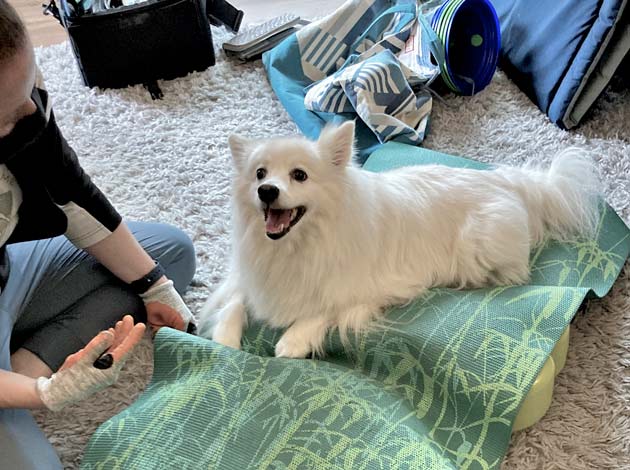 Canine Rehab Helps Ronan
This is when we found Canine PT and Me and Dr. Kelsey Jonas. Knowing that a certified rehabilitation therapist would help guide us through his transition was a genuine relief during this emotional period of our life. We also found Tripawds Foundation. Reading about the stories of perseverance of pups like Cash the Labrador and Crush the Samoyed gave us hope for Ronan's future as a three legged American Eskimo dog. After all of the weeks of preparing, it was finally time for his amputation.
It breaks our hearts to say that the first few weeks of recovery were likely the worst weeks of his life as standing was extremely painful for him, and he showed no interest in the things he used to enjoy. We worked closely with his surgeons to provide a pain management regimen for him to support him as he healed. After three weeks of turmoil, our spirits were lifted as he seemed to have turned a corner and began to return the precocious pup we've loved for so many years. Before long, he was ready to begin his physical therapy.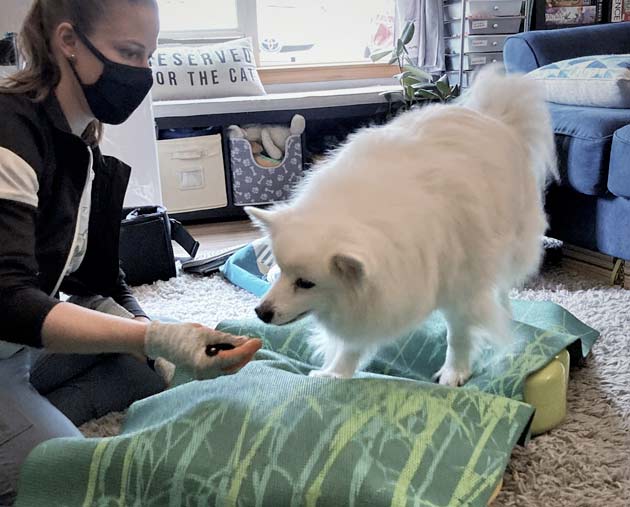 Ronan Gets Rehab at Home
Dr Kelsey conveniently traveled to our home for the initial evaluation and subsequent PT sessions, which worked well with our schedules. Ronan instantly got along great with her. After an evaluation where Dr Kelsey was able to get a better sense of what he needs, she prescribed him several exercises and massages. Twice a day, we guide Ronan over an uneven terrain to improve his coordination and balance.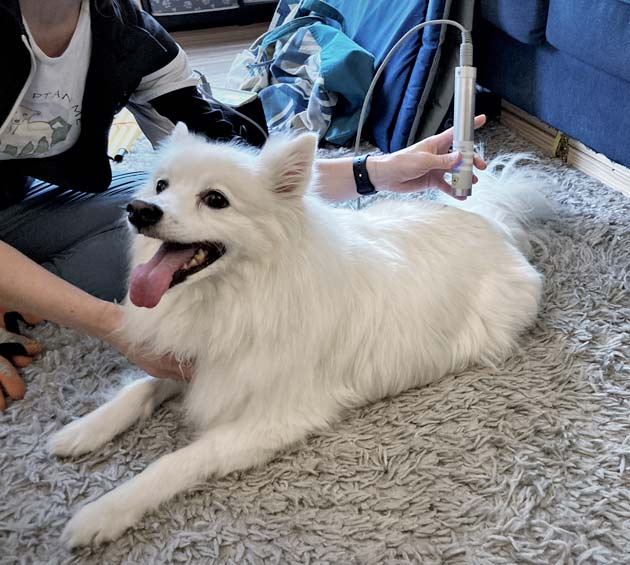 We provide 10-20 minutes of kneaded massages down his spine to release the tension built from him adjusting to walking with three legs. We also relieve tension in his lower back with slow therapeutic tail pulls two or three times a day. During his PT sessions, Dr Kelsey used a cold laser and electromagnetic therapy mat to stimulate his healing between her leading him through exercises. After our first two weekly PT sessions, guided circles and step ups were also added to his daily exercises.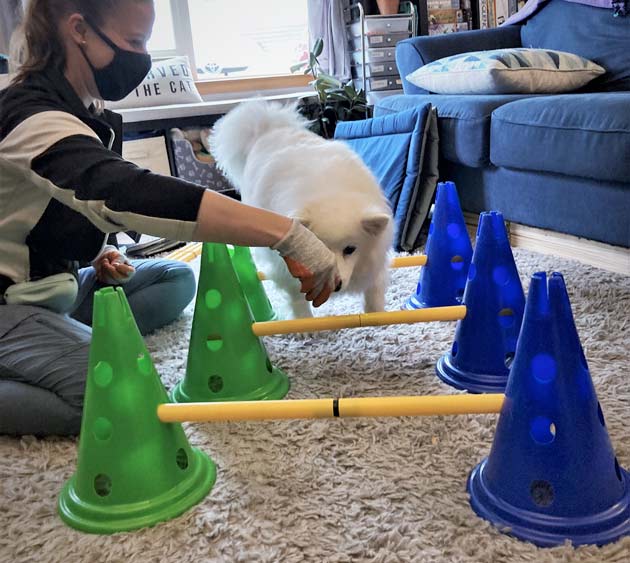 Pawsitive Results of Ronan's Rehab
He has always loved earning treats by using his brain, and he has taken to these PT exercises swimmingly. We appreciate learning these exercises and massages for him, as he is only getting older and we really want to support his joints and muscles as he ages. Since beginning his rehabilitation, we have seen a lot of progress in his physical abilities and his demeanor. He is more successfully traversing stairs, going for longer walks and adventures, and even jumping up onto the couch on his own again. His journey back to normalcy is progressing well, and his heartwarming smile has made a welcome return.
– Isiah, Josie, and Ronan the Three Legged American Eskimo Dog
At Home Rear Limb Tripawd Rehab Program