Tripawds ASAP grant #55 is helping Tripawds member roscodoggo pay for front limb amputation surgery for new Tripawd Rosco. Read on for his story, and learn more about the Tripawds Amputation Surgery Assistance Program. See if you or someone you know qualifies for our pet amputation financial assistance.

This Tripawds ASAP grant is made possible by the charitable contributions of Tripawds fans like you. Thank you for your support!
Front Limb Amputation Surgery Rosco Doggo
Thank you for this opportunity. I actually found you all looking for a support group for new Tripawds. Rosco has actually been doing really well post op. He got his front limb amputation surgery 7/12/2022 and I picked him up 7/13/2022 without any sleep but with so much joy seeing him! It was tough knowing my fur baby was going through this without his own people nearby. But he was great! If anything it's been harder for me and I want to make sure I'm doing the best for him in terms of recovery and overall well being. Hence, finding you all.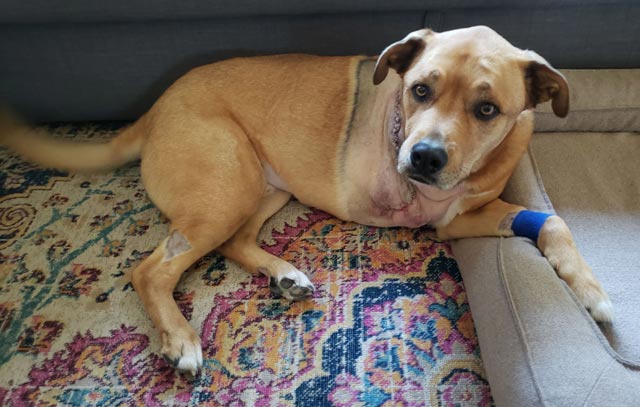 Rosco was diagnosed with osteosarcoma in late June. He started limping completely out of the blue one morning mid May and it didn't get any better over the next 24 hours. So I took him to an emergency vet. They determined it is either arthritis, due to his age of 9 years old, or he might have injured himself without my knowing and to just give it time. Over the course of the next week he was better and then worse and then better and then worse. I decided to just go to our primary vet.
She seconded the opinion that Rosco was developing arthritis and to start him on strong supplements ASAP and it should get better with time. It did not, it only got worse. He didn't put any weight on it, didn't want to play or go out for walks and didn't greet me at the door anymore. That's when I knew something was wrong and we had to visit the vet again. After an x-ray (only 2 slides) the vet came in with the horrible news that Rosco might not have much longer because he has Osteosarcoma. She recommended front limb amputation surgery. I was stunned. I immediately reached out to a local oncology group and they confirmed his diagnosis.
Amputation for Canine Cancer
With cancer, there is an initial process called staging which is where the Doctor's determine the overall health of the individual and the possible spread of cancer. They said Rosco was really healthy other than the growth in his right front limb. Because of this he was both eligible for immediate amputation and chemotherapy to prolong and better his life since he is also considered a younger-older dog. I was overjoyed but also unsure of how to move forward. I wish I found the Tripawds Community before having to make such hard decisions.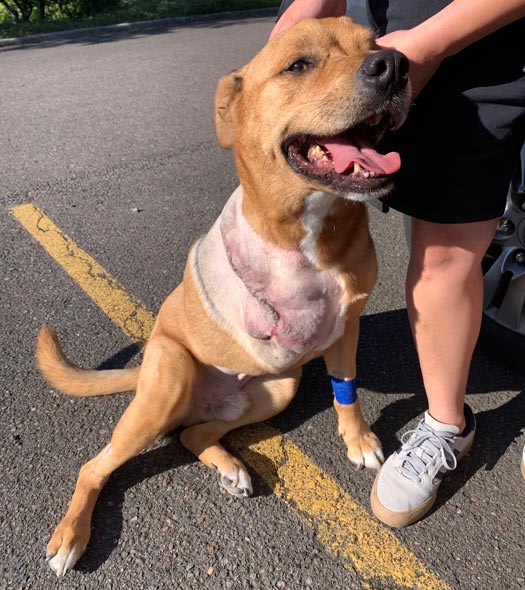 Fast forward to today, 8/31/22, we decided to proceed with front limb amputation surgery to alleviate the amount of pain Rosco was in and we've also started chemo. He's been doing so well and is playing with his toys and balls again like he used to, running up and greeting me and our friends at the door. I appreciate the opportunity to apply for this grant and the dog harness! It means so much that this org and community resources exist to help our fur babies have the best life possible!
~ Mel and Rosco (aka: roscodoggo)