In honor of Pug Obie, although a four legger, an Honorary member of our Tripawds Family who headed to the Bridge after 16 years in his Pug earth clothes.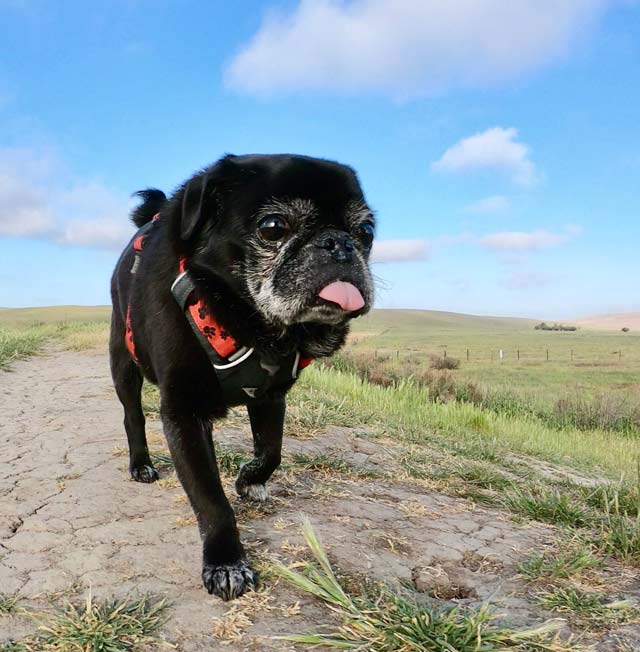 Without question, Obie and Tripawd RockStar Stubborn Tri-Pug Maggie and Obie's hooman grandpa had a spectacular reunion. Karen wrote a lovely tribute to Obie as follows:
Oberon The Pug Boy 2006 to 2022.

Obie left for the Bridge yesterday afternoon, Saturday August 27th at the age of 16 years and 6 weeks. Obie joined my pack when he was 4 years old in 2010 just after TriPug Maggie crossed and just before my mom was diagnosed with her first cancer. Obie helped Tani heal after losing her big sister and gave the humans a distraction and purpose as we entered the family fight against cancer. After mom passed in 2014 dad and I started living together, we were in my old single story house since Obie had had his second knee surgery. One night in 2015, not long after Tani passed, Obie left my bedroom in the middle of the night and went to dad's bedroom, Obie had decided that my dad was his human. It was a perfect match and for the next 6.5 years Obie was dad's near constant companion. This was a dog who found his purpose! I've never made it this far with dog before and it was sometimes challenging but it was my privilege to accompany Obie to 16 years old.
---
~ Anonymous