Tripawd English Bulldog Rocky benefits from at home canine rehab exercises thanks to Tripawds Foundation Rehab Grant #136. The free consultation and prescribed rehab exercises help Rocky get strong and stay fit. Read his story, and learn how you can get a free veterinary rehab evaluation for your dog or cat.

Yes! Tri-kitties qualify for free feline rehab too. See all Tripawds who have received free rehab sessions thanks to your support.
In Home Rehab Helps Tripawd English Bulldog Rocky
Rocky is our 1 year old English Bulldog. He was born with a withered limb as a result of poor breeding practices. As a result, he was going to be euthanized. Fortunately for Rocky, ourselves and, we believe, the world as he is just the sweetest dog. He was rescued by an incredible organization, SoCal Bulldog Rescue, and eventually found his way to our home and hearts.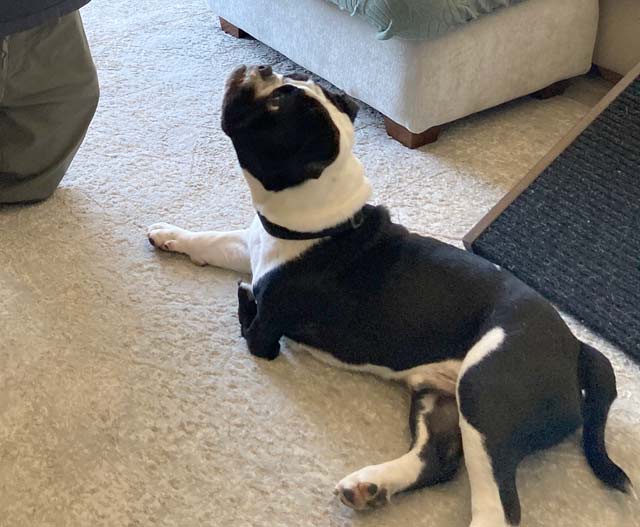 We have been taking special care to make sure our Tripawd English Bulldog Rocky has a full physical and emotional life despite having use in only three of his legs. In our research, we found the Tripawd Foundation as a massive database of knowledge and resources. Through their recommended providers, we found the incredible husband and wife team that is DogHouse Rehab. We were able to make an in-home canine rehab appointment. In the first session, we created our rehab goals for Rocky that include improved strength in his right forelimb including scapular (shoulder blade) stability, improved dynamic stability of his hind limbs, and weight shifting to his bilateral hind limbs.
Rocky's At-home Rehab Exercises
Functional goals of the rehab regimen include improved weight distribution in standing, gait training to decrease compensations and improved ability to transfer from the floor and move from side to side in lying. Finally, the goal of preventing jumping from high surfaces is to increase safety and stability to limit injury.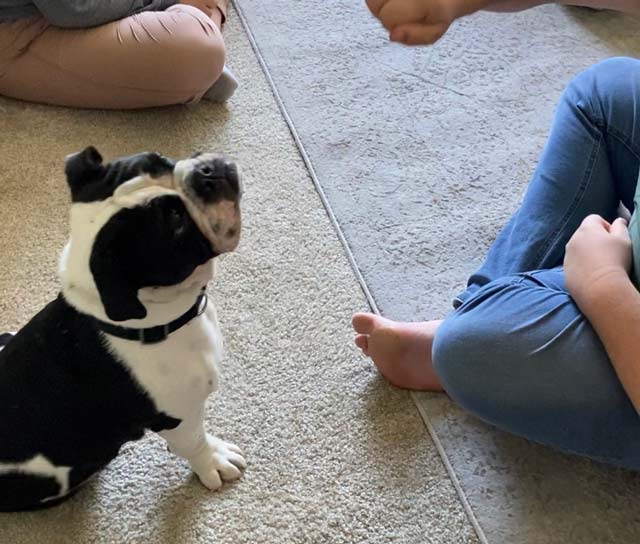 Roubina Honarchian-Schwartz and Josh Schwartz created simple daily exercises that include:
Range of motion (Hind Limbs): While Rocky is laying on his side, we cup his knee with one hand and his ankle with the other hand. Then we gently bend his knee toward his belly and ankle toward his glute, then extend the limb taking it through its range of motion.
Sternal sitting/sitting left: We encourage Rocky to lay on his sternum/neutral spine or to sit on his left hip by having him come toward us by holding a treat in front of him or taking it to his right ear.
Incline stand: We have Rocky place his front limb on an incline and in this position encourage him to engage his left hindlimb by taking a treat toward his right ear/shoulder.
Chest lifts: Where we lift Rocky's chest to have him push through his front limb.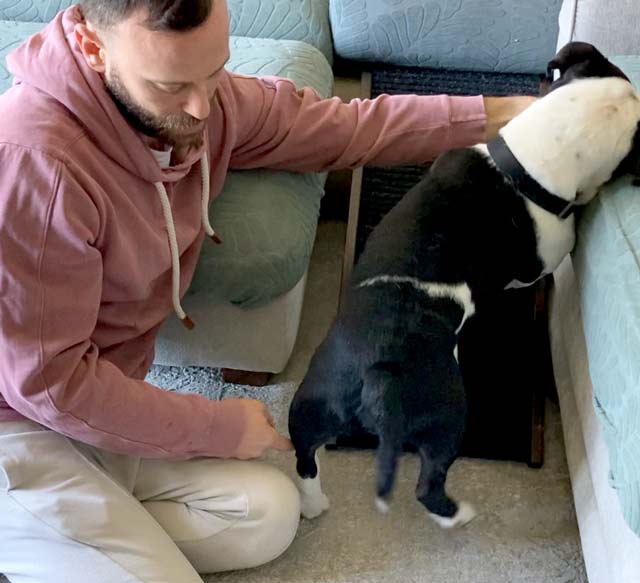 The biggest take-away from our rehab session for Tripawd English Bulldog Rocky is looking out for his habit of sitting on one side and encouraging symmetry as this subtle repetitive motion could have serious adverse effects in the future.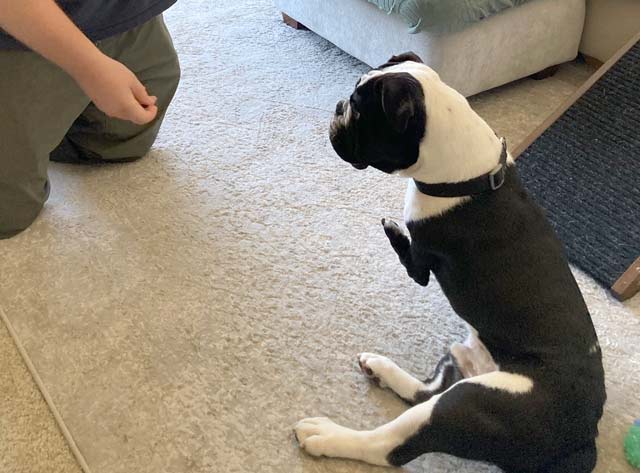 We are so grateful for the Tripawds Foundation and Community Website. We found them after a little digging online and the treasure trove of knowledge and help has proved invaluable to Rocky and our well-being. Rocky may have three limbs, but he never lets it get him down and he proves to be an inspiration to us and all who have the privilege to meet him.
~ Casey and Trent & Rocky