Rear limb Tripawd Lyla benefits from at home canine rehab exercises thanks to Tripawds Foundation Rehab Grant #135. The free consultation and prescribed rehab exercises help Lyla get strong and stay fit. Read her story, and learn how you can get a free veterinary rehab evaluation for your dog or cat.

Yes! Tri-kitties qualify for free feline rehab too. See all Tripawds who have received free rehab sessions thanks to your support.
Rear Tripawd Lyla's Road to Recovery
Lyla is a very sweet German shepherd and chocolate lab mix and she will be six years old this December. Lyla has been a highly active and determined dog since the day we brought her home! Frisbee is her all-time favorite activity, and she loves to swim in the ocean in the summer. Last winter, we noticed a lump growing on her back leg. When it continued to grow, we had it tested and confirmed it was a type of hemangiosarcoma. We had the tumor removed in the spring. Then we started a weekly chemo treatment with the amazing Oncology team at the MSPCA Angell Animal Medical Center in Boston.
Five weeks into the 8-week treatment we noticed the tumor was returning. We knew this was a possibility. The margins were very small in the first surgery due to the location of the tumor behind her knee. When we were going over the options after the cancer returned, Lyla's Oncologist suggested we visit the Tripawds website for support and information.
After a CT scan confirmed there was no visible spread of the cancer, we decided to go forward with the amputation of the right hind limb as it was the best chance at stopping the spread and giving Lyla the best chance at living the life she loves again.
Lyla did great in surgery and was adjusting to life as a Tripawd with no issues. After her post-operative rest and recovery period, she was enjoying getting back into her routine and learning how to play frisbee with a new challenge. About a week later, we noticed a change in her energy level and brought her back in for an evaluation. They determined that her spine was the source of the pain and she was in the early stages of IVDD; so she was back to strict rest and medications.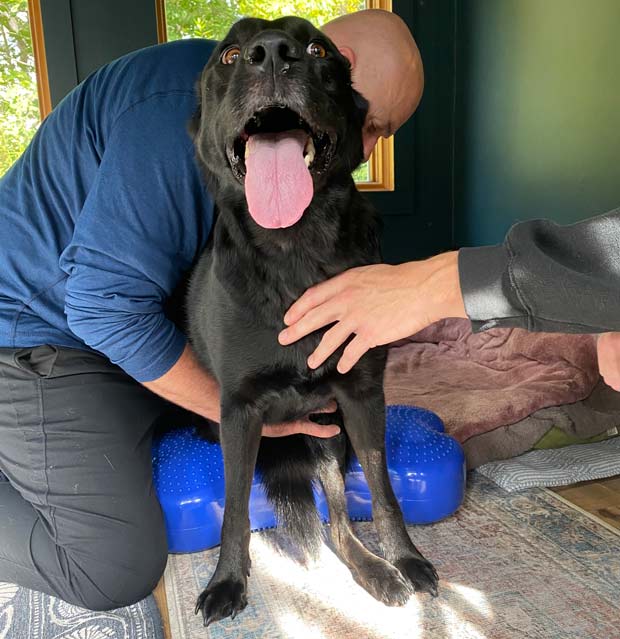 At Home Canine Rehab Exercises for Lyla
We reached out to Bob Barksdale of Barks Canine Rehabilitation when Lyla's IVDD recovery took a negative turn and we needed to bring in professional help for her at home canine rehab. After about 2 weeks of rest, she was unable to stand on her own or put weight on her remaining hind limb. Bob was able to visit the day after she lost function in her leg. Duting his visit he provided the support and information we needed in the early stages of this journey.
Bob has performed laser treatment and T.E.N.S unit therapy at each treatment which has been helping relieve tension and pain along her spine. He has shown us the at home canine rehab exercises and massage techniques to facilitate muscle activation.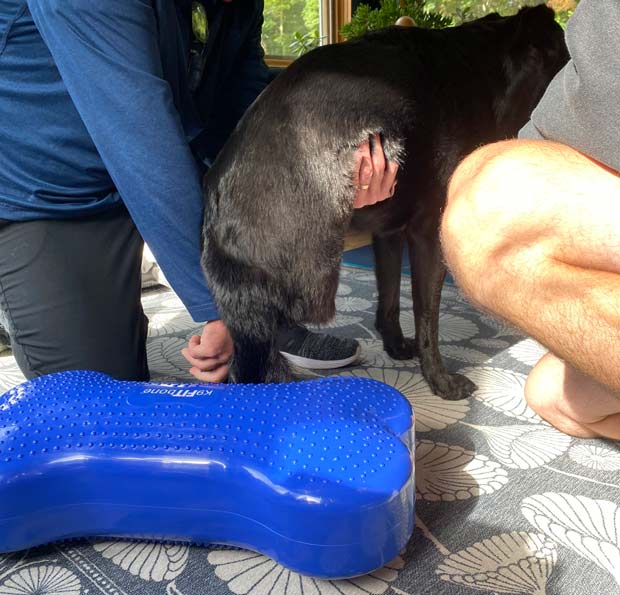 Pictured here is Lyla practicing a supported sit to stand on a 6 inch balance support bone, encouraging the normal back leg position into sitting to reinforce the muscle memory. These at home canine rehab exercises are supposed to be done daily. We perform 2 sets of 5 reps at a time, to continue to strengthen her muscles. Through this experience, we have learned to be patient and trust the process. The repetition and at-home care is the most important thing we can do and we are committed to helping Lyla succeed.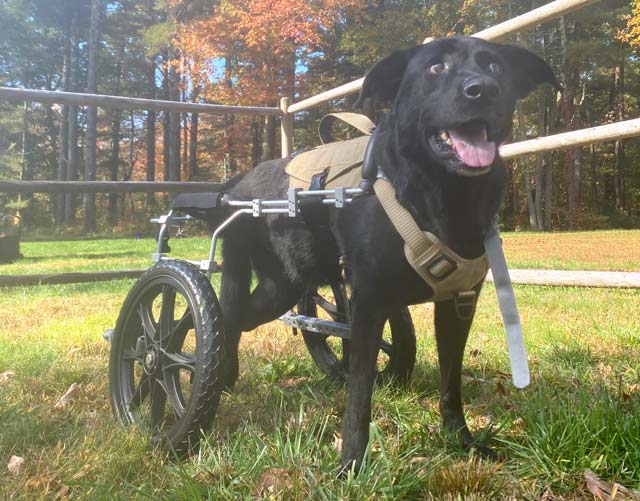 Lyla was fitted for a custom wheelchair at Eddie's Wheels in Shelburne Falls, Massachusetts. Her eyes lit up, being able to get around on her own again. We are hopeful that with the help of her Doctors, Bob, and her new wheels, and a lot of love, that she will rebuild her strength and the confidence she needs to walk again.
~ Haley, Nicholas & Lyla