New Tripawd Yellow Lab Ke'ala benefits from free canine rehab evaluation thanks to Tripawds Foundation Rehab Grant #139. The free consultation and at-home rehab exercises help Ke'ala get strong and stay fit. Read her story, and learn how you can get a free veterinary rehab evaluation for your dog or cat.

Yes! Tri-kitties qualify for free feline rehab too. See all Tripawds who have received free rehab sessions thanks to your support.
Meet Tripawd Yellow Lab Ke'ala
I have a 9 year old Tripawd Yellow Labrador Retriever named Ke'ala. She is my first fur kid and means the world for me.  I got her when she was 8 weeks old from a pet store, and in essence consider her my rescue child as I have no idea of her pedigree and she has had a number of health issues along the way.  She has helped me get through so much of my own personal trial and tribulations and providing me with so much unconditional love and joy that I do the same for her in a heartbeat, especially during this very emotional time for the both of us.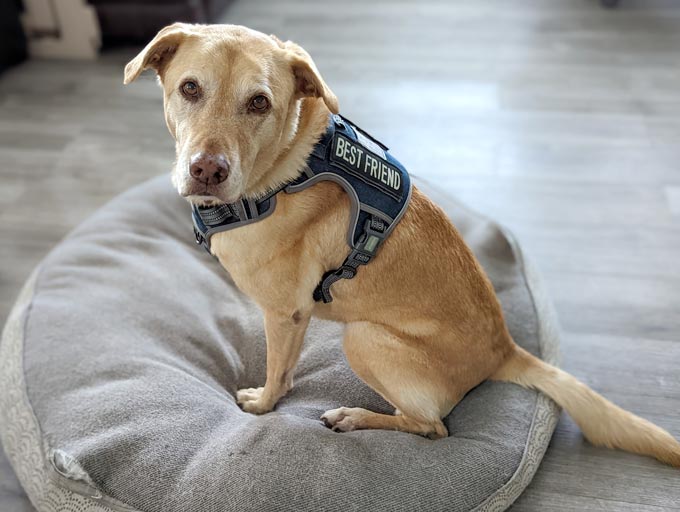 Keala's Road to Recovery
She was initially suspected to have Osteosarcoma  on October 1, 2022 as a result of what we thought was a leg injury to her right paw.  She would hold it up and also didn't want to walk and was showing signs of so much pain. After taking her into the vet and doing x-rays, it was determined that she had a hairline fracture in her right humerus.  The vet suspected that it was bone cancer. 2 days later she went in to see an Orthopedic specialist where we did a CT scan and it was confirmed that she had Osteosarcoma. I decided to proceed with amputation of her entire front right limb (on Oct 6, 2022) followed by Chemo 2 weeks later. It was one of the toughest decisions I had to make and it was definitely the right one decision for us.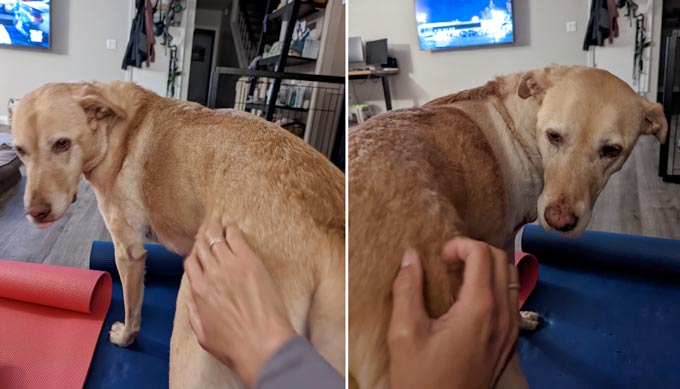 Keala's At-home Rehab Conditioning Program
I started her on Physical Therapy Rehab at the Canine Rehabilitation of Orange County at 4 weeks post-op.  Lauryn Harker, RVT, CCRP is the Practice Owner & Rehab Practitioner.
The following targeted exercises where specifically selected for Keala to help build her strength in her hind legs, her core, and to build more stamina.
Leash Walks –short leash & harness & walking  on even surfaces.  Walking more slowly requires better engagement of the muscles and will add to muscle strength, stamina and coordination.  Walk for 5 – 10 min, 3-4 times a day.
Hill Walking –walking straight up and down a gently slope hill.  Also start to add a zig-zag pattern up and down the hill.  Walk Keala back and forth across & parallel to the slope for 2-3 min.
Soft Surface Walking – this activity addreses atrophy, weakness and incoordination (i.e on medium to tall grass, sand, foam or cushions, etc.).   Begin w/ 25% per walk spent on soft surfaces, then gradually increase.
Weight Shifting – while standing and on leash, gently pull the leash back and across each hip several times to shift his/her weigth to the rear legs. Repeat for 10-15 seconds, 2-3 times each walk.
Figure Eighths – walk with each loop 6 feet in diameter. Repeat 2-4 times per day.
Step Up –Stand with rear legs on floor and front leg on single step or raised floor.  Stand for 30-60 seconds per set, 2-4 sets each time.
Sit to Stand – also focused on building the hind muscles.  Do no more than 10 per day.
Treat to Hip – use treat or other means to lure her to slowly turn the head, neck and upper chest towards each hip.  Repeat 2 times to each hip, 2-3 times per day.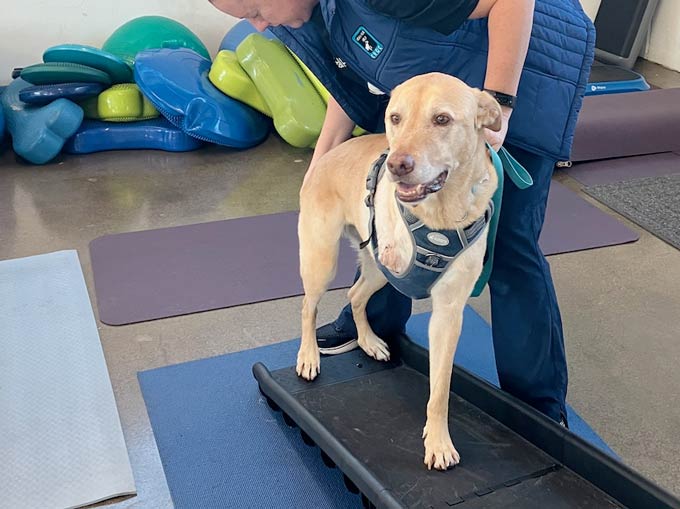 Similar to human recovering from an injury, canines need specific targeted exercises to address the areas that need to be focused on as part of physical therapy. Additionally, this also require consistent and dedicated time required to correctly rehabilitate the muscles and to reduce risk of injury to other areas.
I found out about Tripawds after joining the Tripaws – Three Legged Dog Facebook Group and heard about the Tripawds programs. I've already have learned so much other helpful and useful information.
~ Cindy & Ke'ala (aka cleong)