WOW! We have some incredible news to share. Thanks to all the generous support and different ways you helped Tripawds Foundation in 2022, three-legged dogs and cats everywhere are able to receive help when they need it most! We reached (and exceeded) our 2022 Fundraising Goal!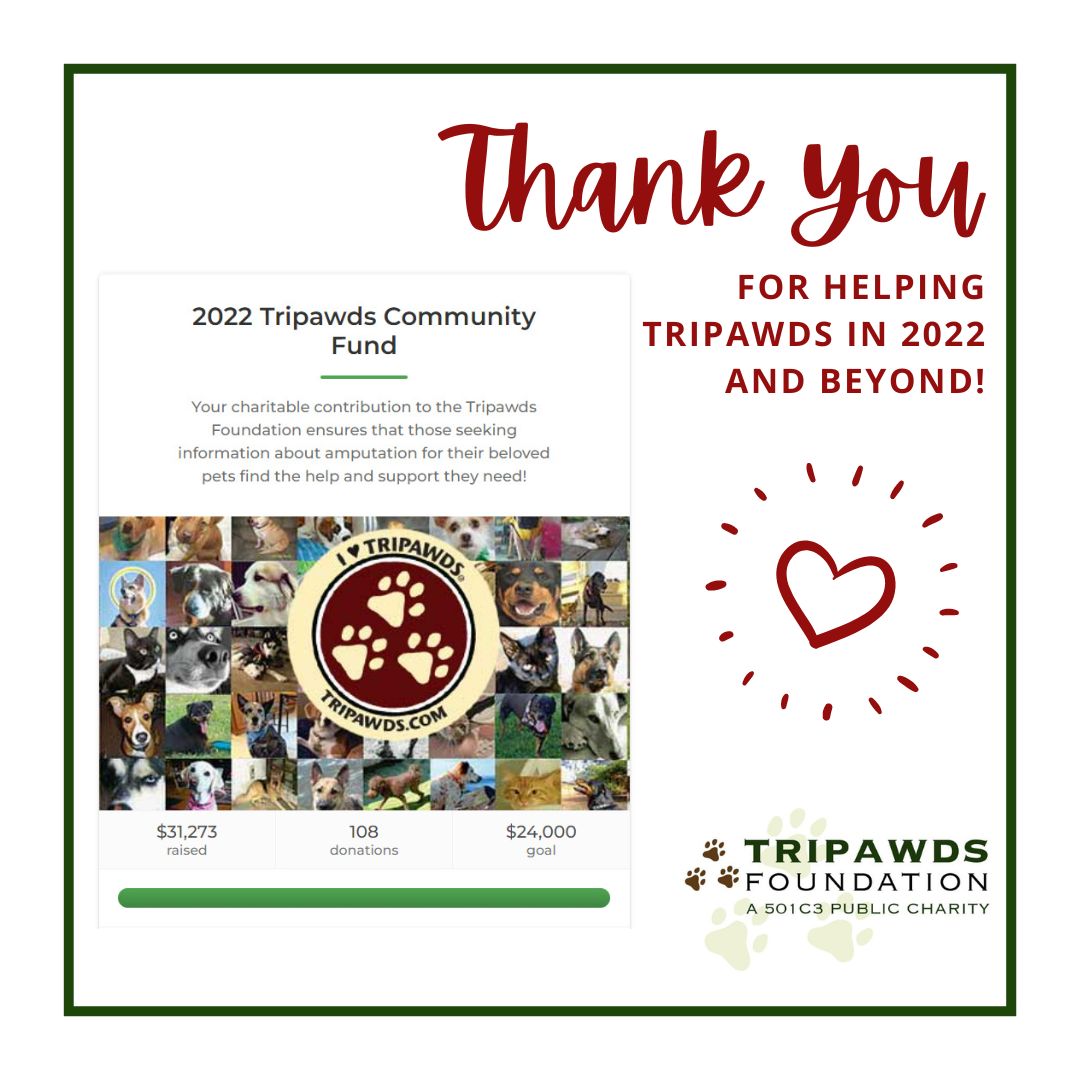 The results from our 2022 fundraising campaigns and events are the best ever in our history as a 501c3 charity. Now sit back and check out what you made happen!
Thank You for Helping Tripawds in 2022 and Beyond!
Last summer we weren't sure we would reach our fundraising goal. But this community came through in a huge way during the last half of 2022. The final total is $31,273 as of December 29. There may be more funds coming in the form of checks and last minute Tripawds donations that have yet to be counted.
Thank you everyone! We don't have enough words to express our gratitude for your generosity.
2022 Donations to Tripawds Foundation Programs and Events:
The foundation is helping Tripawds in more ways than ever, thanks to the support of everyone who contributed to our events and 2022 fundraising campaign. The fundraising numbers are in, let's take a look…
2022 Community Fund = $31,273
Individual donations, Facebook contributions, and new sustaining supporter donations started in 2022 helped us exceed our annual fundraising goal by $7,273. WOW!
Annual Dog Art Auction = $5,032
The 2022 Tripawds Painting Dogs Art Auction was another huge hit! It raised $634 more than last year's event. Be sure to subscribe to Tripawds and stay tuned for news about the upcoming annual painting dogs auction in May, 2023.
Tripawds Annual Virtual Marathon = $3,690
The annual Tour de Tripawds just keeps getting better! This year, a total of 61 racers participants raised $3690 for Tripawds Foundation programs that help our inspawrational heroes. Participants worked hard on social media, and by email, to raise Tripawd awareness among their friends and family. Their time and dedication really paid off with this important fundraiser. Let's all give a big thank you to every racer! We couldn't have done this without your support, and that of the good folks at Racery The Virtual Race Platform.
Supporters = $5,752
We owe special thanks to our Sustaining Members who provide vital support for Tripawds Foundation free resources and assistance programs, with ongoing charitable contributions. Becoming a Tripawds Supporter is one of the simplest and most important ways you can keep helping Tripawds and their people around the world.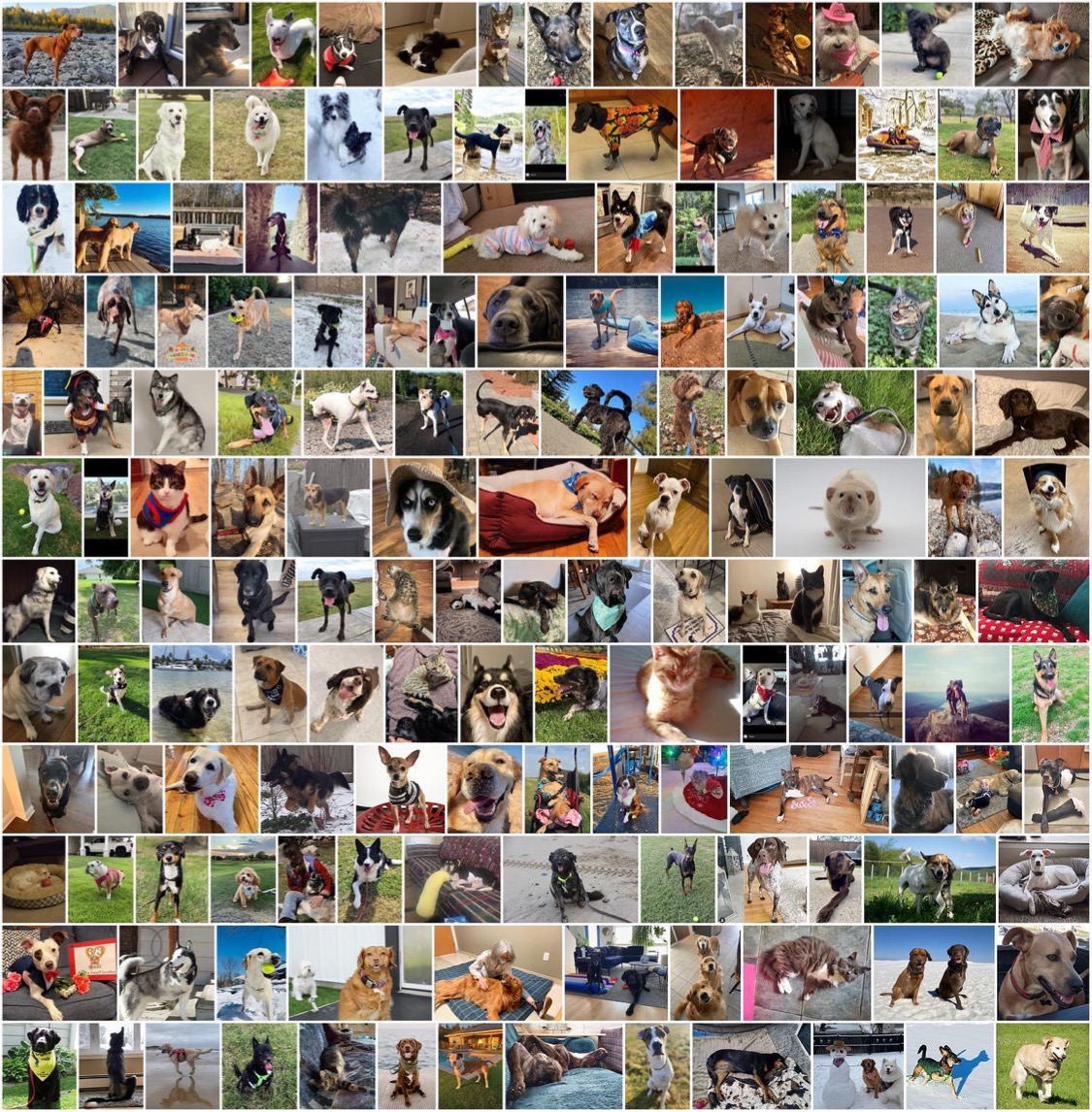 Tripawds Foundation Programs Can Keep Going Strong in 2023!
What a relief to know that the Tripawds Foundation can sustain all our assistance programs for another year. Donors help us keep the online community online and welcoming new members every day. Our 2022 major server upgrade for the foundation is keeping the Tripawds Discussion Forums running smoothly for everyone who wants to chime in, offer support, or just browse and gather information for their own three-legged dog or cat.
Thanks to your generosity, we can keep helping Tripawds and their people everywhere with the many free resources and direct assistance programs available into the foreseeable future. Thank you.
How Your Support Helps Tripawds in 2022, 2023, and beyond!
Stay tuned to Tripawds Foundation News to learn about exciting new plans in 2023, and how we can make the lives of three-legged dogs and cats better than ever!