Tripawd Mya benefits from free canine rehab therapy thanks to Tripawds Foundation Rehab Grant #142. The free evaluation and rehab exercises help Mya stay fit and strong. Read her story, and learn how you can get a free veterinary rehab evaluation for your dog or cat.Yes! Tri-kitties qualify for free feline rehab too. See all Tripawds who have received free rehab sessions thanks to your support.

Our family has lived in our home for the last 24 years. We have always taken in stray and or rescue dogs, at times as many as five. Recently this was reduced to one stray beagle and a 15-year-old miniature dachshund. We discussed adding a pure breed dog to our family. Instead, we decided to seek a rescue on the internet and that is how we found Mya.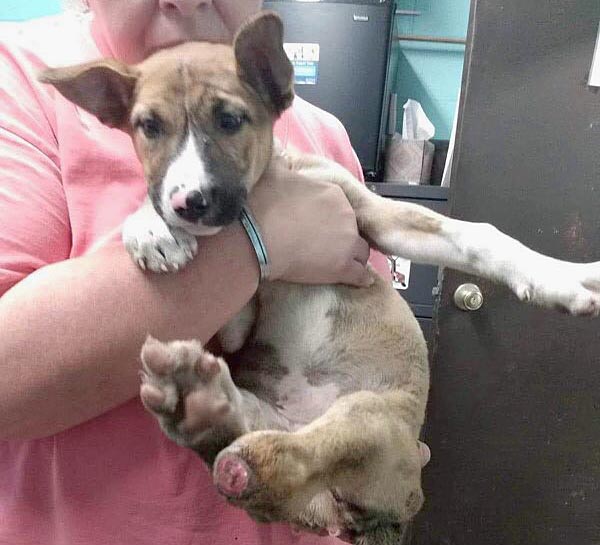 Canine Rehab Therapy for Rear Leg Tripawd Mya
She was found on the Facebook page for Rainbow Animal Rescue Inc near Roanoke Rapids, NC. After seeing her, we immediately filled out an application and set up an appointment to see her. When we spoke to the staff, we were told that she was recovering from surgery to remove one hind leg. As a result, after discussing it, we were even more determined to give this pup a home.
Needless to say, when we met her, she stole our hearts with her wonderful attitude, beautiful coat and playful disposition. Mya is a 6-month-old brindle Shepherd mix. She was found on the street and turned into the local animal control. She was missing the lower half of her back left leg. Since her other rear foot seems to be mildly deformed, we believe it was birth defect. A veterinarian, which had been secured by the Rainbow Animal Rescue, decided to remove the remainder of her missing leg up to the hip. When we met Mya for the first time, she had completed her recovery and was ready for adoption. We adopted her on the first meeting and brought her home.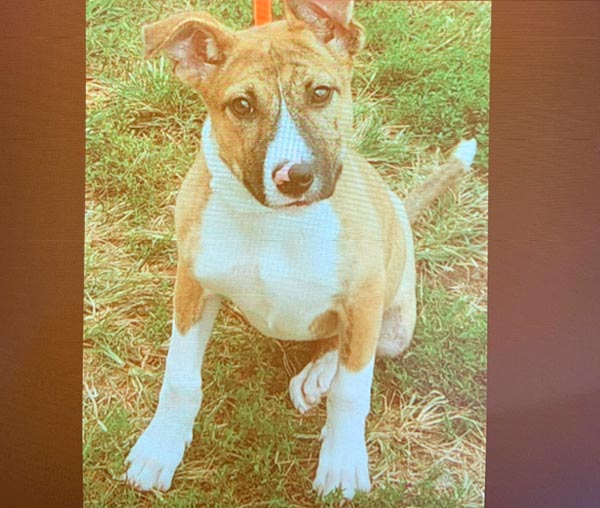 Knowing that Mya was special and that we had no experience with a Tripawd, we made the decision to seek guidance in how to work with her in order to strengthen her remaining legs and core. We knew she would need the proper canine rehab therapy exercises in order to get around with the least amount of difficulty. The staff recommended that we get involved with the Tripawds community. We have also decided to seek professional guidance on teaching her proper manners and obedience.
Mya's First Rehab Therapy Evaluation
We first met with Pet Alternative Wellness Solutions (Also known as P.A.W.S. for Rehab) for an initial evaluation by Dr. Maria Maddox. Afterwards, we felt good about the experience and most importantly we learned that there is a large community of dog owners with special needs pets and it is imperative that we are given instruction in proven techniques in order for Mya to have the best possible future. We want her to be comfortable in life as she navigates her disability.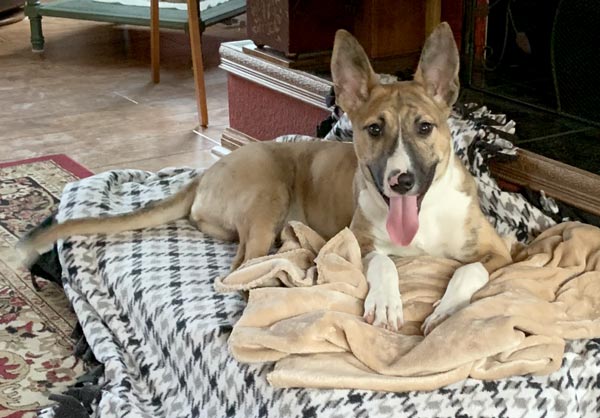 Our first canine rehab therapy session is scheduled for January 3rd 2023 and she will most likely be fitted for a special boot. We will learn more at that time about her ongoing care.
~ Melissa, Todd, & Mya