Ten year old Senior Lab Tripawd Ryder benefits from free canine rehab therapy thanks to Tripawds Foundation Rehab Grant #144. The free evaluation and rehab exercises help Ryder stay fit and strong. Read his story, and learn how you can get a free veterinary rehab evaluation for your dog or cat.

Yes! Tri-kitties qualify for free feline rehab too. See all Tripawds who have received free rehab sessions thanks to your support.
We are Mackenzie and Mark, parents of Senior Lab Tripawd Ryder and located in Hamilton ON, Canada.
Ryder is a 10-year-old black lab. We have had Ryder since he was a puppy. In 2021 we had his front right arm amputated due to a nerve sheath tumor in his armpit area. He recovered amazingly well, and we could not be prouder.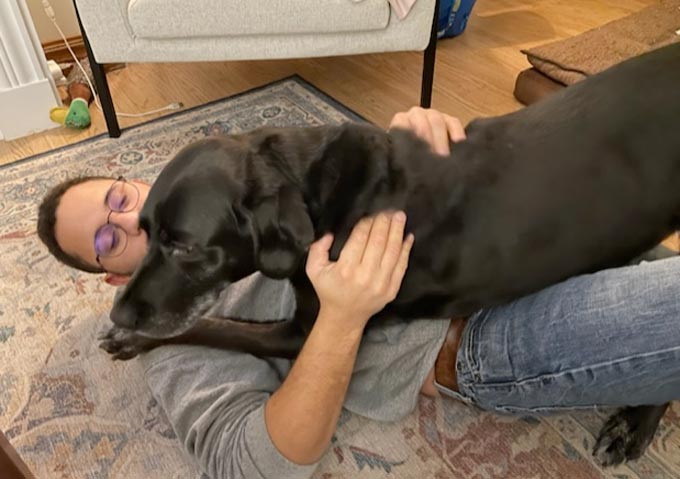 When we were in the process of diagnosing Ryder's tumor in summer 2021, and were told that amputation was an option, I began doing research online and found the Tripawds website. I followed on social media and read many articles to make sure we were well educated on what to expect and how best to assist Ryder's recovery and life as a Tripawd.
In November 2022 we visited SOAR (Southern Ontario Animal Rehabilitation) Veterinary Services. Dr. Chelsey Davey completed Ryder's assessment.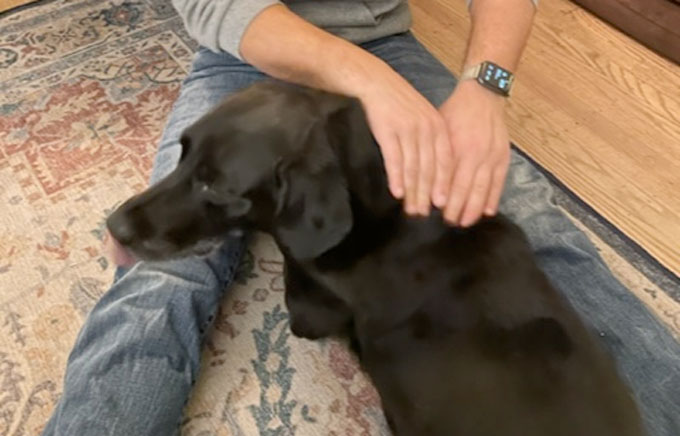 Rehab Exercises for Senior Lab Tripawd Ryder
We were given the following advice/exercises from our rehab assessment for Senior Lab Tripawd Ryder:
Ryder was noted to have moderate hyperextension in his carpus (wrist) with pain on flexion and mild signs of arthritis in his knees. The best way to prevent further breakdown of the wrist is to have a custom brace made – we were quoted for two options, ranging from $250-$1200 dollars.
Massage: Massage shoulders and back muscles for 10 minutes 2x/day, to help with soreness and stiffness.
Thermotherapy: Wrap a soft gel cold pack in a towel and place on wrist for 10 minutes at night and as needed after exercise.
Leash walks: Continue leash walks for 10-20 minutes 3-4x/day. Leash walks should be controlled. Short, frequent walks are going to be more appropriate than one long walk to minimize inflammation and maximize the benefit.
Pulsed Electromagnetic Field therapy could aid in healing and pain control.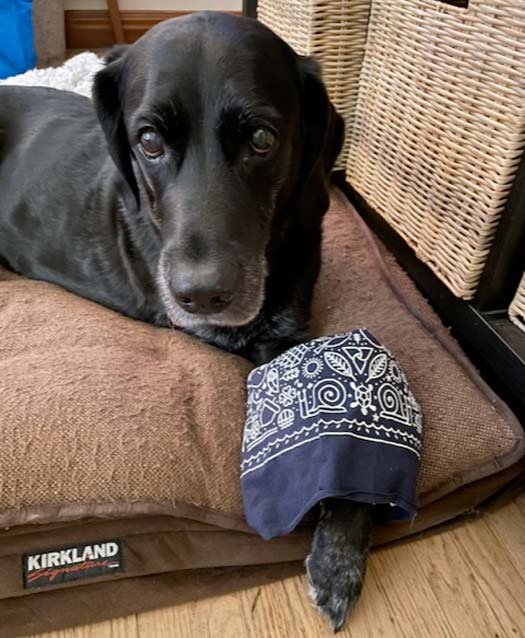 We learned that Ryder's activity should be moderately restricted to prevent injury and further hyperextension. They confirmed he should be kept on non-slip surfaces, to avoid slipping and falling.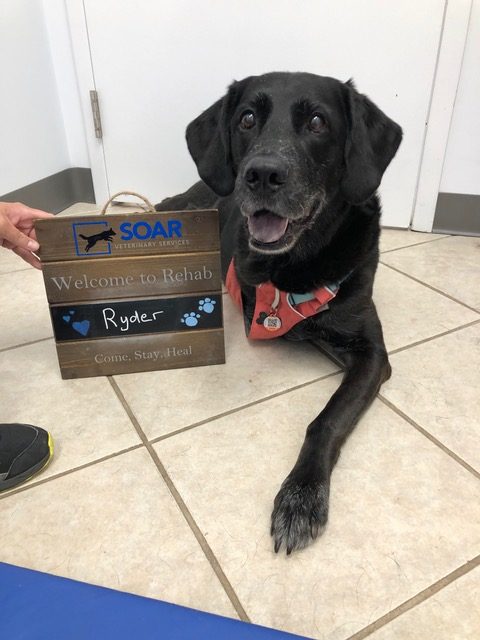 This is something I knew already from reading Tripawds Blogs! Stairs and playing should be limited to his comfort level. We also discussed swimming, and bringing Ryder in for further visits for water therapy when it is too cold to bring him to the beach.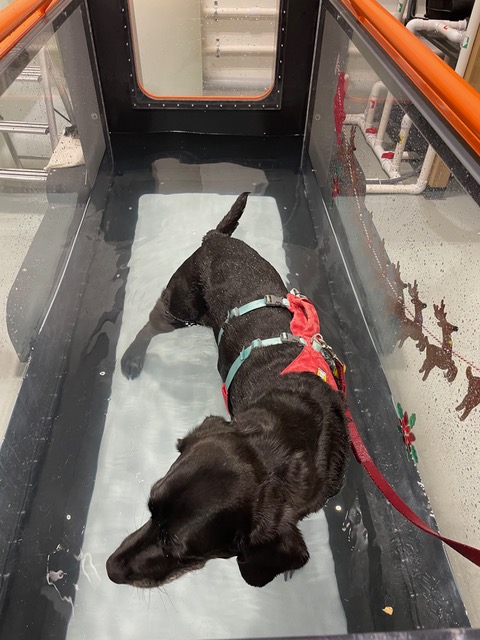 Our visit was important because we learned that Senior Lab Tripawd Ryder's wrist has moderate hyperextension and that is something we need to monitor and act on so that it doesn't get worse. This information is invaluable and has changed the way we are allowing him to move and play.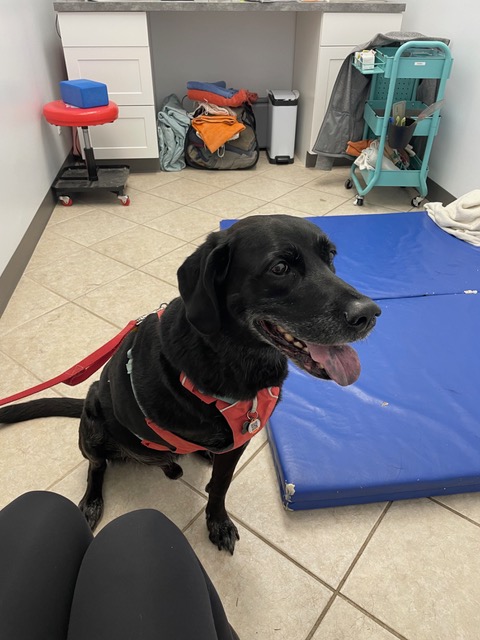 ~ Mackenzie and Mark, and Ryder (aka: Mackenzie)