Front leg Tripawd Bowie benefits from free canine rehab therapy thanks to Tripawds Foundation Rehab Grant #145. The free evaluation and at home rehab exercises help Bowie get strong and stay fit. Read her story, and learn how you can get a free veterinary rehab evaluation for your dog or cat.

Yes! Tri-kitties qualify for free feline rehab too. See all Tripawds who have received free rehab sessions thanks to your support.
Bowie is about 5 years old and is a mixed breed. We actually did a dog DNA test for her and found out she is part Chow Chow. Bowie is also Australian cattle dog, American pit bull terrier, Siberian husky, among others. However, she kind of looks like a golden retriever!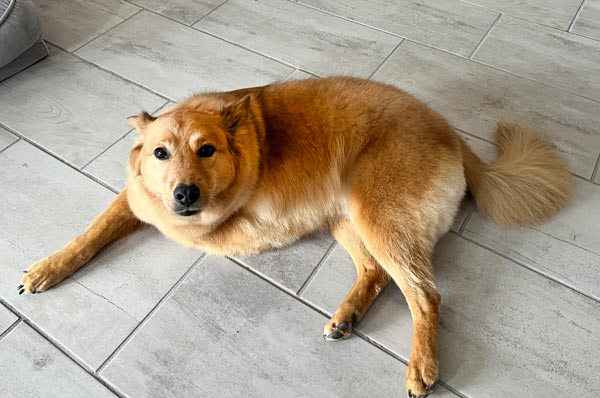 Meet Front Leg Tripawd Bowie
We don't know why Bowie is a front leg Tripawd. She came into our life in July of 2021 and the shelter she was at found her already as a tripawd. We adopted her from the Sandoval County Animal Services shelter. They said that they found her on the side of a highway in northern New Mexico. She was very emaciated and had matted fur. We are so grateful that the shelter found her and took her in so that we could adopt her.
After taking Bowie to see a rehab clinic, we received a series of front leg Tripawd rehab exercises to do daily. First, we do a series of extension and flexion exercises with her limbs. This includes gently straightening and extending her shoulder by moving the limb forward. Then we'll flex the shoulder by gently moving the elbow towards the rib cage.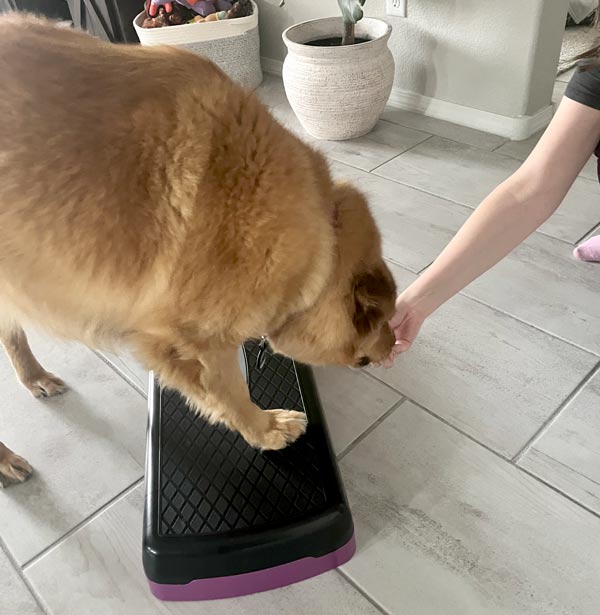 We do a carpal extension and flexion exercise by first straightening and extending the wrist followed by bending and flexing the wrist. We also do similar front leg Tripawd rehab exercises with her legs. Other exercises we do are having her stretch her sides by taking a treat to lure her nose back to the side of each hip.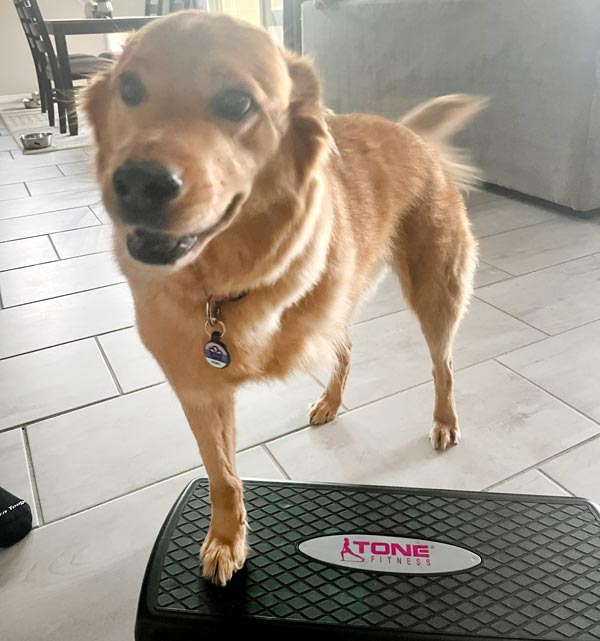 We use a box to have her stand her front leg on the box, then use a treat to pull her nose down and get her to do a sort of push up.
Next, we use a mop handle and rest it on items a couple inches above the ground so she can go slowly go over it. We also have her do figure 8's around items on the ground.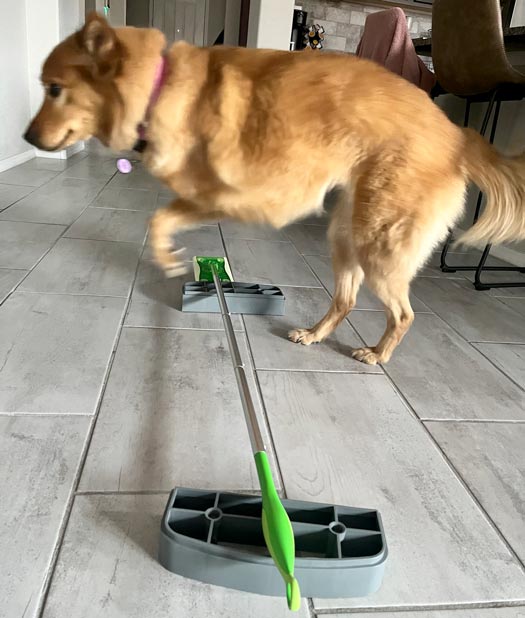 Lessons Learned from Canine Rehab with Bowie
One thing I learned from this experience is that doing these front leg Tripawd rehab exercises regularly is important for building up strength in her limbs and especially in her core. We want to help her to be as mobile and strong as possible to help compensate for only having 3 legs.
The rehab clinic we went to was Ace of Paws in Albuquerque, NM. Dr. Ana Esquivel is the rehab therapist that we worked with, and she is extremely knowledgeable.
We originally heard about the Tripawds Foundation when we first adopted Bowie because we were looking up resources and tips on how we could best support Bowie. We are incredibly grateful for a foundation that supports Tripawds and shares so many resources!
~ Cori and bowie (aka: cori74)