Free Rehab Evaluation for Tripawd Maltese Nicky
Tripawds member sfreemanga applied to the Maggie Moo Fund for Tripawd Rehab, for Nicky. Read about the results from their free rehab evaluation below, and see all Tripawds who have received free rehab sessions thanks to your support.
Nicky's First Rehabilitation Therapy Visit
Nicky has been missing his back right paw all his life; his mother accidentally chewed it off when Nicky was born, presumably as she attempted to clean off afterbirth. We adopted Nicky in November of 2014, just as he turned one. Since I work from a home office and therefore seldom leave the house, I felt assured we could provide a good home where I could keep an eye on his mobility.
Nicky uses his stump on exceptionally soft surfaces (mostly carpet), but for the most part, he rarely puts any weight on it. It's clear that the stump is uncomfortable, so with a referral from my veterinarian, I arranged a visit with Georgia Veterinary Rehabilitation for Thursday, June 23.
During this visit, Jill Bailey (one of the therapists) assessed his limb and determined that he would be a good candidate for a prosthetic paw (which I ordered). Consequently, she and another staff member took a series of measurements and concluded by taking a mould of Nicky's damaged limb. She also provided us with a temporary splint and advised us to put it on Nicky several times a day to acclimate him to the sensation of having an appliance attached. She also mentioned that using the temporary splint would help Nicky begin using damaged leg more regularly and prevent the muscles in his injured leg from atrophying relative to his good leg.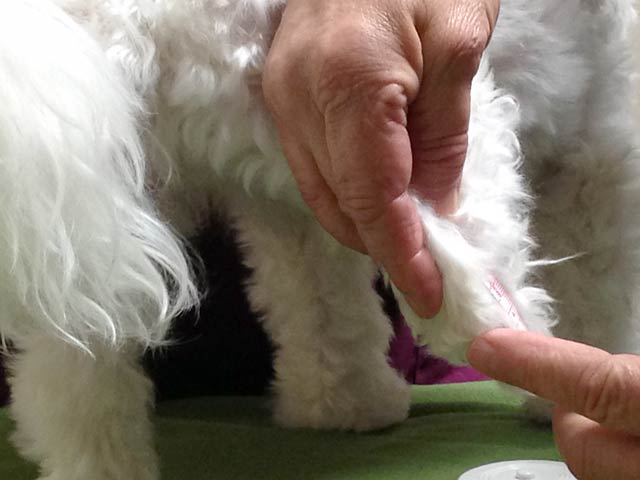 The good news is that she said Nicky has an excellent range of motion and should be able to avoid long-term medical issues (such as a compensation injury from over-using his good rear leg) with the use of a prosthetic. She advised us to continue his play exercises, especially after we receive the prosthetic, as this will keep his leg strong.
The primary play exercise I lead consists of our throwing a ball down an inside, carpeted hallway and him running to fetch it; by conducting this exercise on a soft surface, he uses his leg and has maintained enough muscle mass to prevent complete atrophy of the limb (although it is smaller than his other leg). An additional exercise Nicky receives is a nightly game of chasing our other dog up and down the same hallway; while I don't have to direct this activity myself, it nonetheless aids in keeping some strength in his damaged leg.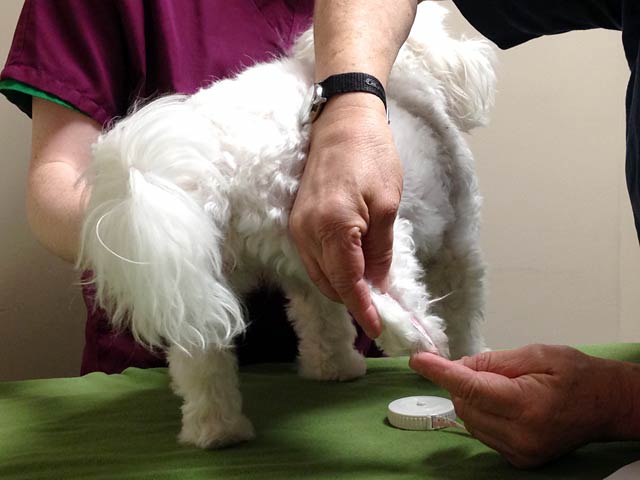 We will return in a few weeks to have the appliance fitted and to receive further instructions for the rehabilitation of his leg with the appliance in place.
Support Tripawds to Keep Maggie Moo Fund Going!
Save
Save