Here we are more than half way through the year, and the Tripawds Foundation has raised just barely more than 50% of our fundraising goal for the year.
2016 Tripawds Fund
$27,576.00 / $24,000.00
Recent donations during the current matching contributions campaign will help us reach our goal, but we will only get there with your support!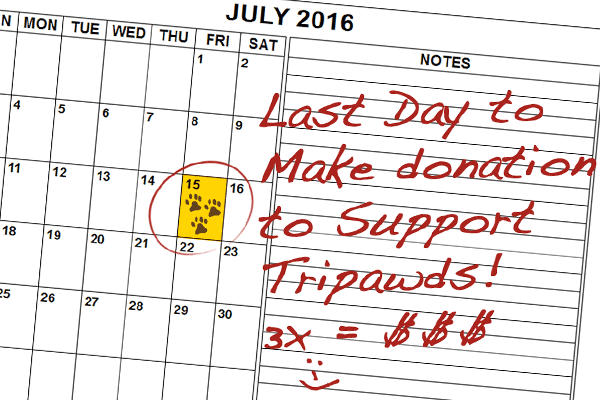 Act Now to Triple Your Donation
Our month-long fundraising campaign with all contributions being matched twice—thanks to a generous member and a charitable foundation—ends on July 15, 2016.
Please help us reach our goal of raising $1,000 by making a donation of any amount. Ten dollars will be worth $30 and $100 will earn us $300 toward keeping important Tripawds programs going.
Help Tripawds and Their People Everywhere
We have already postponed an important direct assistance program we had planned to launch this year, due to lack of funding. And our rehab reimbursement fund may soon be suspended. But with your charitable contribution we can continue to help amputee pets and their people everywhere!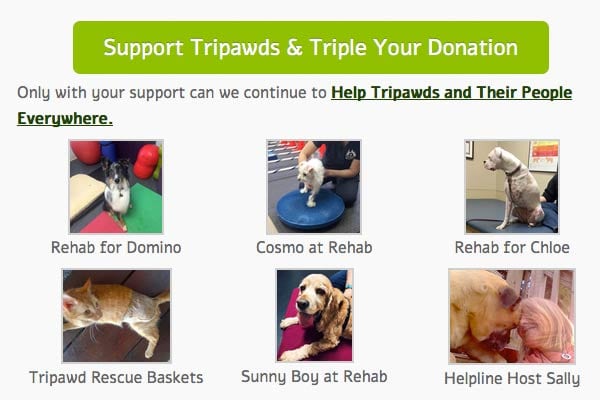 Three thousand dollars will go a long way to helping us reach our goal, which will allow us to keep these important programs going.
Pay tribute to your Heroes and Angels on the Tripawds Honor Roll!
Save
Save
Save
Save
Save