The Tripawds Foundation is happy to announce new pet amputation brochures designed to help pet parents feel more comfortable about making difficult decisions related to a cancer diagnosis or amputation for their dog and cats.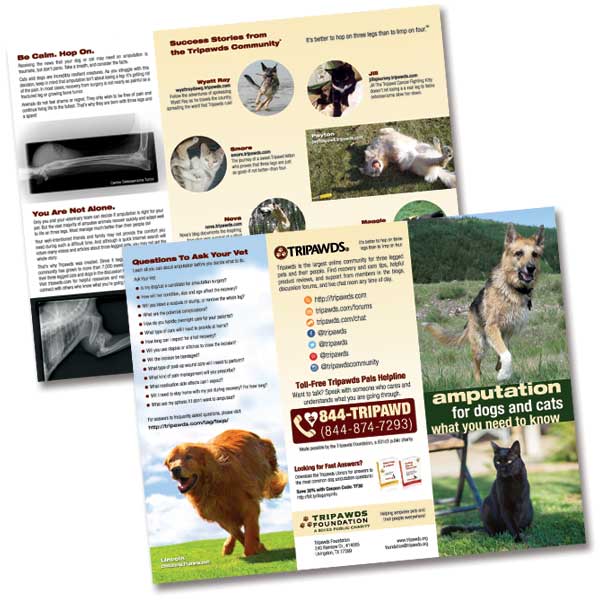 With your help, these brochures will be made available for free to veterinary offices, pet cancer centers, and specialty animal clinics. In the mean time, we have a limited number available upon request.
While we raise the funds necessary and reach out to potential sponsors to fund free distribution campaigns, brochures can be purchased at cost.
For a $125* charitable contribution, we'll send 100 pet amputation brochures to the veterinary clinic of your choice. We'll even personalize the brochures with vet office info if desired, at no additional cost.
*Prices subject to change. Please inquire about additional quantities.
Why Create a Brochure About Tripawds?
Tripawds members know first hand that receiving a cancer diagnosis for their pets, or the news that their cat or dog may need an amputation can be a traumatic experience. Most people who get the news feel frightened and alone.
These informative brochures include helpful information about amputation recovery, and address common questions and concerns. Inspirational photos feature cats and dogs loving life on three legs, with links to their Tripawds Blogs for more information. And the toll-free Tripawds Pals Helpline phone number is on the back for anyone who has additional questions, or just wants to talk with somebody who understands and cares.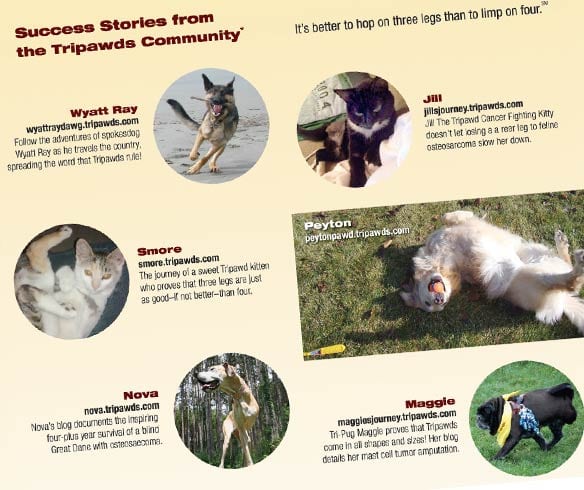 Why Charge for Brochures?
The goal of the Tripawds Foundation is to make these materials available for free, and distribute them to as many veterinary offices as possible. Until the Tripawds Community Fund enables us to do so, however, we can only print a limited number at a time. So we need your help getting them in the hands of people who need them most!
We'll send a dozen to your vet, if the office  wants some brochures for their clients.
Share this link with your vet if they're interested in purchasing some personalized brochures at cost.
Pay tribute to your Tripawd Heroes and Angels! Purchase personalized brochures in their honor.
Know any companies or veterinary franchise clinics who might sponsor a distribution program? Have them contact the Tripawds Foundation for details today!
Want More Information?
Contact us below with any questions. Together we can help amputee pets and their people everywhere!