Tripawds Angel level supporters never know exactly what kind of charm they may receive these days! 🙂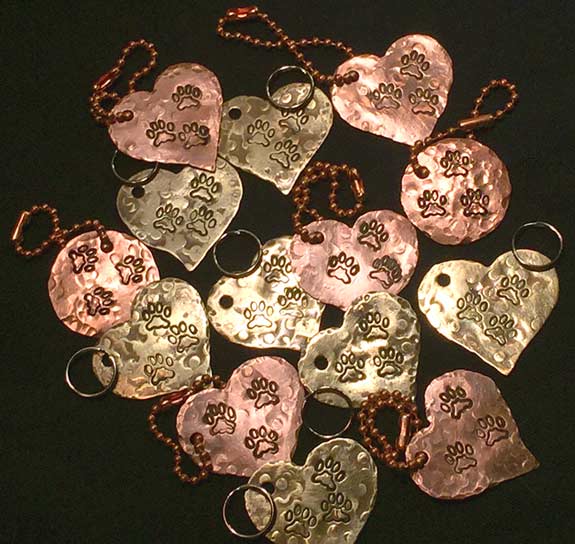 New Special Gifts for Tripawds Supporters
The elves at Tripawds HQ have been busy making charms to thank Angel Level contributors for their generous support. So busy, that they ran out of round blanks. Supporters who donate $100 or more to the Tripawds Foundation may now receive round charms, copper hearts or brass hearts. Who knows what may come next…
One thing is certain. All charms are hand stamped, one of a kind, and crafted with love. The perfect addition to any key ring, collar or shrine!
See all Honor Levels and the various gifts available when you support the Tripawds Foundation. No amount is too small, every donation is tax deductible and all donors receives a tribute post on the Honor Roll of three legged heroes and angels.
Support Tripawds to Honor Your Angels & Heroes Here
Thank You for Your Support!
Have you received your three paw charm? Thank you! Please share a picture in the discussion forums or on the Tripawds Facebook page to encourage others to support the cause. If everypawdy gave just a little, we could reach our goal of helping three legged pets and their people everywhere.