The Tripawds Foundation is happy to announce that Rx Vitamins for Pets has generously sponsored a new print run of our pet amputation patient education brochures.
We met with representatives from Rx Vitamins at their booth during the AAHA 2016 conference and they spoke highly of the work we are doing to help Tripawds everywhere. With their support, we will now be able to reach even more concerned pet parents facing amputation for their dogs and cats, right where they need us most—in veterinary clinics.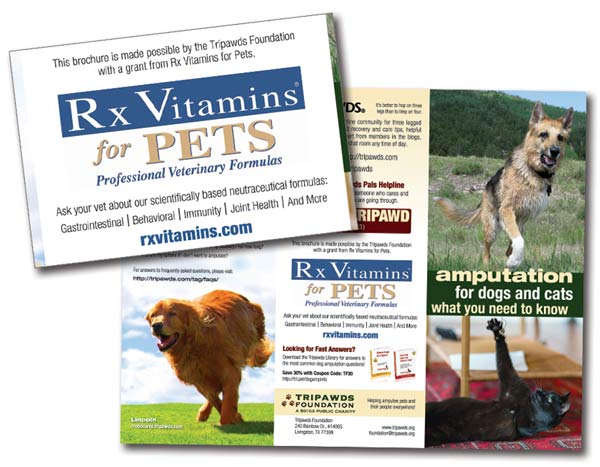 Tripawds brochures are distributed free of charge to veterinarians, rehab clinics, cancer centers and animal rescues. These materials provide important information, helpful links, and the Tripawds Helpline phone number to help people make better informed decisions about amputation, recovery, and care.
Many Thanks to Rx Vitamins!
Tripawds spokesdog Wyatt Ray and his people have been long time fans of Rx Vitamins since their Rx Clay works wonders to promote regular bowel function whenever his sensitive stomach gives him trouble.
Tripawds members may also be interested in learning more about Onco Support, Immuno Support, NutriFlex and the many other Rx Vitamins products. These scientifically based nutraceutical formulas are sold exclusively to veterinary health care professionals, so be sure to ask your vet about Rx Vitamins for Pets.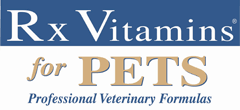 Help Spread the Word!
Now that we have more brochures, we need your help getting the word out. Request free brochures for vet clinics in your area. Then please consider making a charitable contribution to help cover postage costs.