It is always a pleasure to receive unexpected donations to the Tripawds Foundation by mail!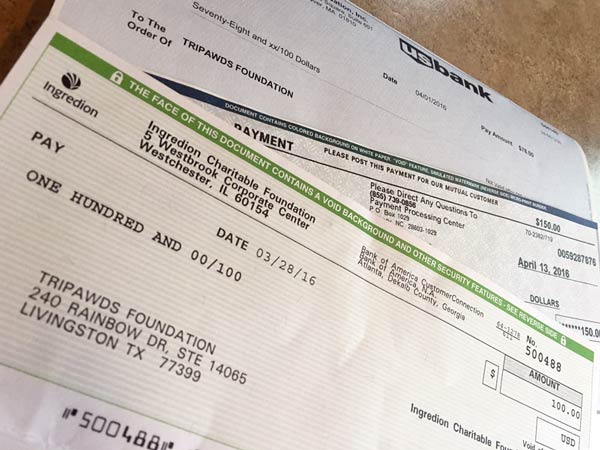 Thank You for Your Matching Gifts!
Does your employer have a matching contribution program? If you're not sure, please ask.
Sometimes the Tripawds Foundation will receive a surprise check in the mail. Recently we received a few! These random donations usually come directly from a bank or other foundation. Sometimes they require us to process certain paperwork, and we don't mind doing that at all.
Various Tripawds donors have sent a charitable contribution either online or by check, that is later followed up with a another check received by mail. These matching contributions double the amount given to help fund our ongoing programs.
And More to Come, With Your Help!
Certain donors choose to give every month with a recurring donation. You know who you are. 🙂 And every month, some of those donations are matched with another check. This helps greatly! But keeping the free Tripawds Community online and current programs going is becoming more and more expensive. And, we have much bigger plans to help amputee pets and their people everywhere.
You can help by inquiring about matching charitable giving programs at your place of work, bank, or financial advisor's office.
Or, consider hosting a matching gift challenge of your own! Make a donation of any amount and start a topic in the Shout-Outs Forum encouraging members to match your contribution.
Together we can continue helping Tripawds and their people everywhere!