Now that the Tripawds Foundation has a spiffy new display thanks to Leo's Fundraising Project, members are representing at events across the country!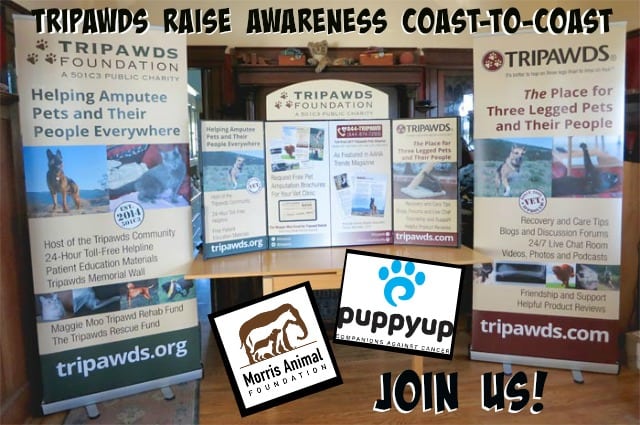 September 17: Tripawds Members "Puppy Up!" in Illinois.
On September 17, members from as far away as Iowa are meeting in Wheaton, Illinois for the Puppy Up Walk!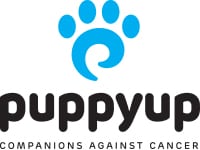 Thanks to Otis & Tess, organizers of Team Tripawds, over $3,435 is already raised to help the Puppy Up Foundation fight canine cancer. This amazing group raises money all over the world to fund comparative oncology studies at leading research institutions.
We've been friends with Puppy Up's fearless leader Luke Robinson since 2008 when he walked from Austin to Boston. The group he started is making huge progress toward helping scientists fight, treat and cure cancer for animals and humans alike!
Tripawds members will staff the Tripawds Foundation exhibit. They'll join Tripawd Cadence the amazing osteosarcoma survivor, spreading the word about this amazing community. If you'd like to join everyone, hop on over to this Forum Discussion.
October 9: Tripawds Rocks Elk Grove (Sacramento), CA at Morris Animal Foundation Walk
Hot on the paws of the Puppy  Up! event, our Tripawds Foundation exhibit will travel to Northern California for the Morris Animal Foundation's annual K9 Cancer Walk. The big day is Sunday, October 9 in Elk Grove, California.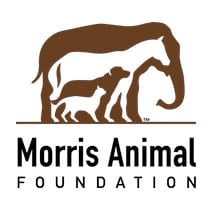 Tripawds members know only too well the heartache and fear that comes with a cancer diagnosis. We are proud to showcase at this important event that helps fund animal cancer research.
We hope you will join Team Tripawds, the Northern California Tripawds crew, along with Tripawds Spokesdog Wyatt Ray! If you'd like to walk and/or staff our exhibit, comment below!
October 28: "Howl-O-Ween" San Francisco, CA.
San Francisco's Paw Patch Pastries and High Tail Hotel have joined together for an unforgettable PAWty that you will not want to miss! Attendees will enjoy costume contest, dog parade, photography, DJ and even tricks and treats at each vendor booth! We will also be hold a raffle every 30 minutes with 100% of the proceeds from the raffle going to Tripawds Foundation!
The one-and-only Oaktown Pack will be there representing Tripawds Foundation! Join them on Saturday, October 29 from 11:00 a.m. until 3:00 p.m. Location is at the SoMa StrEat Food Park located at 428 11th St @ Division St. San Francisco, CA.
Want to Represent Tripawds Foundation?
Do you know about an upcoming pet-centric event in your neighborhood? Want to help raise awareness of Tripawds Foundation? Contact us today. We'll get you set up with the display and everything you need to show the world that Tripawds Rule.
And if you can't do events yourself, remember, your support enables Tripawds Foundation to help amputee pets and their humans everywhere! Thanks.
Save
Save
Save
Save