Thanks to the generous support of individual donors, the Tripawds Foundation has been able to launch various assistance programs ahead of schedule to help amputee pets and their people everywhere!
Tripawds Foundation Sponsors
Corporate sponsorship programs are now available to companies and individuals willing to give a bit more to keep these programs going, and help spread the word.
By making a charitable contribution dedicated to a specific purpose, sponsors will ensure success and growth of the program. In exchange for their tax deductible donation, sponsors receive promotion of their brand with a detailed announcement post in the Foundation News blog and social sharing of their partnership throughout the year.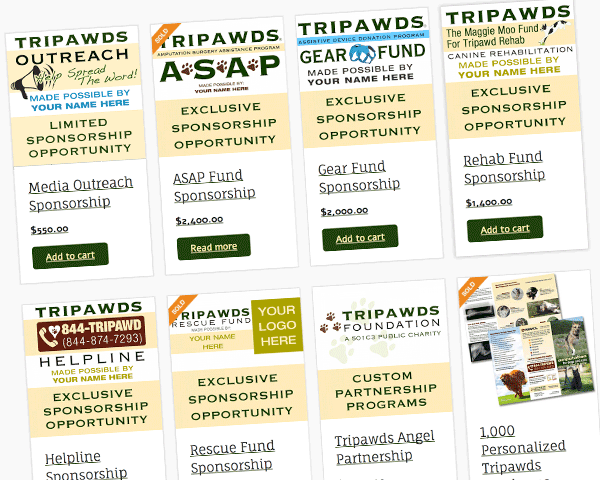 These program sponsorships are exclusive partnership opportunities—with only one sponsor per year—and availability is already dwindling…
Does your company have a corporate giving program? Do you know someone who may be interested in partnering with the Tripawds Foundation? Check out all the currently available sponsorship programs and use the buttons below to share this link!