Tripawds Community member lauren4c is recipient #19 of the Maggie Moo Fund for Tripawd Rehab. Read on for details about Aspen's rehab evaluation at VRCC in Englewood, Colorado.

See all Tripawds who have received free rehab sessions and read details about how you can get reimbursed for a certified rehabilitation evaluation thanks to your support.
Free Rehab Eval for Aspen

Aspen the Wonderdog is an 11 year old Golden Retriever/Australian Shepherd Mix known for loving every person he meets and demanding all of the pets one can muster. He calls Dillon, Colorado home and has two bi-peds that love him and a quad-ped, sister, Sammy that is his best buddy.
Aspen arrived in to dad's (Andy's) life by way of a trunk of a car and a roommate that couldn't say 'no' to an adorable puppy. The roommate brought the furball home and realized he was in over his head. Andy took over and quickly got wrapped around Aspen's paw. Mom (Lauren) entered the scene a few years later with Sammy and we've been inseparable group ever since. But, as we're all slowly finding out, getting old is hard. Getting cancer is even harder.
Now 11-year old Aspen was diagnosed with Osteosarcoma in his front left leg at the end of December, 2016. We had his leg amputated at VRCC in Denver, Colorado on January 2, 2017. His healing went really well and he adapted smoothly to being a tripawd. Or so we thought. We are now almost 4-months post-op and Aspen developed a funky gait that we decided to take up with a veterinarian certified in canine physical therapy. Dr. Karyn Fein (www.DVMrehab.com) is based in Denver but travels up to our mountain town a few times a month to help Aspen and other pups also in a rough spot.
Aspen has an iliopsoas muscle strain (the big hip flexor muscle under his back leg that connects to his spine). It's on the same side as his amputation site, though his other hip is showing similar signs of stress. We met with Dr. Fein in her home for our 2-hour initial consultation. She gave Aspen a full physical work-up, watched him walk, watched him trot and also physically worked all of his joints and massaged his muscles to see what was sore. She even did some dry needling on his back.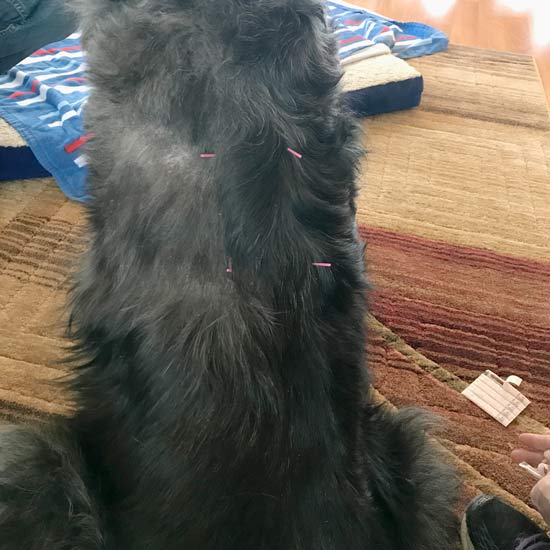 She then gave us our homework. I took videos of each item so we would remember how to do it correctly!
1. Hip Flexor Stretch
Iliopsoas/hip flexor stretch with gentle massage: work along his hairline making a c-shaped curve and continue down the front of his thigh to his knee.
2. Rear leg Stretch
On his back, encourage leg stretch with internal hip rotation (Aspen loves this one!)
3. Back Massage
Efflurage/petrissage- deep back massage along either side of his spine: 5-10 minutes 1-2x/day
4. Spinal Stimulation
Skin rolling along his back – as tolerated.
5. Scar Massage
Cross friction scar massage – 1-2+ mins/day
Thankfully, Aspen is an excellent patient and, as mentioned above, loves any and all attention. He is happy to be massaged and rolled around. As long as someone is touching Aspen, he is a happy camper. He has become more tolerant of the skin-rolling and is overall feeling more limber.
Nutrition
We also talked over nutrition and decided that Aspen, while not overweight, would be best-served to lose some weight to remove the stress from his joints. He's on a diet (and not really happy about it) but we are looking for a lower calorie food that we could feed him more kibble, while still keeping his calories down to about 730 a day.
Notes from Dr. Fein:
Based on ideal weight of 68# (10% weight loss), recommend 730 kcal/day (calories per day).
Our weight loss goal is 3/4-1.5 pounds/week. If he is losing too much or too little, we can adjust his diet as needed. We will reassess his body condition every 5 pounds of weight loss. We can go over pictures at the next visit.
Aspen is an active dog (as are most dogs that get this injury) so it's been challenging to keep him quiet, but also give him the stimulation he needs and wants. We're still working on ourselves and keeping him on a leash when he's outside (even though he wants to jog around the yard), and it's been a mental challenge for us to do what we know is best even when we can tell he's not real thrilled about it. But, true to his retriever personality, he is happy as long as he's got your attention.
Aspen continues to impress and teach me a lot about love and patience and healing. It's tiring but an amazing job helping him to be the most comfortable he can be. As of 4/23/17, his lungs and heart sound clear and there are no obvious signs of the cancer spreading. Aspen is a champ.
~Aspen's Mom (aka lauren4c)