The fine folks at Hero Dog Braces are helping the Tripawds Foundation reach more pet parents and veterinarians caring for dogs who have orthopedic issues with our message about the many resources available for amputee pets and their people.
Go Hero Go!
When we met Ben, the founder of goherogo.com at the 2017 WVC conference he and Tripawds spokesdawg Wyatt Ray hit it off immediately because they have something in common.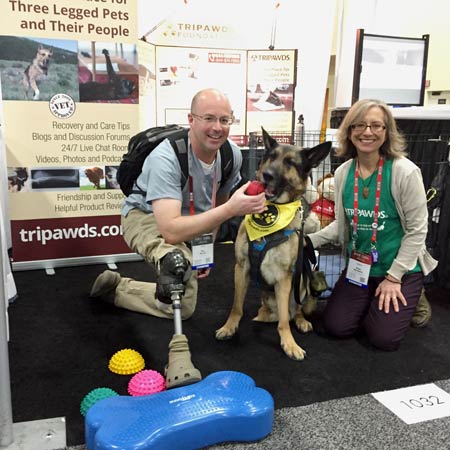 Ben is passionate about helping Tripawds and all dogs with orthopedic issues be more pawesome.  He and the team at Hero work with veterinarians to design and manufacture custom Stifle, Hock and Knee braces that can help prevent limb injuries in dogs—important for those who are missing their spare leg!
Hero is spreading the word.
When hearing about the work we are doing here at Tripawds, Ben wanted to help. And he is doing just that. Hero likes to include a promotional item for a selected charity with every brace they ship. Ben chose the Tripawds Foundation for his current campaign and we were happy to help come up with an item all dogs—and their people—can use.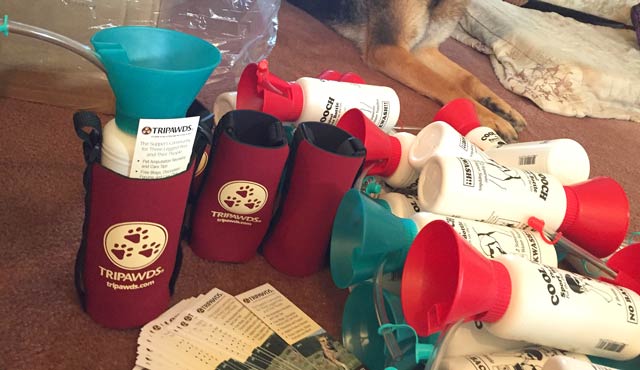 Many thanks to Hero Dog Braces for sponsoring production and distribution of Tripawds branded Cool Pooch Sport Bottles to their customers. Cool Pooch provides both the dog and human with a fresh water supply to safely share anytime! The convenient Sport Sac is imprinted with the Tripawds Badge of Honor, with a bookmark inserted including complete details about Tripawds resources and assistance programs.
"As an osteosarcoma survivor and amputee, I understand the need for support during such a trying time. Tripawds is a wonderful resource for animals with the same conditions.  At Hero Braces, we want to support people doing great things in this world. We are so happy Tripawds is changing our furry friend's world, they are our Hero!!"
–Ben Blecha, Founder of Hero Braces
Since Hero only ships directly to veterinarians, more vet clinics and passionate pet parents will soon be learning all about the ways we are helping amputee pets and their people everywhere!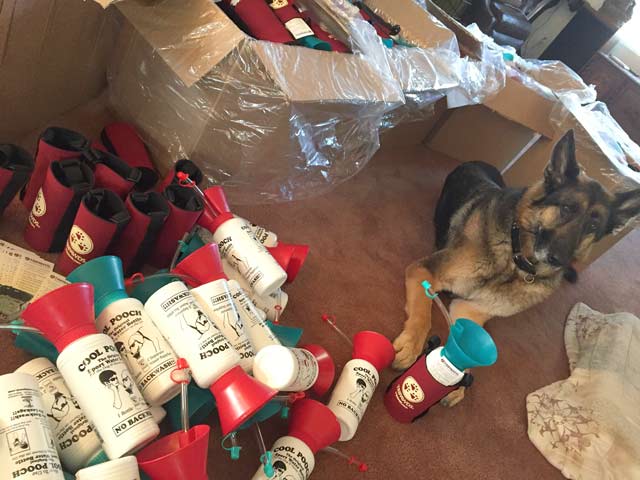 Thank you Hero!
We know what you're thinking: Cool! How can I get one of those nifty Cool Pooch bottles?
Well, Wyatt may just have set a few aside. Stay tuned for details about how you may be able to get a sporty Cool Pooch bottle to help spread the word that Tripawds Rule!