The Tripawds Foundation assistance programs only exist thanks to charitable contributions from supporters like you.
Some of you have opted to give recurring donations with an auto-renewing contribution every month. Thank You! Come this time of year, however, one time donations tend to slow down. Without a currently active fundraising campaign, or year-end event, it becomes challenging to solicit donations. Consider this your kind mid-year reminder that managing the Tripawds Foundation programs is not cheap.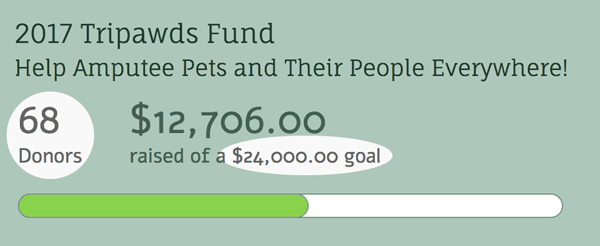 Hard Numbers
The truth is, to keep the free Tripawds community online and support helpful assistance programs, the Tripawds Foundation needs to raise $2,000 per month.
As of today, we are currently $400 short of reaching our goal for August. The year is two thirds over, 66% to be precise. Yet we have only raised 53% of the funds needed to keep helping amputee pets and their people everywhere.
Only 68 donors have contributed to the 2017 Tripawds Community Fund, for a total of $12,706 – we'll let you do the math.
In Short: You can help pay amputation surgery costs for those who might otherwise be considering euthanasia for their beloved cats and dogs. You can help give a free harness to someone in need. You can help new Tripawds get a free rehab consultation to stay fit and strong. You can ensure someone answers the phone when distraught pet parents call the toll-free Tripawds Helpline. You can help get us get back on track!
Support Tripawds to Honor Your Angels & Heroes Here
How You Are Helping
Your charitable contributions to the Tripawds Foundation currently provide:
If you have found help and support from Tripawds community members, please pay it forward with a gift of any amount. If possible, select the recurring donation option to give on a regular basis. There may be no current campaign going on, but various rewards are always available for your donations. No amount is to small. Together we can help Tripawds Everywhere!
Support Tripawds to Honor Your Angels & Heroes Here
How To Give