Thanks to the Tripawds Rescue Fund made possible by Karbach Brewing, we were able to reimburse Tripawds member lkaaj for adopting another three legged dog in need from a local shelter…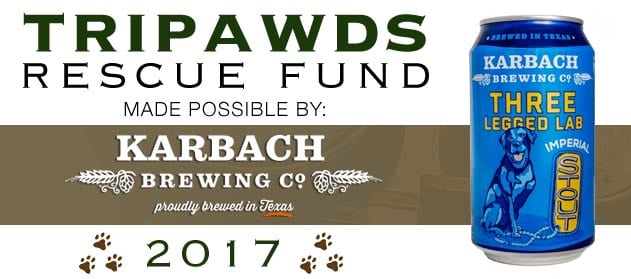 Have you recently rescued a three legged dog or cat? Get more information about the Tripawds Rescue Fund to see if you qualify.
Support Tripawds to Keep the Rescue Fund Going!
Bella Finds Her Furever Home
This beautiful girl is Bella. Bella was rescued from the Last Hope K9 Rescue.
When my husband and I had decided to adopt a rescue dog we found Last Hope. After filling out the application and being approved, we started looking through the dogs on their website that were looking for a FURever home. This is when we came upon Bella's photo. Her information had stated that she had been in foster homes for some time, that she was very lovable and that she was a Tripawd. I currently work with a woman who adopted a Tripawd dog last year and immediately went to talk to her the next day. She told me all about her pup and how great she was and I knew immediately that I wanted Bella to be ours. We have had dogs in the past but none that had special needs.
My main concerns about adopting Bella were, why had she needed an amputation and how did she handle stairs as we live in an apartment on the second and third floors. Last Hope put me in contact with her foster mother to set up a meet and greet and ask her about Bella.
As you can see, Bella is living with us now, she does a fantastic job with the stairs, you would never even guess she only had 3 legs. Bella was found abandoned and at that time she had a bad break in her leg that was an old break. The vet had decided that amputation was the only option for her as osteopenia had already set in. Bella is now just over 3 months post-op from her amputation and she is doing so well. We have done much research on Tripawd dogs and have ordered her a special harness in order to help her in and out of the car ( she doesn't need any help with stairs yet but we'll be ready if she ever does) raised food bowls so we doesn't need to bend so far down to eat and are giving her Glucosamine as well to be sure her muscles and joints stay healthy. She is on a special diet to be sure her weight is controlled.
Bella is so loved and has so much love to give. She is such a good girl and since day one is so eager to be part of our family. She loves to cuddle and nap in someone's lap as well as learn new things and see everything. She is a great addition to our family and I would absolutely tell anyone who asks that having a Tripawd dog is just as fabulous and rewarding as any other dog. She is an absolute love.
Thank you and thank you also for having so much useful information of how to care for a Tripawd dog. As a new owner of a Tripawd, it has been very helpful.
~Lori
Support Tripawds to Keep the Rescue Fund Going!