Thanks to the Tripawds Rescue Fund made possible by Karbach Brewing, we were able to reimburse Tripawds member kingsley1015 for adopting another three legged dog in need from a local shelter…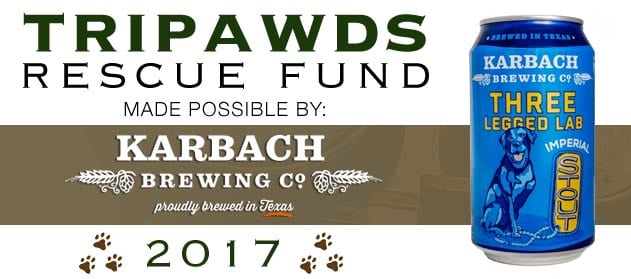 Have you recently rescued a three legged dog or cat? Get more information about the Tripawds Rescue Fund to see if you qualify.
Support Tripawds to Keep the Rescue Fund Going!
So what? He's a Tripawd!
My husband and I have recently rescued a puppy, Kingsley, from a local rescue organization called Rescue Dogs Rock NYC, and are very excited to join the Tripawds community. I had a cat for 16 years who recently passed away, a few days after we returned from our honeymoon (I think she waited!). We knew we wanted to get a dog next, and knew we needed a very special dog to fill the hole in our hearts- so we began looking for our next family member. We visited a few shelters and scoured Petfinder.com looking for our perfect fit. One night, while on the phone with my sister, I was browsing Rescue Dogs Rock NYC's page and saw a picture of Kingsley- and immediately loved his face but was hesitant about him missing a leg, which my sister's response was 'so what, he's a tripawd'.
I then began seriously considering the idea of adopting a 'special needs' dog and ran the idea by my husband, "I found this really cute puppy, but…'. But that was it, he was a tripawd – and in every other sense he was perfectly healthy and we realized that him being a tripawd really shouldn't change anything. Yes, we would have to be a little more patient, or a little more cautious and caring, but he was just like any other dog. Though we were still waiting for our application for adoption to be approved, we found ourselves researching more about tripods and what to expect if we were to get him, and our hearts became sold on the idea of adopting him.
It has been almost 3 weeks since bringing Kingsley home, and he is such a joy. He has so much love to give and has no idea that there is anything different about him, besides being a lovable, goofy, puppy. Everyone who sees him loves his infectious happiness, and says that my husband and I are angels, or have hearts of gold for adopting him, which always catches us off guard because it seems to us like there was no reason not to adopt him. Kingsley being a tripawd is just a part of who he is, same as his coat being brown- and it has taught us to see passed disabilities or differences. He is so resilient and strong, not letting anything slow him down and encourages us to do the same!
We are so grateful to have Kingsley in our lives and cannot wait for our future adventures together, and to continue being an advocate for Tripawds and all dogs that are just a little bit more special!
~Catherine