Hurricane Harvey Saves Trooper Hank
Thanks to the Tripawds Rescue Fund made possible by Karbach Brewing, we were able to reimburse Tripawds member gleebrand for adopting another three legged dog in need. Read on for the story of Tripawd Rescue Sarge…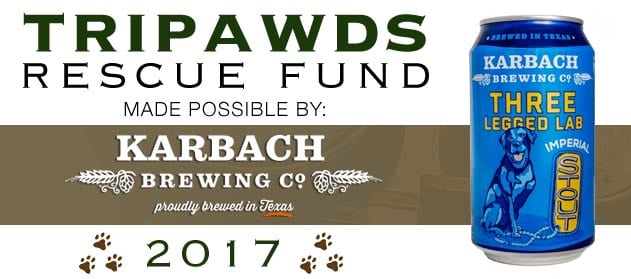 Have you recently rescued a three legged dog or cat? Get more information about the Tripawds Rescue Fund to see if you qualify.
Support Tripawds to Keep the Rescue Fund Going!
Meet Trooper Hank
I'd like to introduce you to Trooper Hank – an 8-year-old Tripawd pup I adopted through Dallas DogRRR. He is the first dog with "special needs" I've ever had in my life.  I decided to adopt after one of my Vizsla girls, Zippity Doo Dawg, died after having liver cancer or liver disease.  My other Vizsla girl, Zoomerang, is 9 1/2 years and she missed having a canine companion.  I decided to adopt an older dog or a dog with special needs.  I found Trooper Hank through my online research of pups in need of a home.
Trooper was a Hurricane Harvey pup originally from the Houston area, but he was evacuated along with 100+ other pups from a Houston area "rescue" group that had him for at least 3+ years.  The Houston area group that had him for at least three years never obtained medical care for his right front leg…and never found a forever home for him.  During the post-hurricane flooding…Trooper was evacuated from Houston and ended up in the care of Dallas DogRRR – a wonderful rescue organization that immediately arranged for his medical care, placed him in foster care for a few months, and searched for his forever home.  I was lucky enough to be selected as his forever home.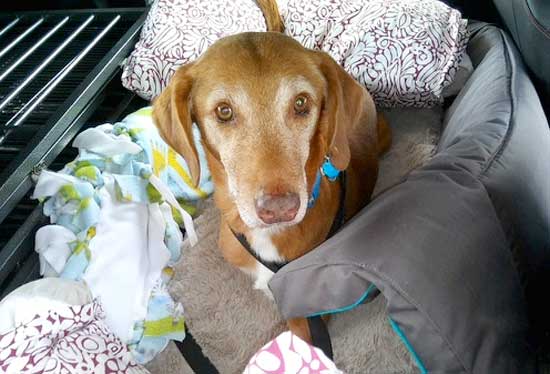 I don't know the full story on Trooper – except what I've been able to piece together online.  He was not injured during Hurricane Harvey.  It was the hurricane that probably saved his life!!  I know that sounds odd…but, it's true.  The Dallas area vet that provided his care after he was evacuated said that his right front leg couldn't be saved – he had a couple of old fractures and the right rear leg also had an old fracture.  I don't know what caused his injuries, but wonder if maybe he was hit by a car years ago given that the injuries were both to his right side legs.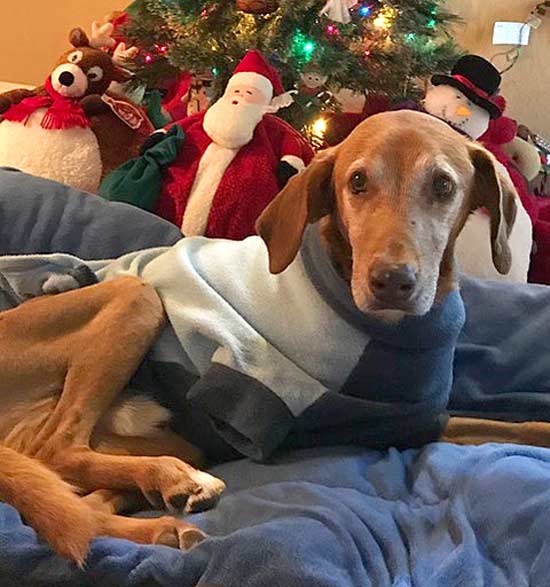 The Dallas area vet was Dr. Karri with VetRanch – a non-profit group that treats homeless pets that are sick or injured.  VetRanch has over 1 million YouTube followers – it's an amazing organization.  Trooper had a right front leg amputation, FHO surgery on the right rear leg, and he was neutered.  Two months later he required his first round of heart worm treatment because he was also heart worm positive.  On November 10, 2017, Trooper was placed with me as a second foster home (until adoption could be finalized once medically cleared) because his first foster mom was overwhelmed with other foster dogs.  A few weeks after he was placed with me to finish fostering him – he required a follow-up FHO surgery to the right rear leg and a second round of heart worm treatment.  The right front leg amputation and the right rear FHO-related surgeries have really put him in a difficult position with ambulation – he has been getting along for the past few months with just his two left legs.
On January 9, 2018, Dallas DogRRR confirmed that Trooper's adoption with me was final.  The line between fostering to adopt was somewhat blurred regarding when his adoption with me was final because the vet didn't want to finalize the adoption until heart worm treatment and all surgical treatments were completed.  Anyway, the adoption is now final.  In January 2018, Trooper started rehab therapy to help him regain strength and use of the right rear leg and to keep his left legs in healthy shape.  I'm attaching some pictures of Trooper and a short video of him in his fourth session of rehab therapy.  He's getting along better even after only four sessions.  But, he has a long road ahead….  At some point in the future, he will also need dental surgery because most of his teeth were ground down to nubs and many are broken – possibly occurred while he was kenneled for years.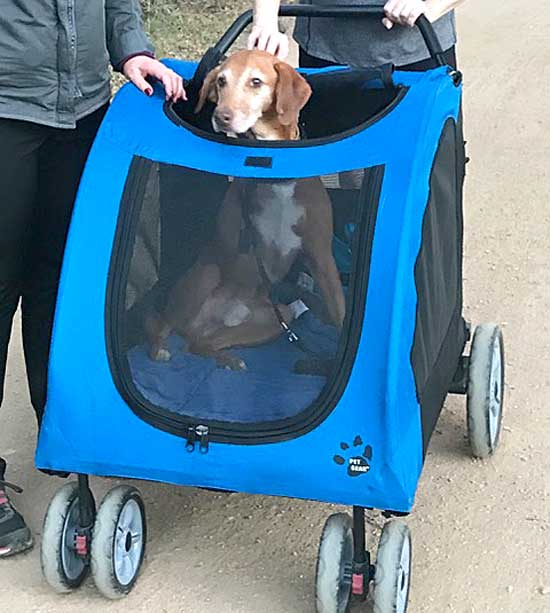 I found a picture of Trooper online that the Houston "rescue" group posted of him in December 2014 – he was holding his limp front right leg in the picture.  They mentioned his leg was injured, but they didn't think he was in pain and said he was getting along on it okay.  It's the only attempt I found online of the group trying to find a home for him.  I've attached the 2014 picture of him that I found online.  His name was Hank while he was in rescue.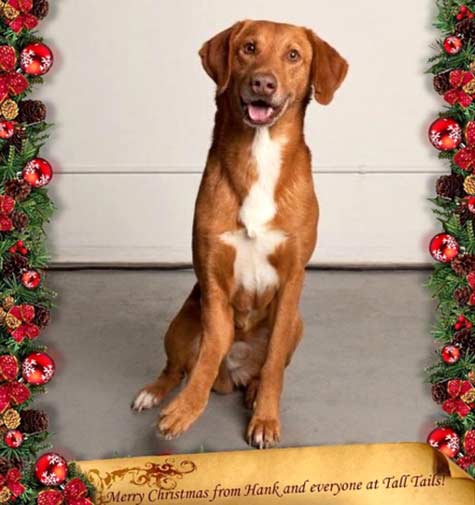 I told you already that Trooper was also heart worm positive.  I've since heard that the majority of the dogs evacuated from his Houston area "rescue" group were heart worm positive.  The "rescue" group that had him for three years almost lost their 100+ dogs in the flooding that occurred because of the hurricane.  A plea was put on social media during the flooding and volunteers took their boats to rescue the dogs.  The dogs were turned over to new rescue groups (mostly in Austin Pets Alive and Dallas DogRRR) – that medically treated the dogs and found forever homes for them.  This story was all over the news.
Trooper's favorite things are going for walks in his stroller and rolling around on the floor with his plush squeaky toys!  He also loves getting belly rubs!  He's like any other dog – enjoys the same things!  My perception of a dog with "special needs" has changed in that they're just as silly, fun, and loving as any other dog.  This is why I'd recommend adopting a dog with special needs – because life with them can be just as fun, interesting, fulfilling, and rewarding!  Trooper is a total sweetheart and I'm lucky to have him.  My 9 1/2-year-old Vizsla girl, Zoomerang, is also thrilled to have a new canine companion in her life!
I've been monitoring the Tripawds website and have found a lot of super helpful information to help me in taking care of Trooper – such as the stroller and harness recommendations.  So, thank you for all of the work you are doing for Tripawds!
~ Gretchen (aka: gleebrand)