If you've spent any time in the Tripawds Forums, you have likely received a warm welcome, helpful feedback, and guidance from long-time member, community supporter, and forum moderator krun15, aka our friend Karen.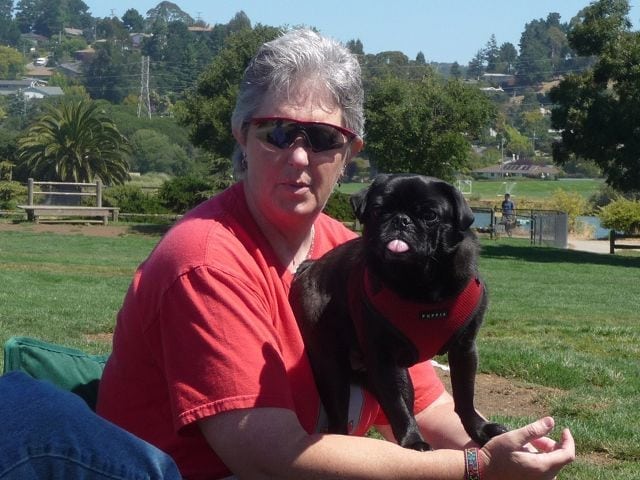 Ever since she joined Tripawds back in October, 2009 and first started sharing the story of her amazing Tri-Pug Maggie, Karen has been making quick friends with new members from all over the world as one of our first forum moderators and and earliest Tripawds Bloggers. She launched and coordinates the Tripawds Tribute Leash project, regularly attends Northern California Tripawds gatherings, and continues to support Tripawds in many ways.
We should also mention how Karen rescued Elly, and shares her story in the Life with a Tri-PugMutt Blog. Recently it was her generous contribution that helped the Tripawds Foundation exceed its 2017 fundraising goal. Stay tuned for details about what that means for amputee pets and their people everywhere!
Maggie has always been a huge inspiration for any member facing amputation due to mast cell tumors, and proof that Tripawds come in all shapes and sizes. Karen remains one of our most active long term members and supporters, providing comfort and helpful feedback to new members on a daily basis. That is why we have named the Tripawds Helpline in Maggie's honor.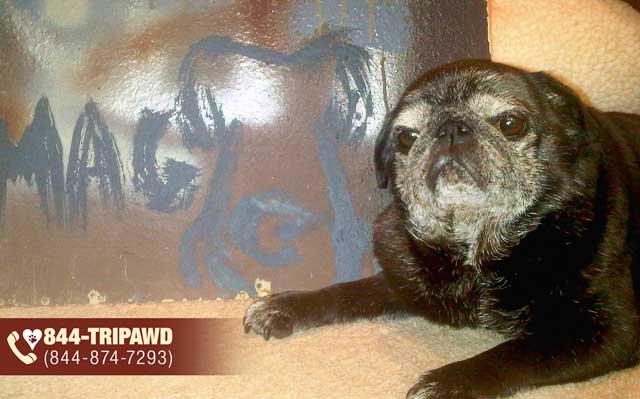 Tri-Pug Maggie's Helpline
Acknowledgement for Karen's help and support is long overdue.
It is only fitting that we honor Maggie by hosting the Tripawds Helpline in her name since that silly little spud is the reason Karen discovered the Tripawds community in the first place, and krun15 has been on the front line helping others in the forums for nearly ten years now.
Thanks to her generous support the toll-free Tripawds Helpline has now been funded for the foreseeable future. If you have visited the Helpline page recently, you may have noticed a little something new. It's the least we can do.
Thank you Spud.
The Tripawds Helpline is hosted in honor of Tri-Pug Maggie thanks to the generous support of long time community supporter and Forums moderator krun15.