Thanks to the many donations received during the final days of the 2017 fundraising campaign – and a generous contribution from one certain member – the Tripawds Foundation will now be offering more veterinary financial aid for amputation surgeries.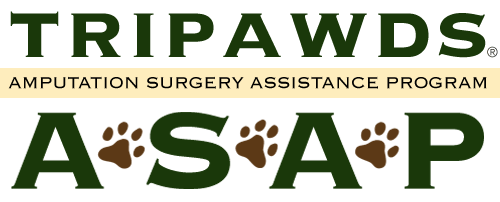 Tripawds ASAP Grants Offered Twice Each Month
With the support of members like you additional funds have been allocated to extend the Tripawds Amputation Surgery Assistance Program, now providing grants twice a month. Previously only one grant was offered each month. Starting March 1, 2018 two recipients will selected each month to receive up to $500 to help pay veterinary bills associated with limb amputation for their dogs and cats.
The deadline for submission of applications and all supporting documentation is now the first and the fifteenth of each month. Please review all Tripawds ASAP guidelines to see if you qualify. To read the stories of those dogs and cats whose people we have helped by easing the financial burden of their surgeries, browse all ASAP posts here.
Tripawds ASAP Grant Recipients:
As of this writing, $6000 has been given to families in need to help pay for a dozen unexpected amputation surgeries for dogs and cats. With your help, we can continue to assist many more.
Support Tripawds to Keep ASAP Fund Growing!
You Can Help Even More Tripawds!
Now that we have essentially doubled the amount of funds required to maintain the ASAP fund, your support is needed more than ever. Please consider making a charitable contribution of any size to keep this program going. It is only with your help, that we can continue to prevent financial euthanasia of dogs and cats for those facing unexpected surgery costs. When additional funds become available, we also hope to increase the amount of each ASAP grant.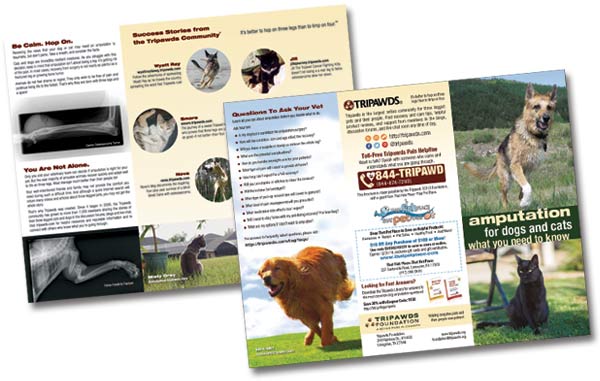 Help Spread the Word!
The more people aware that the Tripawds ASAP Fund exist, the more we will be able to help those facing unexpected surgery costs. The best way to reach these folks is where they receive that awful news–at their vet clinic. If you have not already done so, please request free pet amputation brochures for your vet's office. These materials provide helpful information about the many Tripawds Resources and assistance programs, and include the toll-free Tripawds Helpline phone number.