The Tripawds Foundation ASAP grant #13 goes to Tripawds member steven to help pay for PJ's amputation surgery. Read on for her story, and learn more about the Tripawds Amputation Surgery Assistance Program to see if you qualify.

This grant is made possible by the charitable contributions of Greyhounds Rock Fredericksburg and Tripawds fans like you. Thank you for your support!
Support the ASAP Fund to Help More Tripawds!
PJ's Story
I found PJ under the steps when she was just a tiny kitten and she has always loved being outside, spending more time out then in. PJ was gone for days and then she showed up limping. It looked like her front paw had been caught in a trap and her hind leg was impaled with a stick. She made it home and had the will to live.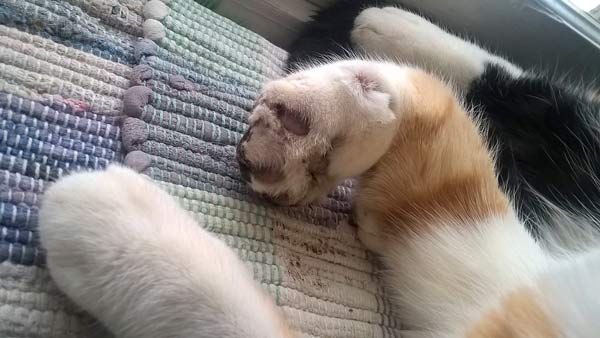 I looked in her sad eyes (it smelled like the paw had already started to rot and she had to be in terrible pain) and decided to see if she could be helped. When the carrier was brought in to warm up she went right in it as if she knew she needed help. The vet said the whole arm needed to be amputated and it would be over $700 for surgery.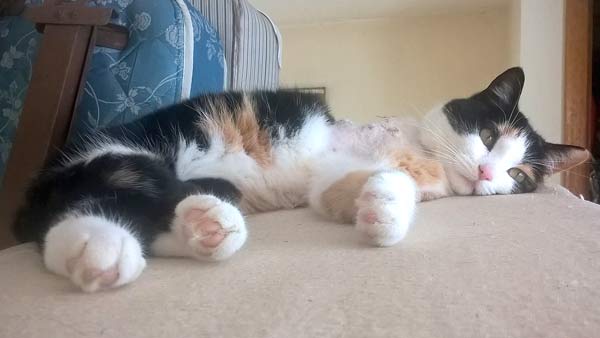 That poor little girl is only 18 months old and has lots of years ahead of her. The vet said she had a good prognosis so I left her there to get started on antibiotics before surgery.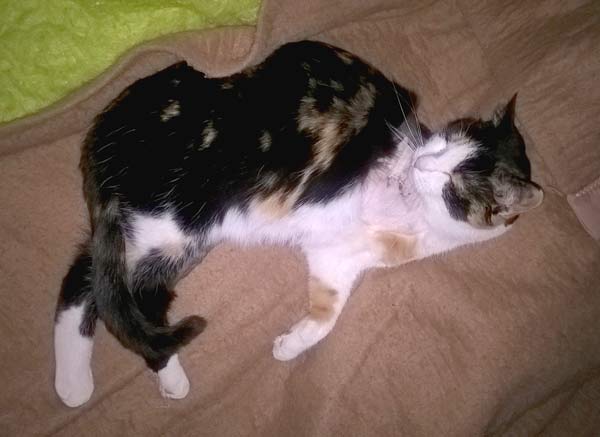 Surgery went well but vet wanted keep her overnight. This gave me more time to get my bedroom ready for her recovery. I put my bed on the floor, added a ramp to it and got all the kitty essentials moved in. Her recovery was going okay until she needed to go get the drainage tube out. The trip was bad as she had a #1 accident in the carrier going and a #2 accident on the way home.
The tube came out good and she was more active. The activity lead to her not wanting to be confined in the room anymore. I kept telling her how many days she had left before she got her stitches out and regained her freedom.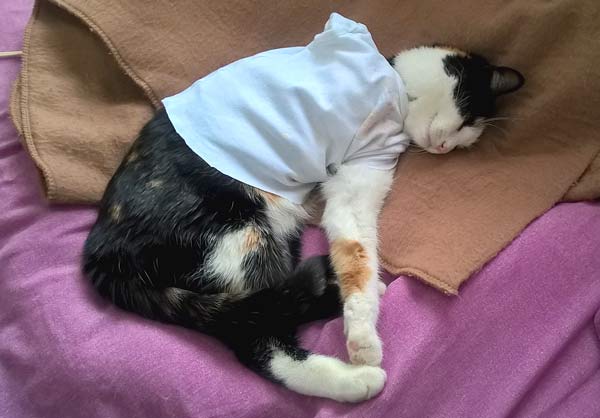 The morning of her appointment she went in the carrier and pulled on the zipper as if she was going to close it up. She had a #2 accident on the way to the vet but no accident on the way home. At home she seemed to be satisfied to make her way around the house checking out all the rooms and then she settled back into my bedroom with all the kitty essentials.
~ Steven