Thanks to the Tripawds Rescue Fund made possible by supporters like you, we were able to reimburse Tripawds member ludosmom for adopting another three legged dog in need. Read on for the story of Tripawd Rescue Ludo…
Have you recently rescued a three legged dog or cat? Get more information about the Tripawds Rescue Fund to see if you qualify.
Support Tripawds to Keep the Rescue Fund Going!
See all available program sponsorships.
This is Ludo. He is the newest member of our family. We got him at the Denver Dumb Friends League.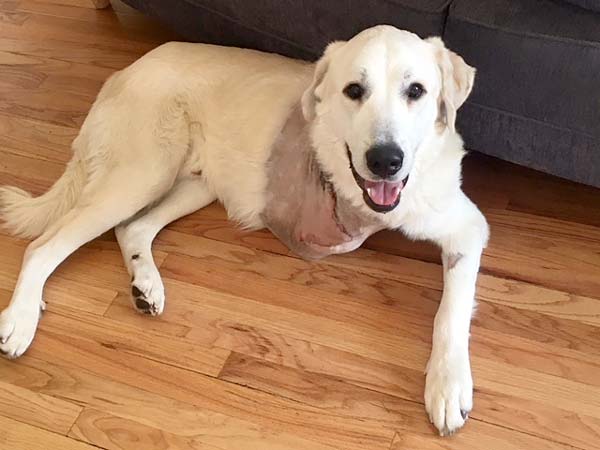 He came to us right after his surgery and has spent time healing us and himself. Two members of our family suffer severe anxiety and Ludo is the perfect calming and loving dog for them. He loves to meet people and shake hands (he expects a treat after, though). So far he loves romping and rolling in the snow and eating ice. He is only a little naughty when he sleeps in bed, and he is a big dog!
We have loved all types of animals and a Tri was truly a calling for us. Our daughter is healing from an illness and they both heal together. My son walks him (and gets off of his phone) and plays in the backyard. His demeanor is the calmest and kindest I have ever seen in a three year old Pyrenees/Anatolian Shepherd mix!
So far he doesn't fetch, but that's ok, he loves to romp and play with all of us. His eyes are so sweet and kind and he doesn't seem to even notice or care that he is missing a limb. Keeping him healthy and arthritis free (he is a BIG dog) will take a team effort with walks, soft place to rest (like the bed) and lots of healthy foods.
He still doesn't come downstairs with us for movies, but he has only been here two weeks and perhaps a harness will help. To anyone considering a special needs friend, just go for it! The overwhelming love and appreciation you will feel for the animal is priceless. We also have a gecko with broken legs (adopted from a second grade classroom) and a cat with an overbite. Animals with special needs also have special powers, they make us better humans.
Love,
~Amber (aka: ludosmom)
Support Tripawds to Keep the Rescue Fund Going!