The Tripawds Foundation wishes to thank everyone who contributed to the recent 3X Matching Contribution Campaign – especially our anonymous donor making the $1000 match, and the foundation matching that with another $1000 contribution.
So did we raise enough to earn the matching donations? Yes! And then some…
With help from a long time Tripawds supporter who donated another $1000 to guarantee this challenge was met, since the start of this campaign just four weeks ago 31 generous donors have contributed $2376.75. Donations ranged from $6.75 to $1000, proving that no amount is to small to Help Tripawds!
This is the power of three. This is no coincidence. You can't make this up…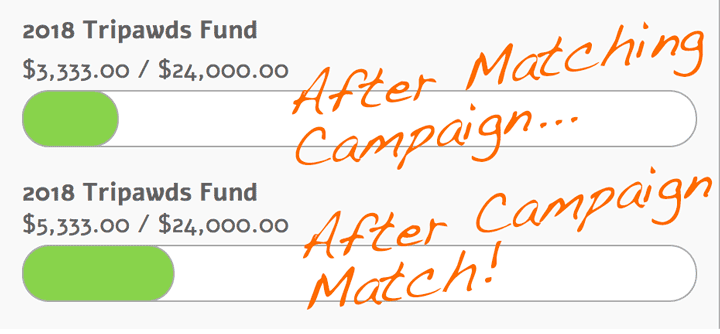 At the end of the campaign, our 2018 Tripawds Campaign progress bar read, wait for it: $3333.00!
This is a huge push toward reaching our goal for the year. And we owe it all to supporters like you.
Thanks to you, the Tripawds Foundation has provided 30 free rehab consultations to pet parents doing the best they can to ensure thir three legged dogs and cats stay fit and strong. We have awarded 13 ASAP Grants reimbursing people in need for pet amputation surgeries. More than 20 Tripawd Rescue adoption fees have been reimbursed. The Tripawds Helpline remains available 24 hours a day. And countless Free Tripawds Resources remain online to help concerned pet parents all over the world.
Thank you for your support. Together we can continue to help three legged pets and their people everywhere!