Thanks to the Tripawds Rescue Fund made possible by supporters like you, we were able to reimburse Tripawds member jetgirl63 for adopting another three legged dog in need. Read on for the story of Tripawd Rescue Lily…
Have you recently rescued a three legged dog or cat? Get more information about the Tripawds Rescue Fund to see if you qualify.
Support Tripawds to Keep the Rescue Fund Going!
See all available program sponsorships.
Meet Tripawd Rescue Lily
In December 2017, we lost our little Yorkshire Terrier of 15 years to congenital heart failure. Our hearts were broken and in the midst of our grief, we did all we could to console her sister, Kirby, our 14 year old Yorkshire Terrier. We became worried about Kirby as she seemed very depressed and she began to lose weight. One day, two months later, we decided we all needed another Yorkie in our lives.
I stumbled across a local Yorkie Rescue organization, Rocky Mountain Yorkie Rescue, online. I searched the available Yorkies and came across sweet Lily. The foster mother described Lily's amazing abilities and mastery of tricks. She then went on to say, "And sweet Lily does all of this with just three legs." She included a video of Lily playing.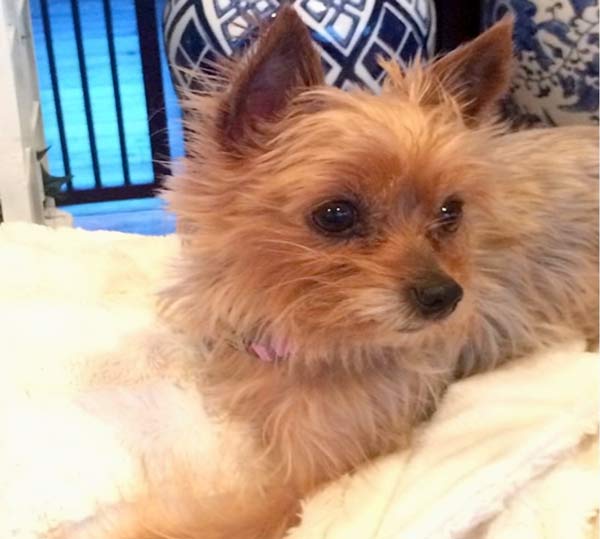 We had never even thought about adopting a "special needs" dog. However, the moment we laid eyes on Lily's sweet, unstoppable spirit, we knew she belonged with us. We had never experienced a Tripawd dog before and were instantly AMAZED at how much little Lily could do. She has been an incredible blessing to our family. Our 14 year old Yorkie loves her and has gained a new spring in her step just being around Lily with her miles of energy. We intend to make sure Lily receives the exercise and diet she needs to keep her weight down and her body healthy.
We have ordered ramps to assist Lily in getting off of higher furniture, such as the sofa. Lily has found her forever home and we couldn't be more thrilled. We would like to encourage anyone with any hesitation about adopting a Tripawd to get to know one. It will definitely change your life…in a good way!
I discovered the Tripawds organization through a Google search. I was looking for a resource to gain support/tips/advice from other Tripawd pet owners to make sure I do everything possible to give Lily a wonderful life, and came across Tripawds.com – a wonderful site!
~Juli, Proud Tripawd Mom (aka: jetgirl63)