Tripawds Community member sjstern is recipient #33 of the Maggie Moo Fund for Tripawd Rehab. Read on for details about the benefits of canine rehabilitation for Winston.

See all Tripawds who have received free rehab sessions and read details about how you can get reimbursed for a certified rehabilitation evaluation thanks to your support.
Free Canine Rehab for Winston
Winston, my beautiful and spunky 10 ½ year old Golden Retriever, started limping in February 2018. By March 2018,  we saw the ortho surgeon who determined that there was a large mass in his right shoulder area, and it was determined that he had a low grade soft tissue sarcoma, and that amputation of his right leg and partial shoulder blade could potentially provide a full cure for this sweet boy. While we were devastated at the news, we knew that amputation could give us years with Winston vs. months. We've been blessed with this boy since he was 7 weeks old, and we knew that we would do absolutely anything to help him!
Winston had an amputation of his right front leg and partial scapula on March 19th, 2018. We've had our first check-up with the ortho surgeon, and Winston looks good, is recovering nicely, and has his spunk and sparkle back.  I worry about him going up and down the stairs post amputation because we have a 2 story home, and he loves to be upstairs nestled in his perfect corner during the day. I see the strain put on his other three legs especially as he walks down the stairs and decided to see a physical therapist to ensure that Winston is exercising the appropriate muscles to keep him strong. He has mild hip dysplasia, so ensuring that he is strengthening the correct muscles is critical for him. I get nervous every time I see him go down the stairs, get in and out of the car, or get on and off the couch wondering if he is going to hurt one of his remaining legs.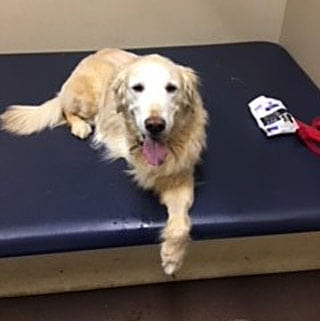 Through a tip on the Tripawds website, we found a physical therapist close to our home, and made an appointment. We were very curious about how therapy works for dogs, as we had never heard of anything like that before we undertook this cancer journey with Winston.
Our appointment was today, April 24, 2018! We were so excited to see what was in store for us at the PT facility! We saw Dr. Amy at Twin Cities Animal Rehab who performed a lot of testing on his range of motion, moving examinations, and recommended therapies based on her findings. Today they did some gentle spinal manipulation: Base PR, L5P, T12PR, T8PR, Rib 8 Rt. Pl.
Winston is not allowed to jump in and out of the vehicle, and he needs to be assisted with stairs – always.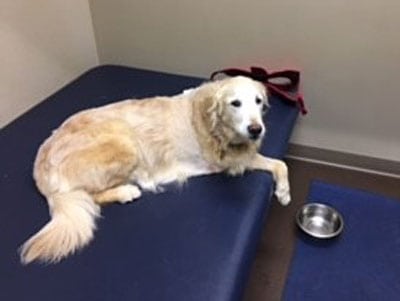 We are now going to be doing these exercise two times daily: Shoulder Blade Rocking, Hind Limb passive motion, Stranding treat lure, Crawl, and Step stretch. We are also thinking, based on Dr. Amy's recommendation, of doing some veterinary spinal manipulation at each appointment. Each of these exercises will strengthen his core muscles and take pressure off of his front left wrist as well as he works through them. Dr. Amy is most concerned about the front left paw.
I am pleased that we have a plan to address my fears of him injuring one of his three limbs. I will keep going with his therapy to give him the greatest opportunity. Thank you Tripawds for suggesting this important piece in the recovery process for a Tripawd like Winston.
~Michele (aka: sjstern)