Thanks to the Tripawds Rescue Fund made possible by supporters like you, we were able to reimburse Tripawds member empav529 for adopting another three legged dog in need. Read on for the story of Tripawd Rescue Rita…
Have you recently rescued a three legged dog or cat? Get more information about the Tripawds Rescue Fund to see if you qualify.
Support Tripawds to Keep the Rescue Fund Going!
See all available program sponsorships.
Meet Tripawd Rescue Rita
Special needs animals are often overlooked and discarded because of their "imperfections", but they are just that- special. I have always adored tripods. There is just something about them that is so amazing and impressive. So when I saw our little Rita up for adoption, I just knew we had to meet her.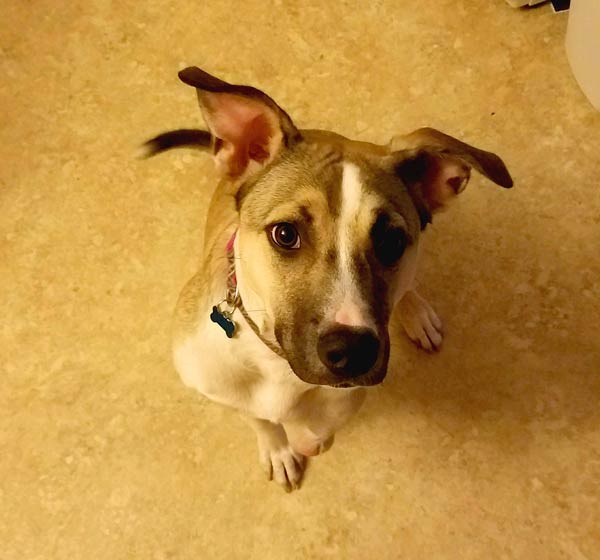 As soon as she came through the door, she immediately jumped into my arms and I knew she was mine, for the rest of her life. We were a perfect fit for each other. To hear about her background, it just made my heart hurt. Rita was born with a deformed front leg. Her bones never formed properly; her radius and ulna never came together, and her paw was on one of the bones. Her leg was short and she was unable to use it properly. Her first owner didn't want to keep her because of her "issues", so they gave her to another friend who also could not take care of her properly. They didn't have to means to take care of her medical costs, and ending up listing her online on Craigslist for "Free to good home". Someone from Sadie's Rescue got a hold of this information, and took her.
Sadie's got her leg amputated and took care of her and got her ready for adoption, and that is how she ended up with us. Her foster mother told us that she was the longest foster dog she has ever had. Once people realize she only has three legs, they move past her. They see this as an imperfection and think she won't be good enough. But the truth is she is absolutely amazing. Having one less leg has not slowed her down in any way. It's quite incredible how "normal" she really is. She keeps up just fine with our other dog and cats. She flies around the house and up and down the stairs and plays with all the neighborhood dogs. She jumps up on the couch and goes for runs and hikes like any other dog would be able to.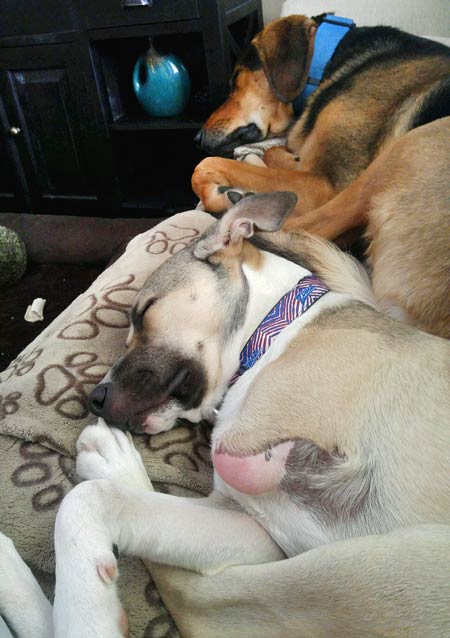 Having three legs has not changed her abilities at all. She is the sweetest, most loving and cuddly dog. Having three legs makes her different, but does not make her disabled. When we were going through the adoption process, I was doing a little researching online about caring for Tripawds, and this is how I came upon the Tripawds Rescue Fund. What a great organization. People need to realize that Tripawds are NOT damaged goods, and can be a wonderful addition to any family. People are always stopping their cars or stopping us on the street to stare at Rita as were walking. Their looks of pity and questions of "whats wrong with her?" are the reason I am writing this today. There is NOTHING wrong with her. She's just as great as any other dog with four legs. I want people to realize that just because an animal is "special needs", doesn't mean that they don't deserve a loving home and doesn't mean they don't deserve a chance. I am so happy we adopted Rita, she has been a wonderful addition to our family. Rita is inspiring and she amazes me everyday. She adapted to her situation and hasn't let it slow her down in the slightest. I am privileged to have her as part of my family and I have never regretted it.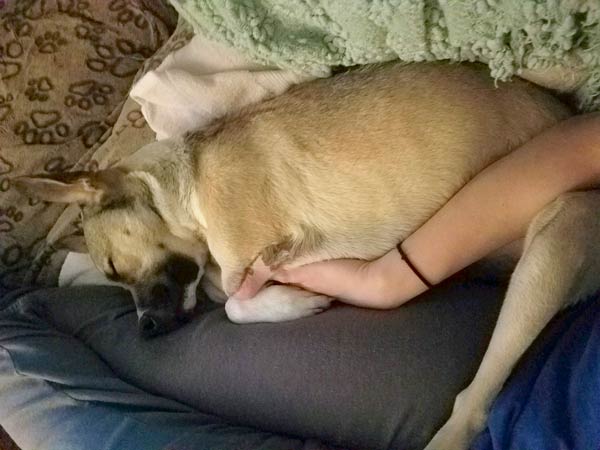 I just wish there were something I could do to let others know that three-legged dogs should not be overlooked. I will help our Rita live a longer and healthier life by keeping her active and lean. It is important not to let her get overweight, due to the added stress on the remaining front leg. We are a very active household, so this shouldn't be a problem. We take multiple walks during the day, and we spend most our time outdoors. We have playdates with all the neighborhood dogs and she loves to play fetch and tug of war with our other pup. Rita has been a wonderful part of our life, and my only regret is that we didn't adopt a "special needs" dog sooner. It has been a wonderful experience, and I want the world to know that special needs animals deserve the chance at a happy and long life.
~Emily and Rita (aka: empav529)