Thanks to the Tripawds Rescue Fund made possible by supporters like you, we were able to reimburse Tripawds member ericaholman for adopting another three legged cat in need. Read on for the story of Tripawd Rescue Alex…
Have you recently rescued a three legged dog or cat? Get more information about the Tripawds Rescue Fund to see if you qualify.
Support Tripawds to Keep the Rescue Fund Going!
See all available program sponsorships.
Meet Tripawd Rescue Alex
In December, 2017 our cat of 7 years, Marmalade, succumbed to a 5-month illness. He was a sweet, smart guy who had gorgeous long orange fur. Our house felt empty with 1 cat and all 3 of us (me, my son, and our cat Pinky) felt it. My son and I found Alex's photo on the website of a neighborhood rescue shelter called Felines and Canine's Incorporated and we just could not stop thinking about him, which is exactly the way it happened with Marmalade. The online description of Alex said that he was also a long-haired, easy-going cat so it felt like there was some synchronicity between Alex & Marmalade. By the time we went to meet him finding out he was a tripod really didn't matter…we loved him already!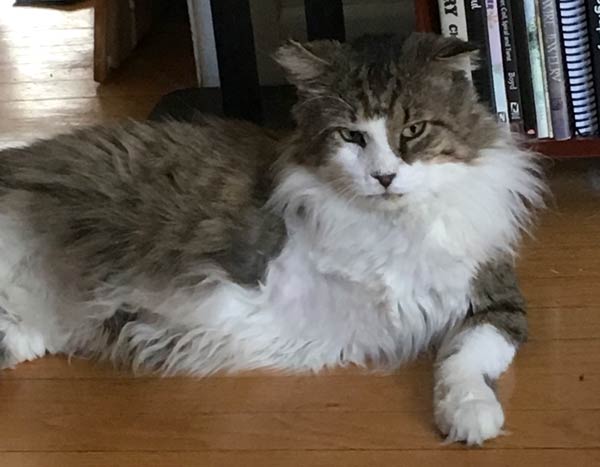 Friends who hear that we adopted a cat named Alex and then meet him later wonder why I have not mentioned to them that he has three legs. I believe that it is because we just think of him as the great cat he is, not as a cat missing a leg. It's his health and personality that matter the most, and both are great!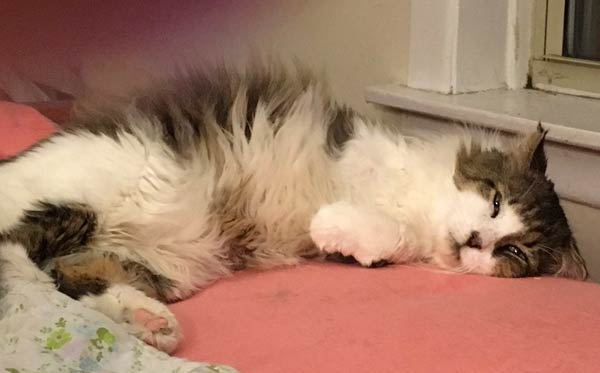 He is our first special needs animal so we did some research about how to care for a three legged cat. It was there that we learned about he Tripawds community. We also learned some tips on helping him live a happy & healthy life as an indoor cat. I read that he needs plenty of opportunity for exercise. When I watch Alex I can see that he has no trouble getting around…he's even more active than his four-legged brother!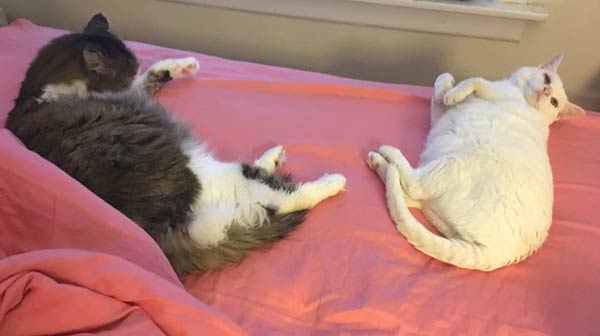 We did provide some area rugs so that he doesn't lose his footing as he runs across the hardwood floors. I can also see that Alex loves to chase string so we will build that activity into his weekly routine. We keep paths clear so that he can move about more easily and we have blocked high spaces so that he doesn't injure himself when jumping. These were all easy changes and he has adapted to his new home without any trouble!
I'm happy to be part of the Tripawds community.
~Erica (aka: ericaholman)