Thanks to the Tripawds Rescue Fund made possible by supporters like you, we were able to reimburse Tripawds member martini23 for adopting another three legged dog in need. Read on for the story of Tripawd Rescue Jaxson…
Have you recently rescued a three legged dog or cat? Get more information about the Tripawds Rescue Fund to see if you qualify.
Support Tripawds to Keep the Rescue Fund Going!
See all available program sponsorships.
Meet #TripawdRescue Jaxson
Meet Jaxson. I met Jaxson through Pet Central Helps as a foster mom. He came from a high kill shelter in Kentucky. It was stated that he had a bad foot but the medical diagnosis was not known. I had him for about one week until he visited the vet and the vet stated the leg needed to be amputated for health reasons. One week later I took him to the vet and his leg was removed. I took him home unsure of how he would handle it.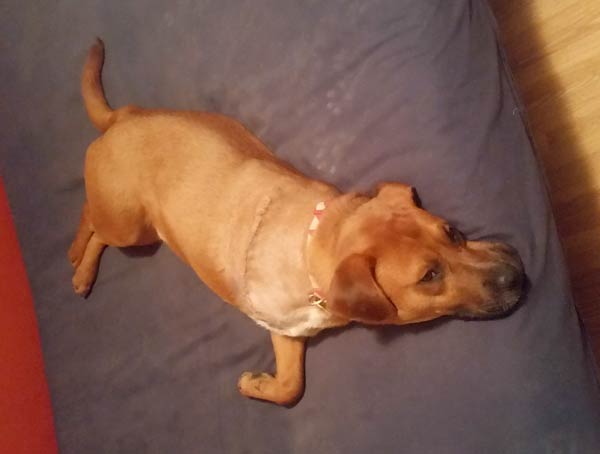 It was tough for me to see him go through such a big operation but I knew this was the best option for him. I wrapped him up in medical bandages and an old t shirt. One day after the surgery, Jaxson was up and running with my other dogs like he never lost a leg. He was in great spirits and soon became part of the family. I knew then that he belonged with me. He is a fighter with such a loving personality. Every day he gets up and uses the dog door and goes outside to the back yard to play with the other dogs. He enjoys time hanging out by the pool and the pond. I am guessing with the warm weather coming on, he will be in the pond and pool. He is stronger and faster than my other dogs. He has no limits.
The drain was pulled one week after surgery and wraps were removed. The incision looked great..not to mention he was neutered also. He had been through so much and yet never showed any discomfort and always had high spirits. I made it official and adopted Jaxson. He has become my other rescue's best friend. He is the heart of the pack. He gives me great joy and reminds me every day that even though he only has 3 legs, nothing stops Jaxson from doing what he loves.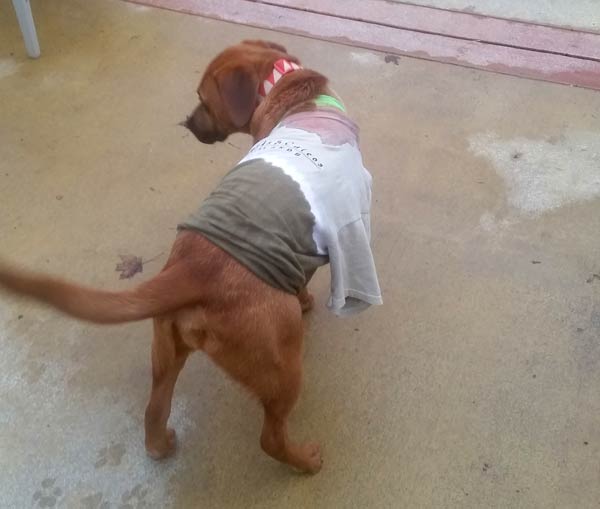 He will live a long life full of love with me and his best friends. Jaxson is no different than any other dog. He came from a not so great life and has been through so much, yet he is the most loving and faithful dog I know. He spends most of the day playing with his other dog companions and at night loves snuggling up with them.
Although I was hesitant at first about fostering him, I have realized that he is no different than any other dog. The experience has been so rewarding to watch and has taught me that dogs are resilient and with proper care and love they can overcome any situation. He is a great dog that has found a loving home.
~Mindy (aka: martini23)