Hydrotherapy Helps Tripawd Dobie Dharma
Tripawds Community member deerjen is recipient #32 of the Maggie Moo Fund for Tripawd Rehab. Read on for details about the benefits of canine rehabilitation for Tripawd Doberman Dharma.

See all Tripawds who have received free rehab sessions and read details about how you can get reimbursed for a certified rehabilitation evaluation thanks to your support.
Free Canine Rehab for White Tripawd Dobie Dharma
We are new to the Tripawds community. Dharma is an 11-year-old white Doberman who was diagnosed with osteosarcoma on October 10th, 2017. My diagnosis was provided by my vet who warned me about the aggressive nature of this cancer. I followed up with an oncologist and decided initially against amputation as we were concerned with her age, living in Manhattan and the quality of life if she were to lose a limb. We explored bisphosphonates, palliative radiation, chemo and pain management. However, there came a point where our vet told me after reviewing her x-rays that her bone was on the brink of fracturing so we needed to amputate or euthanize. As a result, a few days later, she had amputation surgery on March 7, 2018 to her front left limb. She adapted very quickly.
I worried a lot, sought refuge in the Tripawds community and cried before the surgery. However, when I saw her 2 days after, my fears turned to joy in that Dharma was walking without pain. We have some challenges from time to time—the snow and ice really impact her stability and she slips easily in those conditions. I wanted to try some physical therapy to help strengthen her core and her hind legs so we scheduled an appointment with Water 4 Dogs in New York City.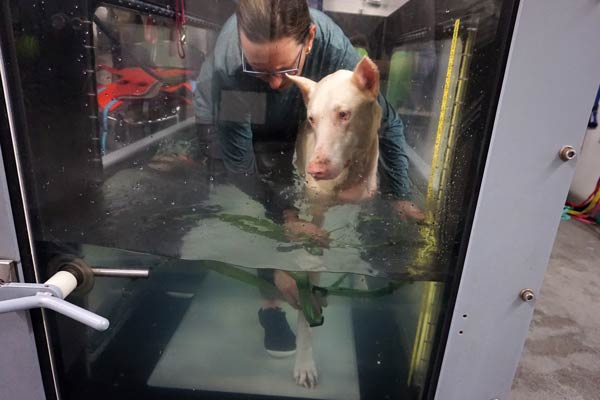 The exercises provided to me are available on videos on their website. Our consult was with with Dr. Jonathan Block who was very articulate in providing me with tips on how to massage and stretch Dharma. They encouraged extending her limbs and rotating them so that she has a full range of motion. Because so much of her limb use and focus is on her balance, he stressed how important is is to stretch her so that she is not as tight in her muscles. I could tell Dharma loved being in the water once she got used to it as she had time to stretch her legs out without a fear of falling. The relief was in her face and she moved her body through the water as she was floating.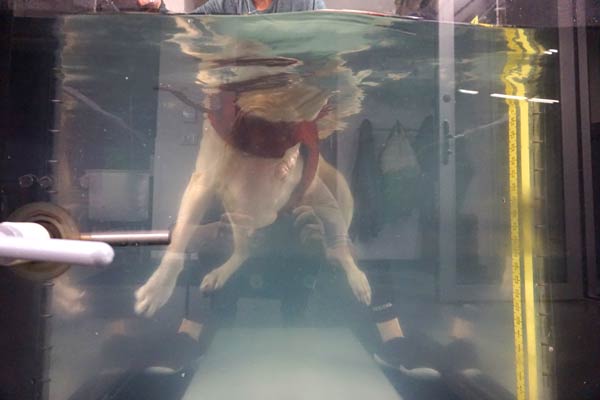 My main takeaway from our time at Water4Dogs was that Dharma needs to stay lean and do exercises that resemble Burpees to improve her core strength. Standing up and down, up and down each day so that she really becomes agile and strong.
~Jen (aka: deerjen)