Tri-kitty Thumper Finds a Healing Home
Thanks to the Tripawds Rescue Fund made possible by supporters like you, we were able to reimburse Tripawds member chastity87 for adopting another three legged cat in need. Read on for the story of Tripawd Rescue Thumper…
Have you recently rescued a three legged dog or cat? Get more information about the Tripawds Rescue Fund to see if you qualify.
Support Tripawds to Keep the Rescue Fund Going!
See all available program sponsorships.
Meet #TripawdRescue Thumper
My "Tripawd" Kitty, Thumper is sleeping on the couch beside me as I'm writing. She hasn't been in our family for long, but as we're here keeping each other company, I can hardly recall a time when she wasn't.
Knowing that I'd grown up in an abusive household and endured a lot of suffering, my very close and understanding friend, Denise, knew when she saw her that she was the cat for me. She'd lost her left leg and the tip of her ears and tail to a trap and to frostbite, and her quality of life to pain and loneliness. She was waiting for someone to love and care for her. My good friend was right: I needed this cat.
I'd never owned or given much thought to "special needs" animals before, so when my application was approved, naturally I had many questions and wasn't sure what to expect. Luckily for me, after spending some time on the internet looking for answers, my boyfriend and I stumbled across the Tripawds community.
She spent the first day exploring her new home. On the second day she was exhausted and very sore from learning to get around on only three limbs. (Stairs were especially challenging to conquer.)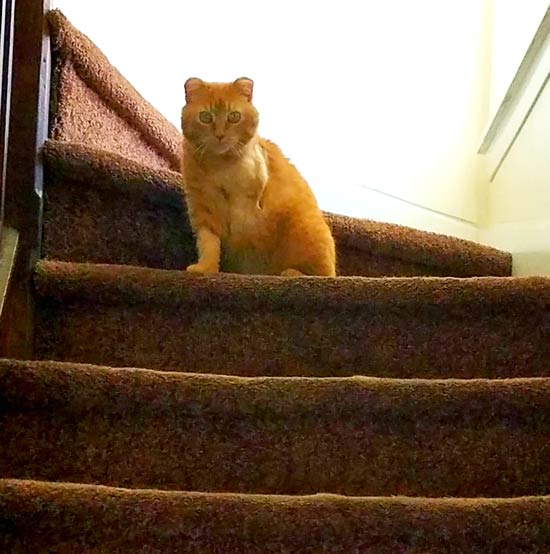 Thumper was also very nervous when she arrived. Loud noises- and even not-so-loud noises made her jump. I figured she'd need patience, and lots and lots of time before she'd be able to fully and comfortably settle in to her new family and environment.
I was wrong! In a month, she's adjusting marvelously. She sprints up and down the staircase, she plays and can hop up on the sofa without pain or hesitation.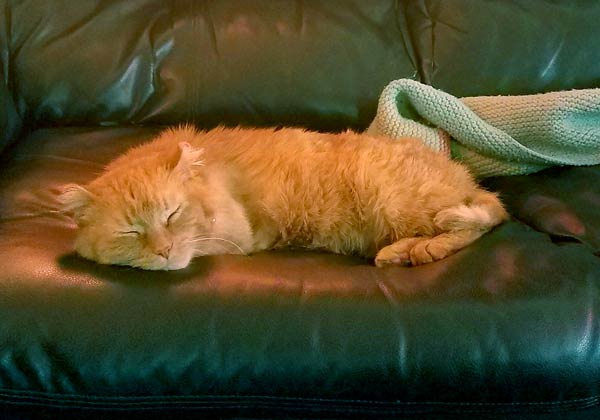 I didn't imagine she'd be able to keep up as well as any four-legged cat so quickly! She's still a little clumsy and uncoordinated sometimes, as she "thumps" from place to place (hence, her name) and she's still a bit nervous when it comes to sudden noises and motions, but she's getting there. All it took was for someone to come along and give her the things she so desperately needed: a safe, indoor home, a healthy new diet and a "Mommy" and "Daddy" who love, protect and care for her – and give her lots of attention!
Thumper and I have both been damaged and now we're healing together. She's the sweetest, most gentle little cat I've ever known, and I would advise anyone considering adopting a "special needs" pet to go ahead and take that chance for the animal and for themselves. Right away they'll enter their heart, love them and make them laugh and smile, just like Thumper did for us.
~Chastity (aka: chastity87)
Support Tripawds to Keep the Rescue Fund Going!