Free Rehab Helps Tripawd Spaniel Gracie
Tripawds Community member jennsliter is recipient #38 of the Maggie Moo Fund for Tripawd Rehab. Read on for details about the benefits of canine rehabilitation for Gracie.

See all Tripawds who have received free rehab sessions and read details about how you can get reimbursed for a certified rehabilitation evaluation thanks to your support.
Canine Rehab and Acupuncture for Gracie
Gracie is our 10.5 year old King Charles Spaniel. She has been with our family since she was 3 months old. She was diagnosed with a soft tissue sarcoma in October 2017 that was removed but returned in February 2018. It was much more aggressive the 2nd time and grew at a much more rapid pace. We, along with our vet professional, decided that amputation would be the safest route. Her amputation took place at the end of February 2018. Unfortunately, Gracie suffered a heat stroke during her recovery due to several mistakes made in post recovery that caused her back legs to be weakened. She spent a week in an emergency vet ICU to help her recover from the surgery and stroke.
Gracie and I met with Dr. Meredith Binder from Ashi Mobile Animal Acupuncture and Rehab on April 28th at a local park for an initial assessment. Upon arrival, Dr. Binder observed Gracie's current state of walking. Gracie was hesitant at first but eventually attempted to venture on the uneven surfaces of the park. She struggled quiet a bit with the terrain. Dr. Binder discussed the importance of allowing Gracie to attempt to try this at home to help strengthen her legs. This should be done 2 times per day. We discussed Gracie's unique experience with her amputation and the impact of the amputation and heat stroke combination to try to better understand how to help Gracie's progress.
During our visit Gracie experienced acupuncture along different parts of her body. She did well with the needles and only seemed to be bothered in one of her hind legs but was able to push through it. After removing the needles, she had a massage focusing on her back legs and also her incision site. We were encouraged to massage the incision so that the scar tissue would not improperly attach to the underlying tissue.
The vet provided several recommendations of supplements for Gracie to try, including fish oil. We discussed range of motion exercises to help strengthen her back legs and also starting a short walking routine several times per day. After the appointment was over Dr. Binder sent a short list of exercises for Gracie to perform twice a day, including stair stands and standing sways (2 reps, 2x per day).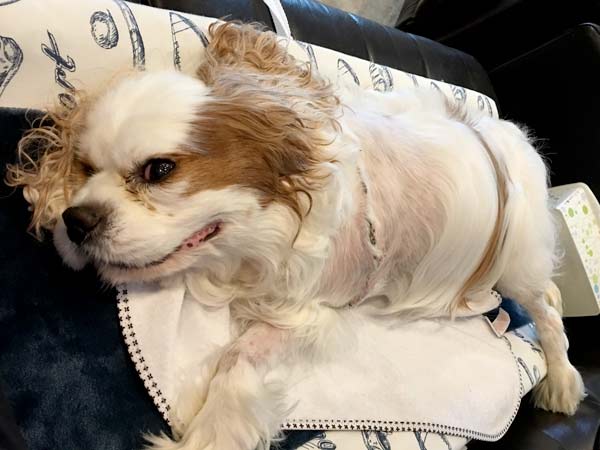 The one thing I learn most from this experience was to remember that Gracie is still a dog and wants to do "dog" things – explore new places, sniff around, etc. She needs to be given an opportunity to recover but also needs to get out and experience these things at her own, slow pace.
Gracie has been a part of my family from the very beginning. Gracie and her housemate entered our home less than 1 month into my marriage and has been with us through a miscarriage and 2 babies. She has been a best friend through it all and I look forward to watching her progress and celebrate all her small victories.
~ Jennifer (aka: jennsliter)