Tripawds Community member donnasunshine is recipient #37 of the Maggie Moo Fund for Tripawd Rehab. Read on for details about the benefits of canine rehabilitation for Lammi.

See all Tripawds who have received free rehab sessions and read details about how you can get reimbursed for a certified rehabilitation evaluation thanks to your support.
Results of Lammi's Free Rehab Visit
Lammi is a gorgeous, loving, wonderful Akbash. Akbash is a Turkish Livestock Guardian breed similar to a Great Pyrenees though a bit leaner and taller with more sighthound ancestery. I got Lammi as a puppy at 8 weeks old and we have been blessed with a wonderful 12 years together so far. I am a professional dog walker and petsitter, and Lammi, his Siberian husky sister Kiani and I live in our minivan when we are not petsitting. Lammi has lots of dog and human friends and has an exciting life on the road, visiting his friends and staying in their homes helping to care for them.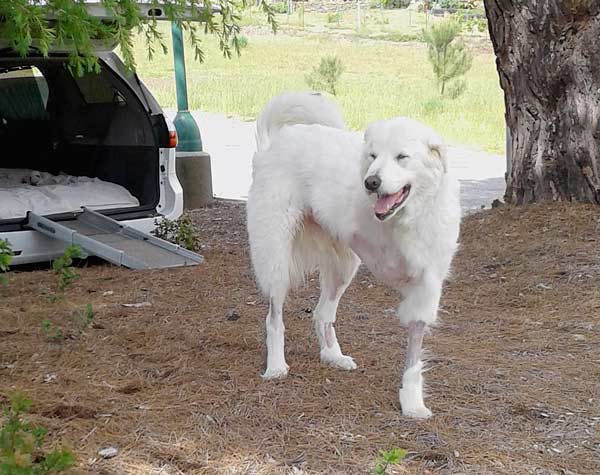 Lammi recently became a tripawd about 2 months ago. He was diagnosed with osteosarcoma in his front right leg a year ago and had a limb spare operation last July to save his leg. He had a second limbspare in October when the first one failed, then he had an amputation of the limbspare leg in March when the second limbspare failed. He amazed everyone by starting to walk and run on three legs rather quickly. A few weeks after his amputation we discovered he had a tumor on his kidney and gall bladder and he had another operation to remove those tumors and the kidney and gallbladder. Again he bounced back amazingly well from that surgery. He is gaining his strength back and we are now looking to get the osteosarcoma vaccine which has just become available to keep him healthy and happy. We are able to get the vaccine at a vet near us, and are now starting to look for funding to help with the expenses as I have exhausted all my resources and lines of credit with all the other surgeries and vet care.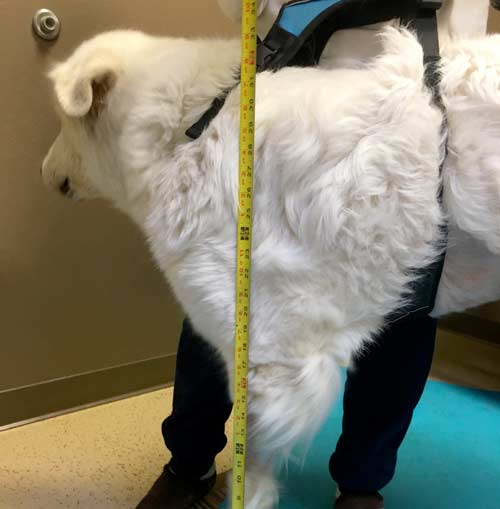 As far as mobility goes, he is having a harder time getting up and down and only goes for short walks to potty, or in and out of the pet store which he loves, or into the park where he will mostly lay down, though if very motivated to go see someone or another dog he will once in a while surprise me by running full speed to where he wants to go. I took him to a rehab specialist at The Sams Clinic on Friday to get some exercises and or advice on braces, carts, etc to help him gain more mobility and strength. This is his first visit to a rehab specialist since his amputation. She suggested getting Lammi a cart from Eddies Wheels which is for front leg amputees and has training wheels on the back so he can rest his back legs when he needs. She thinks this will allow him to gradually build up the strength in his back legs and give his one front leg some support. We spent the first session measuring Lammi for the cart and she recommended coming back for more sessions to get exercises after a few weeks. She said he is still in recovery mode from two big surgeries and needs to have a lot of rest and relaxation at this point.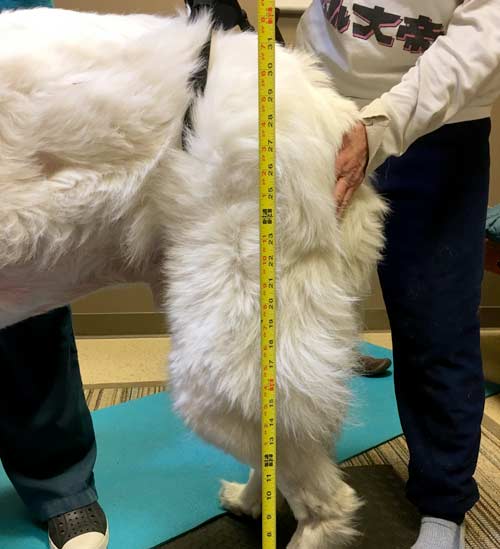 The one thing I most learned from this experience is to take it slow and allow Lammi plenty of time to heal and respect his pace. Our lifestyle of living in the van and petsitting /dogwalking is good in the sense that he has lots of encouragement, friends, and entertainment yet it is important for me to allow and encourage him to take it slow and rest. I am looking into finding funding to help pay for an Eddie's Wheel cart so he can start going on longer walks and having more mobility with his dog friends. Thank you so much for any assistance with the rehab visit! Kiani and I are so grateful for every day we get to share with him. He is such a wonderful, sweet, strong, and inspiring companion!
~ Donnaa (aka: donnasunshine)