Thanks to the Tripawds Rescue Fund made possible by supporters like you, we were able to reimburse Tripawds member dreadpiratewestley for adopting another three legged cat in need. Read on for the story of Tripawd Rescue Westley…
Have you recently rescued a three legged dog or cat? Get more information about the Tripawds Rescue Fund to see if you qualify.
Support Tripawds to Keep the Rescue Fund Going!
See all available program sponsorships.
Meet Tripawd Rescue Westley
I adopted my tripod kitty Westley on June 6th, and I've never been so happy. I'm a mental healthcare worker and, a few months ago, found that I was feeling down at home, after going from my high-stress job to a dark, quiet house. I grew up with cats all my life and thought a companion kitty would be perfect for me to come home to and give my love to. I spent months visiting the cats at the humane society, and I clicked with Westley instantly. From first glance, he's a massive fluffy ball of energy with a lot of love, affection, and one front leg.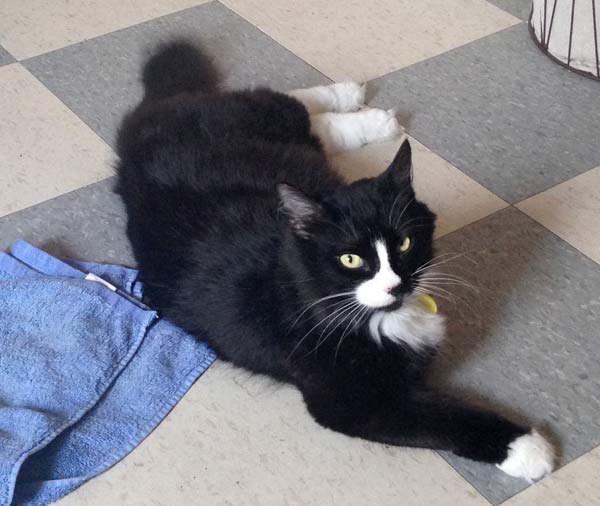 I was nervous about adopting a tripod cat – I'd never had experience with a "special needs" cat, and I had no idea how only having three legs would affect the quality of life I could give to him. But Westley's huge personality and mischievous meows made me think that surely, he was going to be just fine. And fine he is!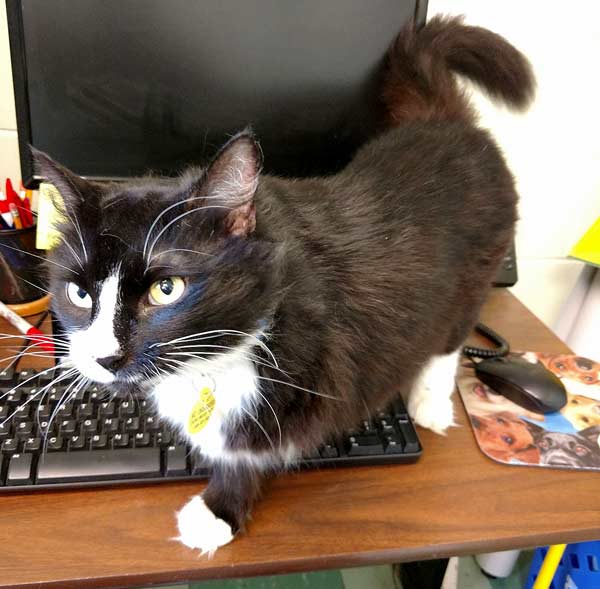 Westley wakes me up before work every morning, standing with his right front paw square on my chest and purring loudly in my face. He follows me step for step while I get his breakfast, the long exaggerated lope of a cat with one front leg, identifiable from any room. I'm not even sure he knows how many legs he's "supposed" to have! It certainly doesn't stop him from racing from one end of the house to the other, clambering up to the windowsill to birdwatch, or investigating every single thing about his surroundings. I help him groom the small areas he can't quite reach with his right paw, and he returns the favor by licking my hand the entire time.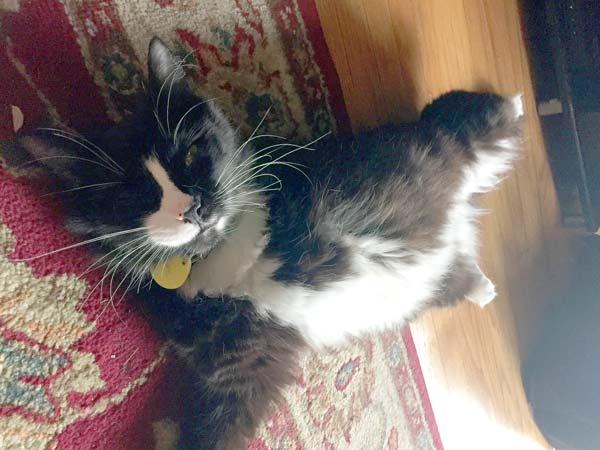 We've found some great healthy foods and treats so Westley doesn't put any unnecessary weight on his leg, and always has the energy he needs to continue being the curious, enthusiastic lovebug he is. I tried a few scratching posts before finally finding one with a diagonal board, so he could brace his whole body weight on it while scratching, and he loves it now! I don't know what I was expecting when I adopted him, but he is everything and more. My house is now a warm place full of love, and Westley makes me excited to go home at the end of the day.
~Saer (aka: dreadpiratewestley)
Support Tripawds to Keep the Rescue Fund Going!