As 2018 draws to a close, we're wrapping up the books on another year of fundraising for the Tripawds Foundation. After counting all 2018 Tripawds Community Campaign contributions from supporters like you, we knew reaching our goal was going to be a close call. Next, we added up the most recent Network For Good disbursements with proceeds from recent Facebook fundraisers, including a generous campaign from the friends and family of Rosco. More supporters donated charitable contributions of all sizes throughout the holidays after our final plea. And then this happened…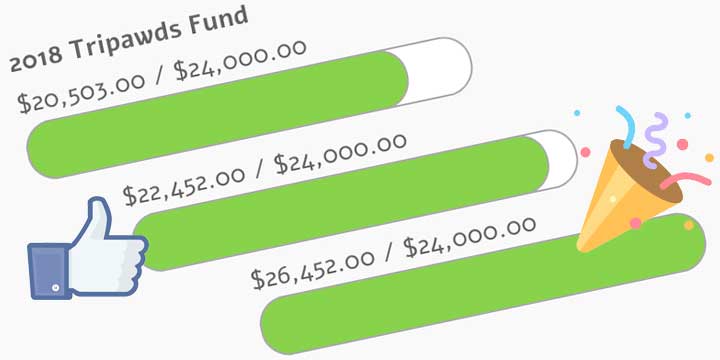 A long time Tripawds benefactor who wishes to remain anonymous put us over the top…way over the top!
How You Are Helping Tripawds Everywhere
Thank you all for your support! Without your generous help, we would not be able to keep hosting the many free resources available for people facing a limb cancer diagnosis and/or amputation for their beloved dogs and cats. Without your continued support, the Tripawds Foundation would also not be able to continue providing direct financial assistance to amputee pets and their families in need. Just look at what we've been able to do this year, thanks to you…
The following figures are program totals as of December 20, 2018:
Tripawds Community Infrastructure
The Tripawds Blogs community, discussion forums, live chat, and toll-free Tripawds Helpline all remained free thanks to contributions covering expenses costing more than $9,504.
In 2018 alone, 13 reimbursement grants for veterinary amputation surgery were awarded totaling $6224 given away.
Maggie Moo Fund for Tripawd Rehab
23 rehab reimbursement grants were awarded, providing $3399 given away for certified veterinary rehab evaluation and treatment.
Before being placed on temporary hold due to lack of funding, 22 Tripawds adoption grants totaled $2097 given away for people adopting three legged pets from shelters.
Families in need were awarded 4 Tripawds Gear grants that totaled $305 given away in the form of free harnesses for three legged dogs – a $408 retail value.
These numbers do not include the numerous free pet amputation brochures sent to vet clinics around the world to help those faced with difficult decisions about amputation for their pets. Also not included is the expense of exhibiting at WVC where the Tripawds Foundation connected with countless veterinarians, vet techs, surgeons, veterinary oncologists and rehab therapists to spread the word about all these free resources and assistance programs.
Thank you for your support!
We can't thank our supporters enough for helping us reach our goal. We wish everypawdy a happy, healthy and prosperous new year. Please stay tuned for our upcoming announcement of the 2019 Tripawds Cummunity Fund, with the continued goal of helping amputee pets and their people everywhere!