The Tripawds Foundation ASAP grant #19 goes to Tripawds member whitetrshsoldier to help pay for Zeus' amputation surgery. Read on for his story, and learn more about the Tripawds Amputation Surgery Assistance Program to see if you qualify.

This grant is made possible by the charitable contributions of Greyhounds Rock Fredericksburg and Tripawds fans like you. Thank you for your support!
Support the ASAP Fund to Help More Tripawds!
All About Zeus
I lost my first ever Great Dane two years ago to natural causes at the ripe old age of 12. I was heartbroken, and it took me a while to decide to finally pursue the breed again. Fast-forward to three months ago, when my new baby Zeus arrived. He was perfect – happy and healthy, and always looking to please. Then two weeks ago life took an unexpected turn.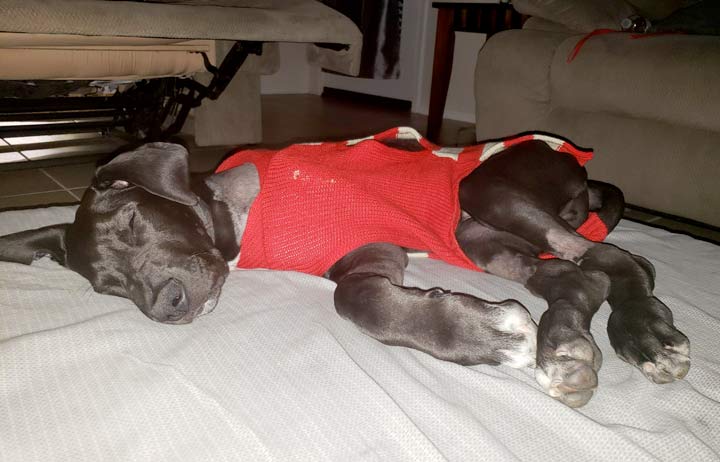 Zeus had been limping on his left arm so we took him into his regular vet to figure out why. The doctor isolated the pain to the shoulder, and said he may have torn it. He gave us doggy NSAIDs and sent us on our way. But two days later his left arm had swollen to double the size of his right arm, so we took him into the ER immediately. Upon admittance, we were told Zeus had an infection, and broad spectrum antibiotics were brought on board. Hours later, however, it became clear that the necrosis caused by the infection had taken Zeus' arm, and worse yet, the infection was spreading to his throat and chest. I authorized the vet to take his front left arm to save his life, and thousands of dollars later here we are. Zeus is currently 6 days out of surgery and is resting comfortably.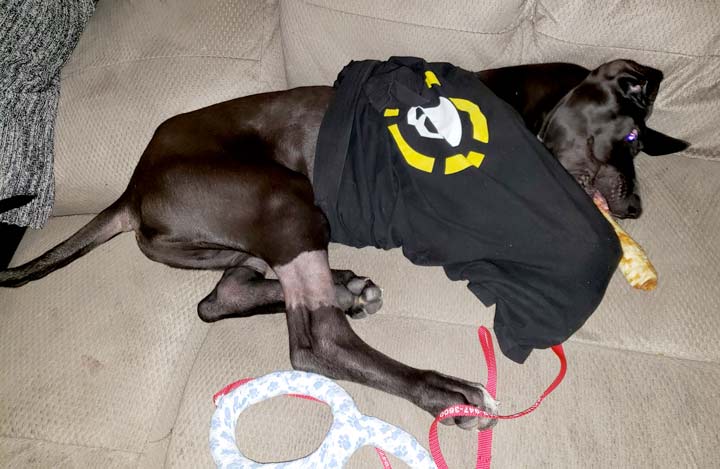 He is getting in some limited mobility with very careful walks outside to potty and to get to his food and drink bowls. At this time we are waiting for the sutures to be removed before we begin any physical therapy, but with his uneasiness balancing I think this journey is going to take a while. I'm so grateful he was able to be saved – he is the sweetest dog you'd ever meet, and loves everyone. I'm hoping to turn this 'tragedy' into a blessing by trying to get Zeus to be Therapy Dog certified given his disposition, but that's a long way off still.
~ Steve and Zeus (aka: whitetrshsoldier)