Tripawds Community member jmckevitt is recipient #57 of the Maggie Moo Fund for Tripawd Rehab. Read on for details about the benefits of canine rehabilitation for three legged flat coated retriever Ella.

See all Tripawds who have received free rehab sessions thanks to your support.
Free Canine Rehab for Tripawd Ella
Ella, is a 7 year-old flat-coated retriever who is 14 days out from the amputation of her front left leg. She was diagnosed officially with osteosarcoma following the surgery, but every indication from initial x-ray was that that was going to be the likely outcome.
To be proactive even though it was a little early, we visited Dr. Lisa Star last week for an initial evaluation. Dr. Lisa is with Pets in Balance, and she visits various veterinary offices and also does home visits. We saw her at Christensen Animal hospital in Wilmette, IL.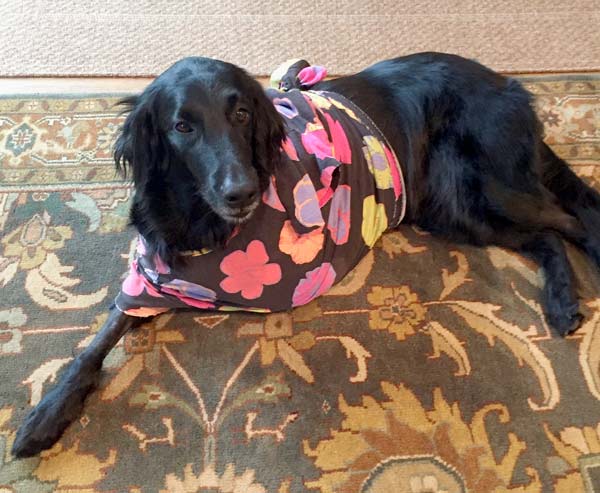 During our appointment she did a thorough evaluation of Ella with range of motion, measurements, etc. She also did massage and instructed me how to do it, helped fit a harness for Ella, shared other options for wound care and fitted her with a carpal support brace. The massage and support brace were the most helpful at this stage of the game and the thing I learned most is how tight her muscles are going to be from using them in new ways.
In-Home Canine Rehab for Ella
Our next appointment with Dr. Lisa is this Wednesday, 5/6, in our home. We'll learn about more exercises, evaluate our home environment with stairs, etc. and get going on some more canine rehab exercises. Dr. Lisa also recommends trying the underwater treadmill which we will do once her incision is fully healed and we get the doctor's approval. She wasn't sure if the oncologist would want her to do that while she is undergoing chemo since she will be susceptible to any bacteria while her immune system is low.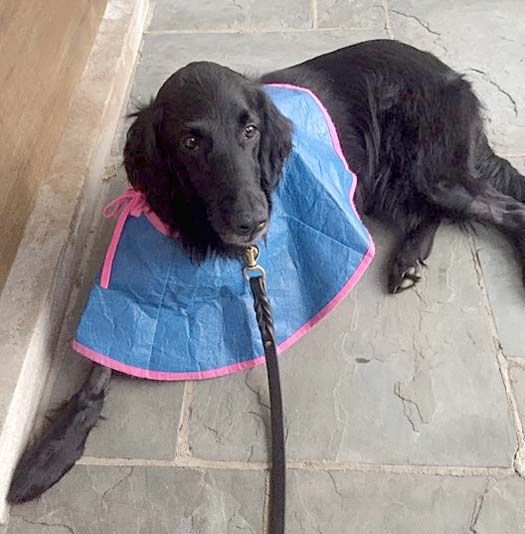 I heard about Tripawds via a bone cancer support group on Facebook and have found much support from online chats and e-mailing with Rene. I am eternally grateful for that.
We are getting better day by day and learning as we go. As everyone knows this is a horrible disease with impossible choices to make. All we can do is choose a path and hope and pray for the best.
Thank you Tripawds!
~ Janet & Ella (aka: jmckevitt)