Hey everypawdy, the big day is almost here. Are you ready for Tripawds 2019 Virtual Race?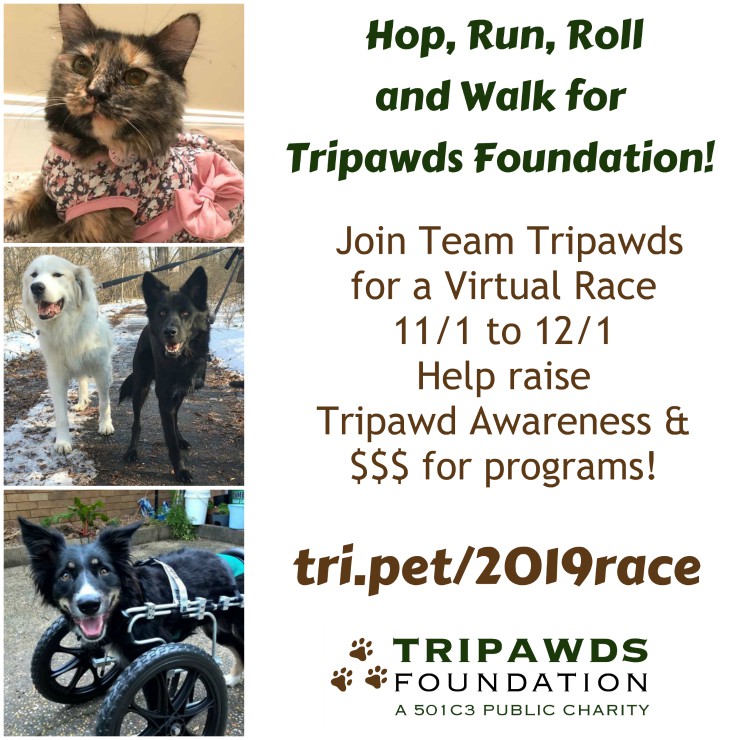 Team Tripawds Needs YOU!
Just a quick reminder that Team Tripawds needs your help raising Tripawd awareness and funds for Tripawds Foundation programs. Join us for all the fun starting Friday November 1st!
When you join Team Tripawds, you'll get to run a virtual Chicago Marathon race. And on the same exact route! But you don't have to be Chi Town and don't let the word "race" scare you. Here's why:
Our virtual race is super fun and as hard or easy as you want to make it!
Just walk or run any time with Team Tripawds beginning on November 1, 2019 at 12:00AM EST.
Track your miles on the Racery smart phone app, computer or tablet.
Each time you share your daily walking pawgress with friends and family on the web, you help raise awareness and encourage donations to Tripawds Foundation!
Best of all, you have one month to finish the race!
What could be better? You'll be in great shape for the pawlidays and help us with one of our biggest yearly fundraisers.
The race entry fee is only $20 and $10 of every entry will go directly to Tripawds Foundation, so you're already helping out just by joining the team!
Walk or Run for the Tripawds Nation
Once you join and start walking or running, you will get a link to share with your friends and family to help raise more funds to sponsor your participation.
100% of any extra funds you raise through Racery
during this event will help Tripawds everywhere!
We think this is so much more fun than begging for donations to the Tripawds Foundation, don't you? Come on, you know you want to do it. Be a Team Tripawds member, please sign up today.
Meet Team Tripawds
Let's send out a big THANK YOU to everypawdy who's signed up so far (as of 10/28/19) and donated funds to the Tripawds 2019 virtual race:
Jerry
Admin
Dobemom
dawn3g
tinsch
BradTally
Sten
Huckleberry
Krun
Brownie
OtisandTess
KatEndert
Kaiserin
NikkiandCairo
CWDLadysMom
Luna11
GoooobMorning
sassymichelle
And now, all we need is YOU to join us! Won't you please consider signing up today?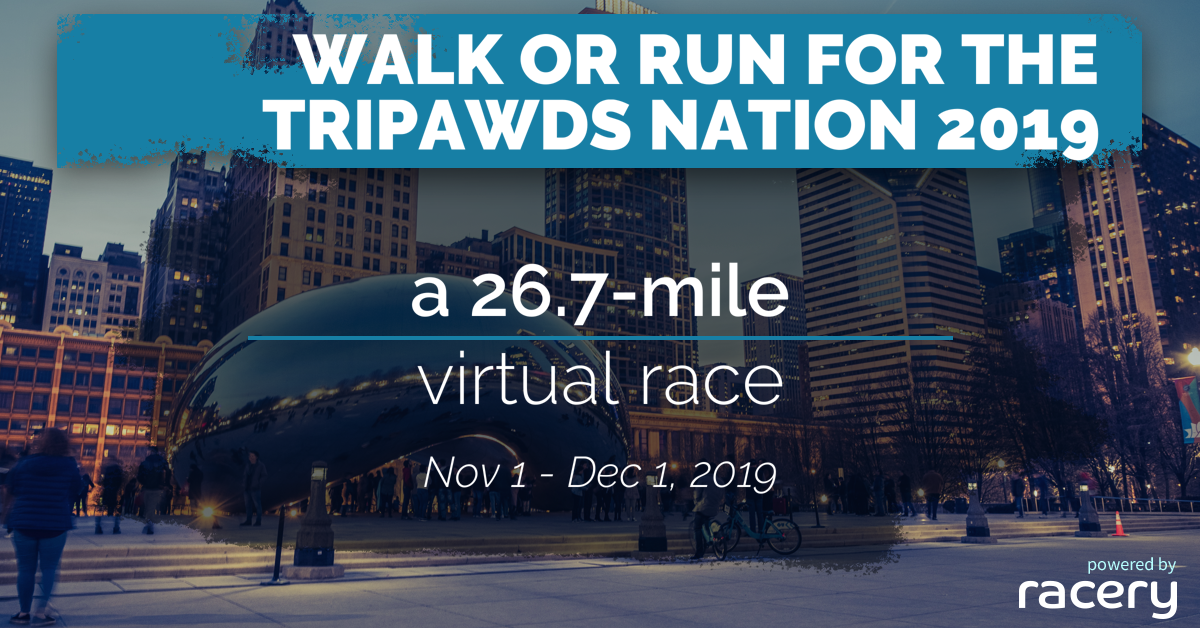 See you at the starting line this Friday!