Tripawds Community member hdowningbarrier is recipient #65 of the Maggie Moo Fund for Tripawd Rehab. Read on for details about the benefits of free canine rehabilitation for front leg Tripawd dog Arwen and learn how you can get a free rehab consultation for your dog or cat.

See all Tripawds who have received free rehab sessions thanks to your support.
Arwen's Free Physical Therapy Visit
Arwen is a 9-year-old Saint Bernard mix who was diagnosed with osteosarcoma on September 13th from the results of a bone biopsy. Her left front leg was amputated on September 17th, and she is scheduled to begin chemotherapy on October 22nd. The second we heard the devastating news of Arwen's diagnosis, we researched osteosarcoma online and came across the Tripawds Community. Member blogs about their own pet's experiences were so helpful to us, so we started one for Arwen.
We also discovered the Tripawds Rehab Reimbursement Program. So on Thursday, October 17th, Arwen had her first physical therapy visit at Stride Canine Rehabilitation & Fitness Center. Her consult was with Janice McConnell, CCRT.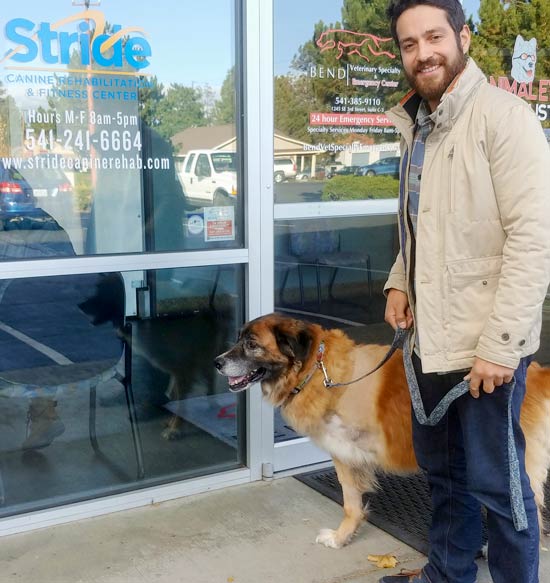 Arwen is very shy with strangers, so Janice took her time talking softly to Arwen and giving her treats to make her feel more comfortable. For joint health, Janice recommended we add a fish oil to Arwen's diet in addition to her glucosamine supplement. We also had questions about getting a carpal brace for Arwen's right "wrist" area of her front leg. Janice agreed that a soft brace would be a good idea for Arwen to give her lower right leg an extra bit of support, and if Arwen has issues in the future, we can always consider going to a "harder", more supportive, brace.
Once Arwen was feeling comfortable, Janice went through and felt and maneuvered each of Arwen's joints. She went over Arwen's legs and hips and spine. It was determined all of Arwen's joints are in good shape. She has no signs of pain or arthritis or stiffness (except a little tightness in the hip flexors).
Next, Janice showed my husband and I joint exercises we can do on Arwen's front right leg. Janice showed us how to lay Arwen on her left side, support her right front leg with our hands and manipulate and fold her wrist joint in 15 to 25 repetitions. We should also do the same with her elbow joint and shoulder. This is to increase strength and circulate fluid in the joint. We were told we should do these exercises a minimum of 2-3 times a week, and/or before exercising Arwen.
For after exercise, Janice showed us front leg stretches for Arwen's triceps, biceps, hip flexors and lats. The stretches are to maintain flexibility and reduce chances of injury. We are supposed to very carefully extend Arwen's right leg as she lies on her left side and slightly rotate it out. We are also supposed to extend the arm and bend the elbow, and extend the arm till the elbow is over her chest area. For her hip flexors, we are supposed to extend each of her back legs and rotate each knee slightly towards the floor.
To increase blood circulation, the therapist showed us how to do a rolling skin massage on Arwen, which is exactly what it sounds like (rolling her loose skin between our fingers all over her body). Arwen didn't seem to mind any of the exercises or stretches, and especially liked the massage.
We learned from this visit that injury prevention is more important than ever for Arwen, especially in regards to her remaining front leg. Janice stressed that the easiest way for Arwen to hurt her right front leg is by jumping down, and we should do what we can to reduce her chances of jumping down from now on.
We are eager to continue to do what we can to help Arwen adjust to her new life as a tripawd, and we definitely want to return Arwen to the rehab center to try out balance exercises to not only strengthen her remaining legs, but her core.
~ Heather and Arwen (aka: hdowningbarrier)