November is almost halfway done, but the 2019 Tripawds Foundation Community Fund isn't. With just 49 days left in 2019, we have a ways to go before reaching our yearly fundraising goal, but we are confident that this great community will help us get there on or before December 31!
2019 Tripawds Community Fund
$22,284.00 / $24,000.00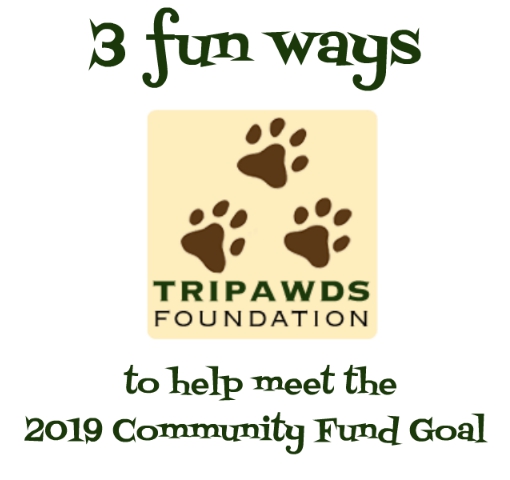 If everyone pitches in at least once, we can do this!
We know many of you have already donated to the Tripawds Foundation this year, or have an ongoing contribution. To that we say thank you! Today's fundraising appeal is not for you. You've already helped in such a big way!
But for anyone who hasn't had a chance to give, and would like to, here are three fun ways to do it: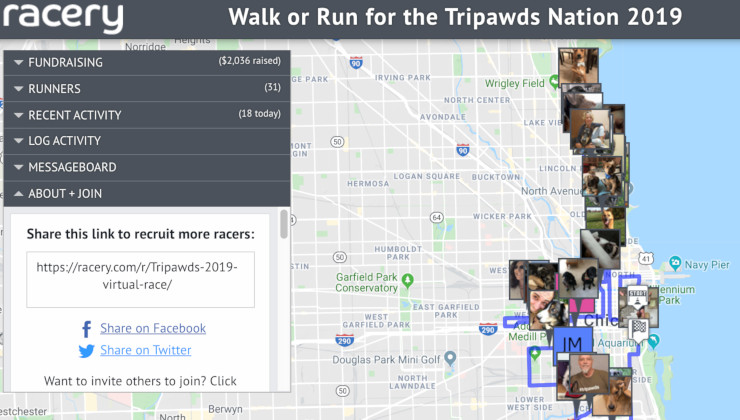 Have you seen what Team Tripawds is up to this month? A "virtual race" is happening over at Racery. You can still join us or back a teammmate with a donation!
Thirty one walkers, runners, strollers and hoppers are currently taking massive steps toward helping us reach our goal. They're telling friends and family about their month-long commitment and because of it, Team Tripawds has raised over $2,000 just since November 1!
That figure isn't counted in the progress bar you see above. We can't wait to add it in when the race ends on December 1.
2. Hold a Facebook Fundraiser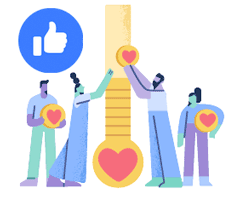 Anyone with a Facebook profile can tell the world how the Tripawds community helps people and pets. A Facebook fundraiser lets you broadcast your message to your friends and family better than we ever can. Here's how to do it:
Step One: Use this link to: Raise Money for Tripawds Foundation.
Step Two: Search for Tripawds Foundation to choose Tripawds as your Nonprofit beneficiary.
Step Three: Share your fundraiser on Facebook. Share your Tripawd hero's accomplishments. Tell your story about what this community has meant to you, to inspire contributions from friends, family and pet lovers you know.
Here's how to help with a Facebook fundraiser
Be sure to let us know when you start a Facebook fundraiser and we will help get the word out too! Thanks for all you do to support the community.
If you have been helped and supported in the many Tripawds community blogs, forums, videos, podcasts, and many other free resources, consider donating any amount to help us keep these programs going. And be sure to tell every pet lover you know and encourage them to support this amazing community!
Most people who have never been through a pet's amputation don't even know we exist. Encourage your friends and family to give, so that we can help more Tripawds by continuing to offer helpful programs like:
Thanks for helping us reach our goal this year! No amount is too small and every cent counts toward helping to make life great for Tripawds.