The Tripawds Foundation ASAP grant #31 goes to Tripawds member haizer9 to help pay for tri-kitty Willow's feline amputation surgery. Read on for her story, and learn more about the Tripawds Amputation Surgery Assistance Program to see if you qualify for pet amputation financial assistance.

This grant is made possible by the charitable contributions of Tripawds fans like you. Thank you for your support!
Willow's Feline Amputation Story
On December 22, 2019, Willow was shot at 4:30 in the afternoon. She is an indoor cat, but as we were potty training a puppy, she escaped. About 15 minutes later, I went outside to get her. She was crying, bleeding, and unable to use her rear left leg. Once we took her to the animal hospital, we were shocked to discover that she had been shot, which shattered her femur. However, we discovered that we didn't have many options as far as surgery was concerned. Due to the holidays, there was no surgeon on duty. We could have had her transferred to another hospital two and a half hours away, but the surgery still had to be scheduled ten days out.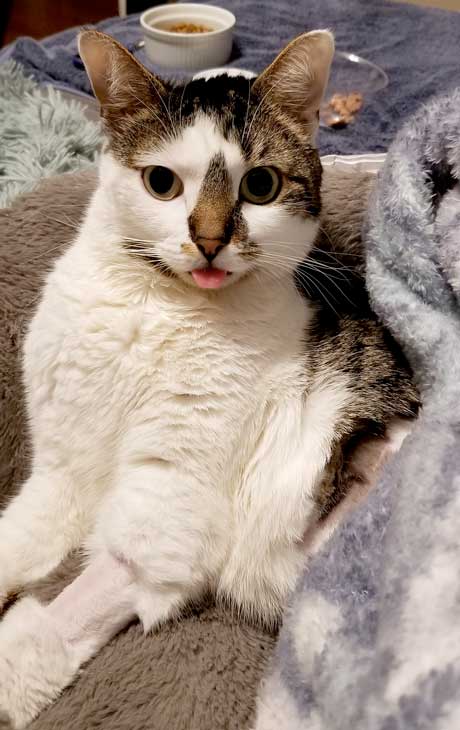 After a night of getting pain control, she was transferred to her regular vet. She decided that she didn't want to amputate due to Willow only being two years old. She felt that we should give her the chance to recover. So, she had a four-hour surgery to attach an external fixator in an attempt to save the leg. However, it became apparent early on that her pain was not well-controlled. After about ten days of Willow being in severe pain, I asked for her leg to be amputated and she said that it was too early in her healing process to do this. The incision site was healing nicely. She took x-rays, which showed the leg was not healing and she also refused to give her adequate pain medication. So, I decided to get a second opinion.
The new vet said that he didn't think the external fixator was going to be of any use and consulted with an orthopedic surgeon. They both concluded that there was no way to salvage the leg and that the fixator was causing more harm than good. During the feline limb amputation, this was further confirmed by the vet discovering that the end of the fixator was poking into her hip joint. So, every time she took a step she was in immense pain. I continue to wonder why I had such faith in her original vet.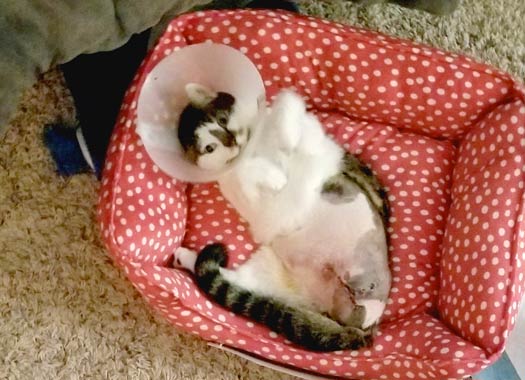 The bills continued to pile on because of the fixator, coupled with the amputation. After the amputation, we thought everything was going to be great. However, Willow continued to have horrible spells of pain where she would growl, hiss, and move backward. It was thought that she could have possibly fractured her hip with the fixator on her for three weeks. So, a CT scan was done. This showed nothing of significance, but she continued to be extremely uncomfortable. Willow's new vet, Dr. Hein, decided to keep her at his hospital and has done everything in his power to get her up and moving.
Thank you for the opportunity to share our story.
~ Pam & Willow (aka: haizer9)